My daughter has found out about the many skills she can add to her new Amazon Alexa. Not a big deal, except some cost money and she's already run up a bigger bill than I want. Is there a way to disable voice purchases or at least add a password or other confirmation in Alexa?
It seems inevitable nowadays; companies release open platforms, developers create a variety of solutions, younger users then promptly tap on the 'buy' button and run up an unexpected digital products bill for their parents to then deal with. On the Alexa it's even easier because you can just say "buy it!" and spend money without even getting your fingers tired. That's great for little kids unless you're the person having these transactions show up on your monthly credit card statement!
Fortunately Amazon's anticipated this problem and has a variety of parent-friendly controls in the Alexa app to rein in this craziness before it gets too bad. At least there aren't thousands of expensive skills with sneaky in-app purchases like there are for iPhone / iPad / Android devices!
Let's fix up your Alexa app before things get worse. It's easy, just a bunch of tapping to navigate to the right places. Ready?
DISABLE VOICE PURCHASES ON ALEXA
Perhaps not too surprisingly, you can't make any of these changes by just talking to your Alexa device. Everything's managed in the Alexa app that you've already installed on your smartphone or tablet. I'll go through the steps with the Apple iPhone version of Amazon Alexa, but the Android experience should be just about identical…
Start by launch the app itself:
Tap on the "More" link on the lower right with the three horizontal lines. That will take you to the main Alexa menu:
Hopefully you're familiar with most of these already. Lots to explore and lots of cool features that you might not realize are included in the Alexa ecosystem. For now, however, just tap on Settings…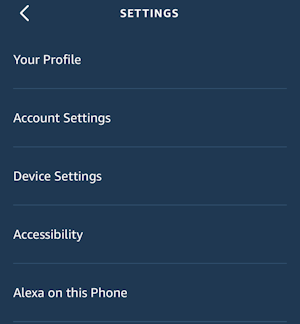 Note: I have chopped down most of these screen shots to highlight key features. Yours will have more options but you'll be able to see how they match up!
For now, tap on Account Settings, though a bit later we'll swipe down to turn on Explicit Lyrics filtering for music too.
If you haven't read about it already, you will want to check out Amazon Sidewalk. I have a helpful article on what this feature is and why you might want to disable it immediately: How Do I Disable Amazon Sidewalk? From a privacy perspective the History area might be worth checking out too.
Tap on Voice Purchasing and you'll be able to access the key settings: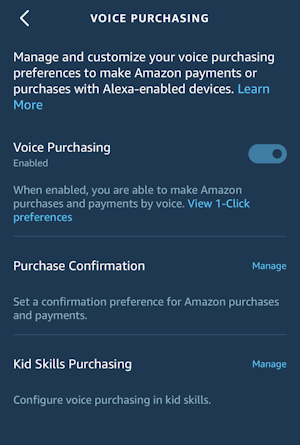 While the easiest solution is to simply disable Voice Purchasing in Alexa, it's worth noting that you can leave it enabled and just set some confirmation instead. For example, the "Voice Code" feature in Purchase Confirmation lets you set up a 4 digit "pin" that needs to be repeated to confirm a purchase before it's accepted. Just make sure your sneaky little kiddo doesn't hear it when you use it for your own purchases!
It's also sophisticated to differentiate between different users, as you can see if you tap on Purchase Confirmation to see all the options: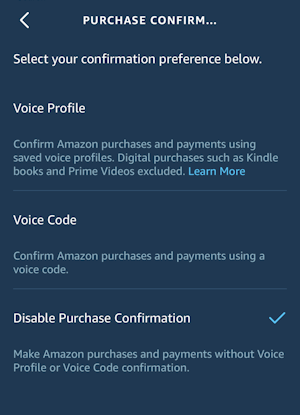 A better solution is Kid Skills Purchasing from the previous screen. Tap on that and you'll see the various options and possibilities:
Perhaps the key setting to enable here is Purchases Require Approval which will produce a text message to you every time your little angel tries to acquire a new skill for their Alexa. Reject it and the transaction is cancelled. Easy.
Or you can just cancel Voice Purchasing entirely from the earlier screen. Do that and a warning pops up that might well be music to your ears: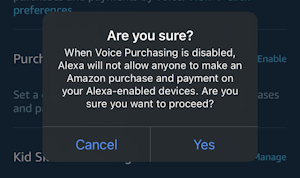 Lots of ways to gain control of this process, actually. Definitely helpful.
BLOCKING MUSIC WITH EXPLICIT LYRICS IN ALEXA
Now what about your kids (or you!) listening to music with too many swear words? Turns out you can prevent that too. Go back to the first Settings menu and instead of tapping on Account Settings, swipe down further. You'll find Music & Podcasts. Tap on it:
You can see that second entry: Explicit Language Filter. If it's already enabled, you're good to go. If not, however, tap and you'll have a few options:
Note that it's not 100% reliable and I've definitely found over the years that services like Pandora still play songs with explicit lyrics even if you specify that you want them omitted from your playlist. But it's better than nothing. And now you know how to set it all up.
Pro Tip: I've been writing about the Amazon Alexa and Echo devices and their related software since the products first appeared. Please do check out my extensive Amazon Alexa and Echo Help area for lots of additional tutorials. Thanks!