After an incident where my 11yo son deleted a bunch of my work files, I set up a separate account for him on our family iMac system. But how do I quickly switch to his account when he needs to use the computer? Right now I just log out so he can log in. It's very disruptive!
Just about every operating system nowadays support multiple users – with the exception of iOS and iPadOS, but that's another story – though few people take advantage of the security and protection that multiple accounts offers. That is, until their spouse, cousin, grandpa or child mess things up, delete key files or end up getting the system infected with malware or worse. Then suddenly not only do separate accounts seem like a good idea, separate computers do too!
Fortunately, the Mac operating system – MacOS X – has always had strong and robust support for multiple users and you don't even have to log out of one account to switch to another. Not only that, but each account gains the same protection so if your son changes his password, you won't be able to log in to his account any more than he would be able to log into yours. Perfect, really.
The Mac also has something called fast user switching which is likely enabled and you've just never noticed. Let's start there. On the top right of your menu bar does your name show up, like this?

Mine is "Dave Taylor", no surprise. Or perhaps it's just one of the many icons along the top:
Either way, a click and you'll get a menu of all the accounts established on your system:
That, in fact, is fast user switching and it's the fast and easy way to securely switch between accounts.
But what if you don't see your account name or that icon on your menu bar? You're not out of luck, you just have to enable it. To do that, use Spotlight search: Press Command-[SPACE] and a floating search box will appear. Then type in "users groups":
It's matched the System Preference Users & Groups, which is exactly right. Click on the graphic to launch this particular System Preference. In "Login Options" you'll find the following: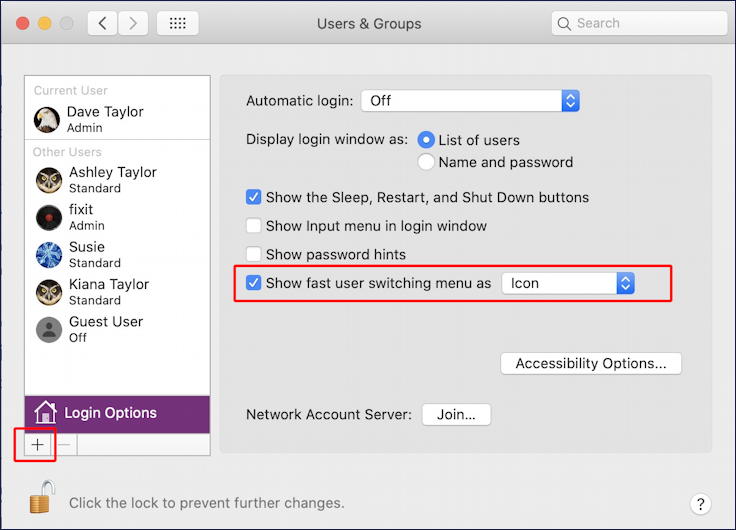 As I've highlighted, the checkbox you want to enable is "Show fast user switching menu" and you can choose between icon, account name and full name. I like the icon since it's the smallest and least overt, but you might prefer something else.
While we're here, if you want to set up a new account for someone else on your Mac, the "+" on the lower left (also highlighted) lets you create new accounts, name them, set passwords and profile icons, and more. Won't work? Click on the padlock on the lower left and enter your administrative password for the iMac to change these settings.
Now if I use fast user switching on this Mac system to jump to Susie's account, here's what shows up on the screen:
Looks like the real thing because it is the real thing. If she's forgotten her password it's a bit of a pickle.
Note: If you're the administrator, however, you can log in to your account, go into Users & Groups, select her account then reset her password if necessary, so it's not a crisis!
Once Susie's logged in, she'll also see the fast user switching menu, but if she tries to switch back to my account, here's what she'll see:
Each locked out of each other's account without the proper password or biometrics. Perfect, really.
Susie can stay logged in even if you switch back and ignore the account for days or weeks, but best practice is for users to log out when they're done, a task easily accomplished off the Apple menu:
And that's it. Easy once you understand how it all fits together, and there's really no excuse for each person using the computer to have their own account and own security and privacy area for their files and programs. Your boss will thank you for setting this up before the next file incident!
Pro Tip: I've been writing about the Mac operating system and computers generally for many years. Please do check out my computer basics help and MacOS X help both while you're here visiting the site. Thanks!