I have a bunch of WAV format files on my Windows PC and want to turn them into MP3 files for portability. Is there an easy way to convert WAV to MP3 in Win10?
Every major computer system seems to have its preferred audio file format, whether it's MP3, WAV, AAC or even OGG. WAV format is actually shortened from WAVE; it's an acronym for Waveform Audio File Format, and apparently someone didn't get an "A" in spelling along the way too. 🙂
Anyway, WAV has been the default audio format for Windows systems for a really long time, which is a bit of a drag because it's not the best format for compressing audio information in a manner that's highly portable. Instead, MP3, which itself is shortened from MPEG-1 Audio Layer 3, believe it or not, and MPEG = Motion Picture Experts Group. Whatever the etymology of its name, the great thing about MP3 that makes it so popular is that it's supported on just about every platform. Heck, a lot of car CD players can handle a disk full of MP3 audio files!
The problem is, there's no native app in Windows that will easily let you convert from WAV to MP3. Don't panic, however, because the free program VLC – from videolan.org – not only offers a zillion video format conversions and the ability to play most any format you might encounter, but it also can manage audio file format conversions too! To start, then, download and install VLC. [Note: You can also get a copy of VLC from the Microsoft Store, but it's not quite as powerful as the version you download directly]
Now when I right-click on a WAV file and choose "Open with…" VLC Media Player shows up as one of the options: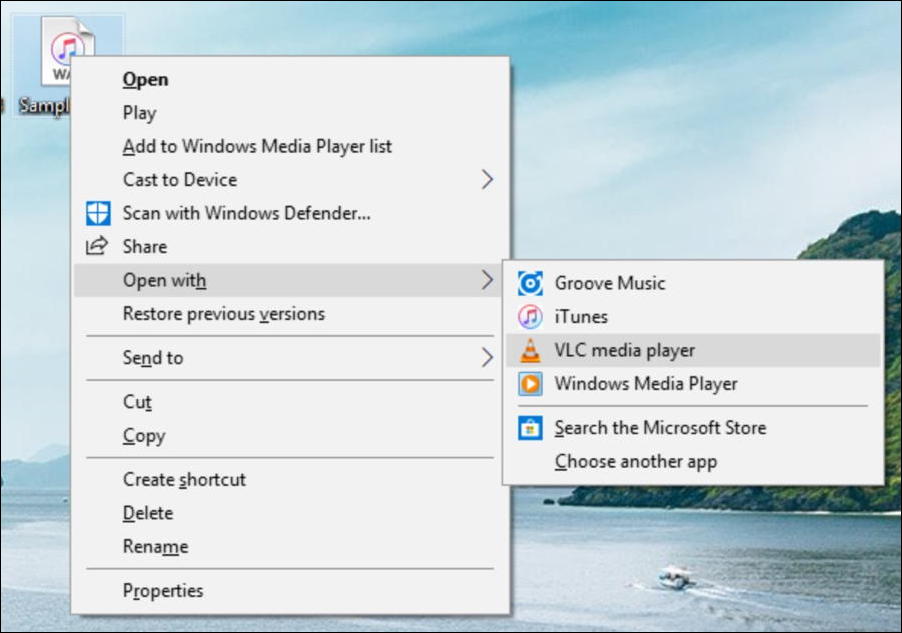 Choose it and you'll be able to listen to the track even though the display in VLC is pretty spartan at best:
Where VLC really shines is in its zillion options. In fact, a click on "Media" and the resultant menu puts most Microsoft apps to shame with its array of options:
You can see what I've highlighted above: Convert / Save…
As long as you have your WAV file already loaded into VLC, choose this option to proceed. A new window pops up:
In case you can't tell, VLC isn't exactly bursting at the seams with amazing user interface features, but it works, and works really well!
Ensure that the Source is set to your WAV file, then go down to the Profile menu and select the desired output format. In this instance "Audio – MP3". Notice all the many other option while you're here too. So dang many choices!
Set a destination and double check that it's using the .mp3 filename suffix to match the audio file format. It'll look like this:
Ready to convert? Great. Click on "Start" and it'll take just a few seconds, depending on audio file size and the performance of your computer system. Once it's done you'll have the converted audio file, ready to enjoy!

There. That wasn't too bad, was it?
Pro Tip: I've been writing about Windows for eons. Please check out my extensive Windows help library while you're here!