I heard on the radio that regular users can contribute answers to weird and obscure questions people ask their Alexa device. Sounds fun! How can I get involved?
Between Cortana, Siri, Google Assistant and Amazon Echo's Alexa, there are a lot of computers answering questions on a daily basis. Millions of questions, millions of… answers? Actually it's surprisingly easy to stump any of these with even relatively innocuous questions, but perhaps realizing that the task is incredibly complicated, Amazon's opened up Alexa Answers to everyone who would like to contribute to the Q&A database.
Having said that, so far it appears that the vast majority of questions in search of user contributed answers are dumb, banal or impossible to know. Like how tall Susan Smith is. Which Susan Smith? Hard to answer when you don't have all the facts. Still, it's super interesting to peruse the questions submitted and see the often weird queries that Alexa has interpreted from what might have been a real question but might also have just been an overhead snippet of a conversation.
To start out, go to AlexaAnswers.Amazon.Com. Here's what you'll see: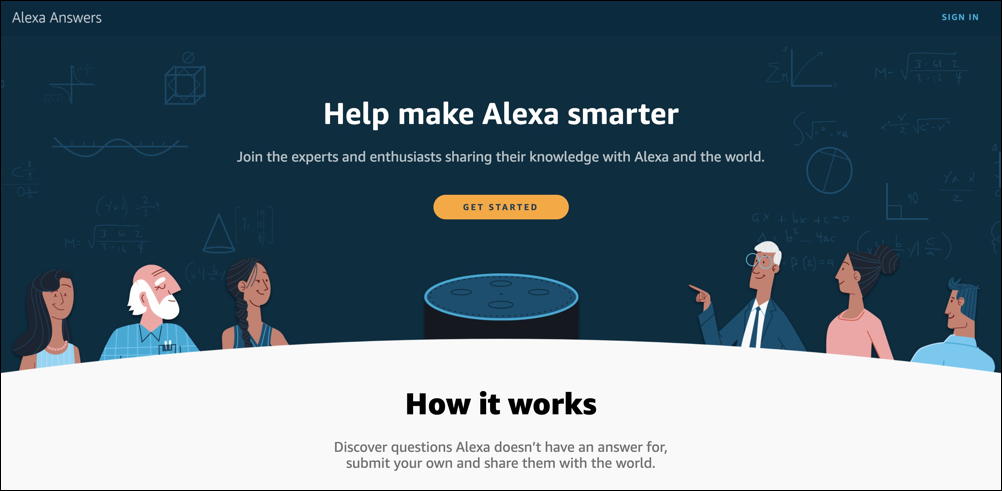 Help make Alexa smarter. I hope we don't regret this in 20 years when robots and AI have taken over the world! 🙂
You can click on "Get Started" but I just clicked directly on the small "SIGN IN" link on the top right.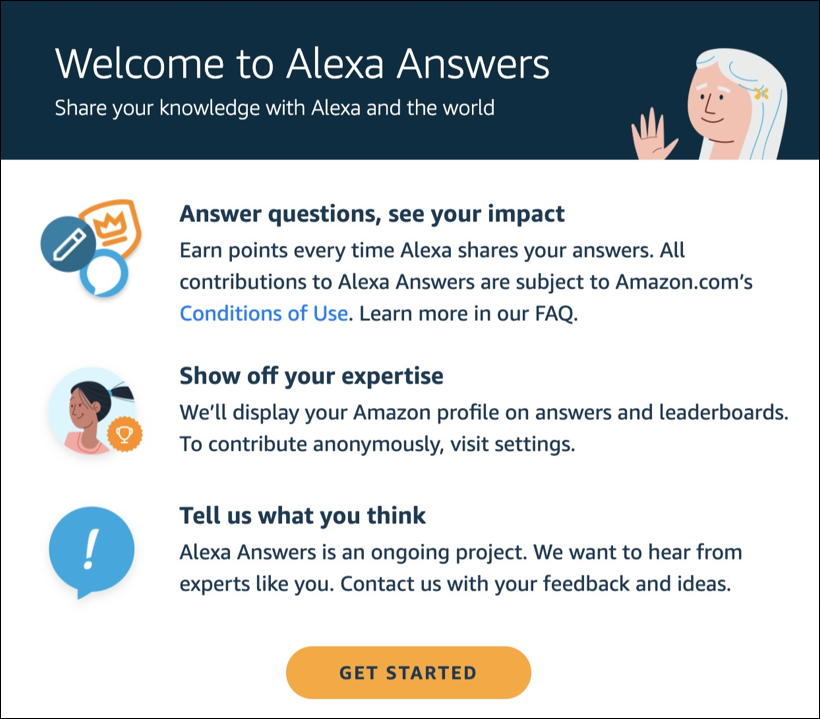 As with much of what Amazon does, this is what's known as 'gamified' so you'll get points for answering and even more points and awards for having them use your answer and having it be popular. Works for me, I like these sort of things, so I'm going to click on the orange "Get Started" button to proceed.
A very simple signup process – especially if you already have an Amazon account, which I bet you do – and you'll be looking at your home page for Alexa Answers:
Notice here the top "bonus" questions today: What's a safe chicken temperature? Who is older, spongebob or patrick? and How many carbs are there in a cup of watermelon? Think you can answer one of them correctly? Click on that "Answer" button!
If you want to look through a bigger pool of questions, click on the "Questions" link on the left side. This offers up LOTS of questions: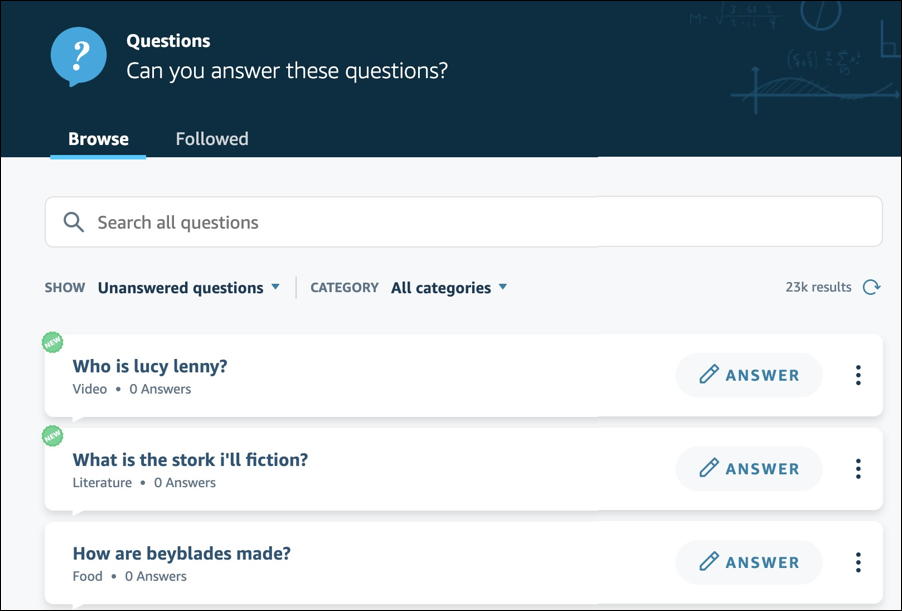 There are currently 23K results in the category of "unanswered questions". No wonder they need our help! Some of them are clearly mistranslations from Alexa (like "What is the stork i'll fiction?" which is probably supposed to be "what is the stork in fiction?" I'd guess) and you can see that there are also ambiguous questions too: Who is lucy lenny indeed.
There are also, well, how do you categorize a question like this?

Don't even begin to have a clue how to answer that one.
Fortunately, just a few lower down is a question that should be easy to answer:

That should be easy to ascertain for the actor. In fact, a quick Google search reveals…

Assuming that the data shown is accurate, he weighs 187 pounds (85 kg). So let's answer that one!
Tap or click on "Answer" and a window pops up: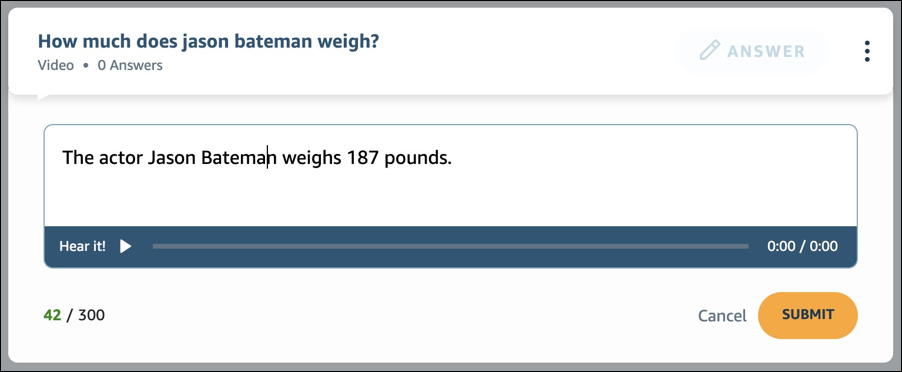 I wrote the answer in the manner that Alexa generally answers queries, and adding "The actor" helps clarify which Jason Bateman we're talking about. Looks good? Sounds good when you audition the speech? Then click "Submit".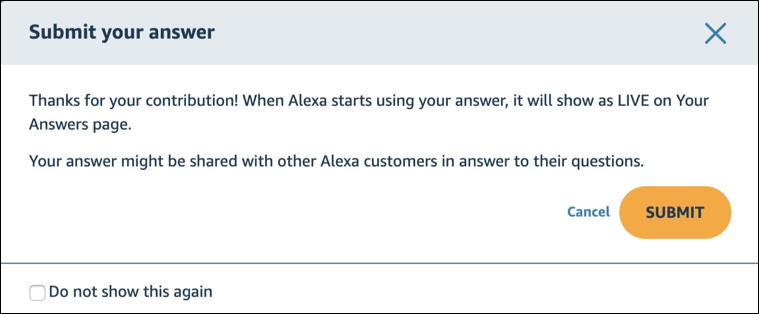 That's it. Easy. Now say out loud "alexa, how much does jason bateman weigh?" to see if my answer is in use yet!
More generally, though, AlexaAnswers is where you can help answer the thousands of otherwise unanswerable questions Alexa receives on any given day. Kinda fun, really. Now, go help her out!