So frustrating to set up a new Android phone because the screen timeout is incredibly short! Once I get through that, however, how can I set the timeout to at least a couple of minutes, if not longer?
I know exactly what you mean with your complaint about the default screen timeout. It's interesting how many different computer companies fall into the same trap, having a timeout that's way too short and ends up being a obstacle for setting up a new computer. Windows systems often have this same problem too, where you have to be really focused and clicking forward promptly lest the screen go back or drop to the screen saver image. What's hard to imagine is why the default is so darn short: On an Android device that default is 30 seconds, which isn't much time if you're even the slightest bit distracted or sidetracked while doing something on your phone.
Fortunately it's easy to fix and change that setting to whatever you want, even 15 minutes or longer, as long as you know where to look. of course, the longer the timeout the more it could impact battery life but with modern Android phones like the Google Pixel 5 having a multi-day battery life, we're talking, what, 15 minutes of total battery life across two days? An entirely reasonable trade off if you ask me.
So, once you have your new Android device configured, the way to adjust that timeout duration is to jump into Settings…
Sure, you can navigate through the millions of settings to find the right screen, but savvy Android users always use the search box. Search for "timeout"…
There it is, the first match: "Screen timeout" located in the "Display" area of Settings. Notice the second match too, while we're here: "Lock after screen timeout". If you are really worried about security, you can come back and tap that to enable a full system lock after every screen timeout (which will quickly drive you bonkers if your timeout remains 30 seconds!)
For now, tap on "Screen Timeout". Android even highlights the matching setting on the list to ensure you don't get lost:
As you can see, the default remains "After 30 seconds of inactivity". Who thinks that's a good setting?? :-O
To fix it, tap on that setting entry and you'll get a lot of choices:
I have mine set to 5 minutes and find that works well for me, but you might want something longer or quite a bit shorter. I imagine a lot of people also choose either 2 minutes or 10 minutes, but 30 minutes might be just a little bit excessive. In any case, try a seeing for a day and see how it works for you. Now you know how to change it you can certainly experiment!
And while we're looking at the screen timeout setting in Android, don't forget you can also enable "Screen Attention" if you don't find it creepy to think that your phone's always looking through the forward facing camera, trying to ascertain if you're looking at it: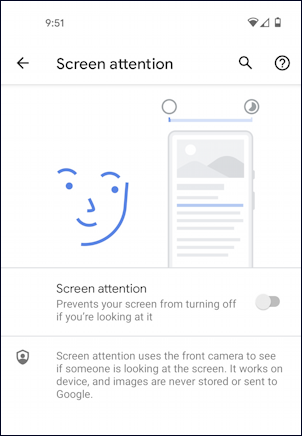 Me? I have that disabled. Not sure I really am comfortable with the idea that the camera is always on, personally, but I'm sure plenty of people enable this for the convenience. You could also just try it for a day and see if it works or makes a difference in your interaction with your phone, then decide. Your call. Uh, as it were. 🙂
Pro Tip: I've been writing about Android since the operating system first showed up on devices and have owned every single Pixel model too! Please do check out my extensive Android help area for lots more tutorials while you're visiting. Thanks!