I've been using Firefox on my Ubuntu Linux system and it defaults to Google for searches. I'd rather not be tracked. Is there a way to change the default search engine to DuckDuckGo or do I just have to go there before every search query?
Used to be browsers were all about rendering Web pages so you could surf the Internet. Things have evolved quite a bit since then, however, and now we want our browsers to do everything and contain every feature and the kitchen sink too. Wait, is that a plug-in?
More seriously, you're right that Google tracks every search you do, whether it's from Firefox on your Linux system or your Android phone. Whether it does any aggregate or individual analysis other than trying to match search ads with your data, however, is up for debate (though I suspect that they do look at it all). You can log out, you can use a browser permanently in "incognito" mode and you can delete your search history, but sometimes the smartest solution is simply to switch search engines. And that's where DuckDuckGo is a great option with its focus on user privacy and stated design that eschews any data capture or storage.
So let's do this! To start out,  you're right that the default search engine is Google and that there's no overt and obvious way to change it:

Some browsers have a tiny pop-up menu right on the search bar so if you click on the search provider's logo you have options, but Firefox doesn't offer that handy shortcut. Oh well.
Instead, go to "Settings" off the "•••" menu on the top right of your Firefox window. The top of the Settings page will look like this:
You can scroll down to find the right place to make the change but it's time to try something different!
Type "default search" into the search box labeled 'Find in Preferences' and you'll jump there so fast you'll be unsure if anything's actually happened and have a double-take (well, I do when I do these sort of searches in Firefox settings!)
Lots of options, actually. Firefox has done a really nice job with this and its other settings, which is why I don't understand why there isn't a shortcut on the home page search box. Still, it's easily changed here, and a click on "Google" pulls up a menu with all the default search engines you can utilize:
A decent number of choices, actually, though who would have eBay or Amazon as their search engine? Maybe a shopaholic or someone who constantly checks their merchant listings?
One of the options here is indeed DuckDuckGo, so choose that, close the Settings tab and open a new tab in Firefox. Voila!

Just to show you that DuckDuckGo is a perfectly functional alternative search engine, check out the results when I search for "canard":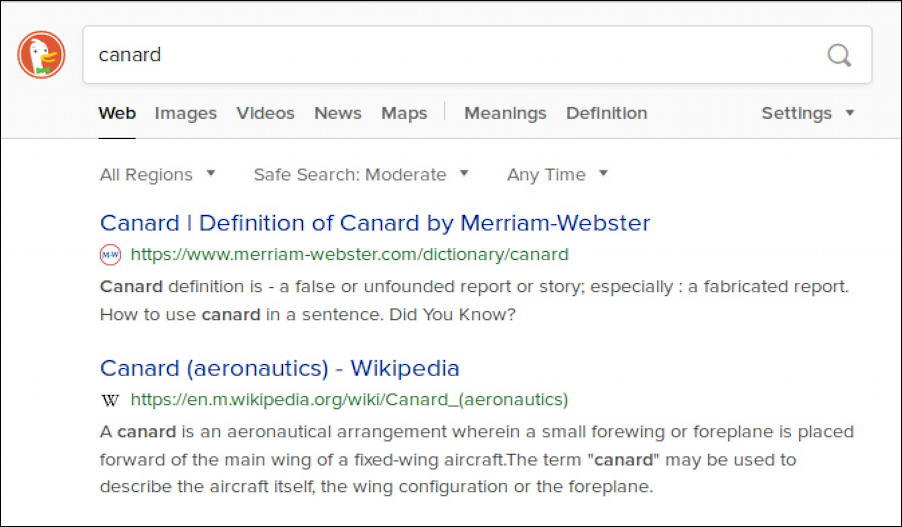 Notice the tabs along the top of the search results especially. It's different to Google and Bing. I really like that you get Meanings and Definition too, which is great for writers and students.
And that's it. You've changed your default search engine in Firefox on your Ubuntu Linux system. Well done.
Pro Tip: I've been writing about Linux since, well, it was Minix. Please check out my extensive Linux help area for lots of tutorials!