I have seen that people on iPhones can add new custom widgets to their phone's home screen. Looks cool and it's a break from the endless grid of app icons. Can I do the same with my iPad?
Actually, support for widgets has been in iPadOS for a while, but it definitely helps if you upgrade to iPadOS 15, the latest and greatest. While you're at it, make sure all your apps are updated too as many now have their own widgets too. One of the best, though, is what Apple calls the "Smart Stack", which can rotate between key capabilities and really liven up your screen.
To start out, I highly recommend you choose a custom wallpaper of some sort. There's a very limited set include with iPadOS, but there are dozens of Web sites that offer enormous collections of suitable wallpaper. For best results, download images that are at least the same resolution as your screen (iPad Air is 1640 x 2360, the iPad Mini is 2048 x 1536, and the big iPad Pro is at 2732 x 2048). I actually like the dark purple graphic art that's included, as you'll see in a moment, but I think wallpapers are one of the best places to do some personalization on a device.
HOW TO ADD WIDGETS TO THE IPAD SCREEN
Let's start with a definition, however: a "widget" in this context is a small app-controlled window that intermingles with your app icons. It can't be on top of or behind an app, and generally takes up one, two, four, or more grid locations. An individual app, of course, can only utilize a single space for its icon. Here's my home screen in all its purple glory: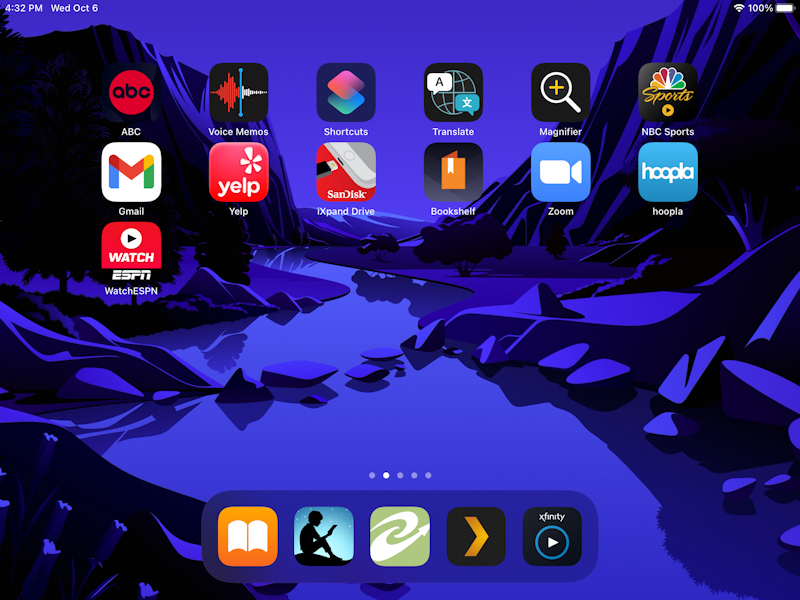 Adding widgets is done with the exact same gesture as moving and reorganizing app icons: tap and hold, either a blank spot on the screen or a specific app icon. After a few seconds, it'll change to this: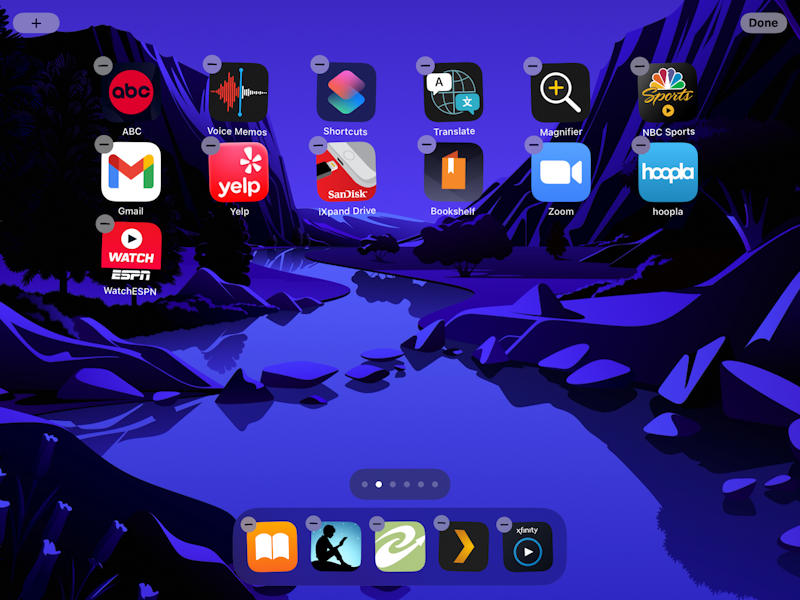 You can remove an app by tapping on the "-" on its top left corner, or tap and drag to reorganize app icons. You already know that. What you might not have noticed is the "+" in the top left corner of the screen. iOS or iPadOS, it's the same.
Tap on the "+" to get to the widget screen: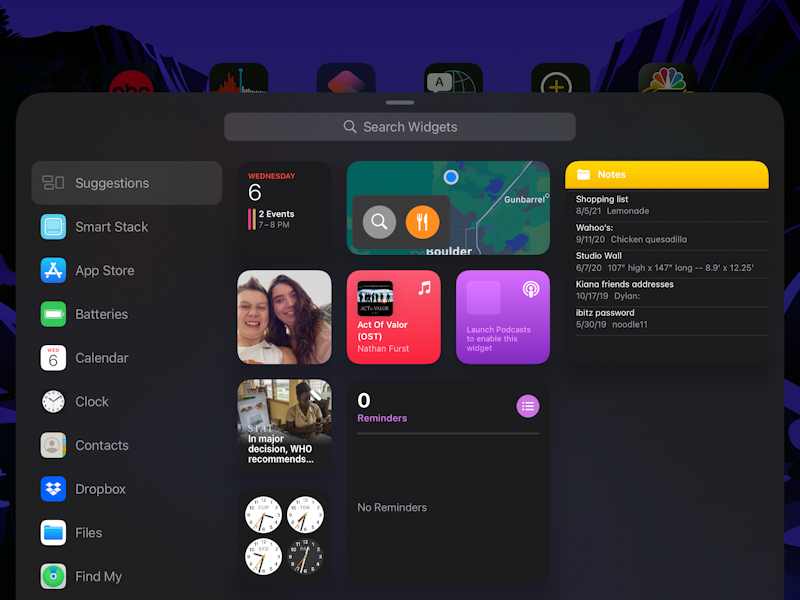 The widgets on the main area are "suggestions" from iPadOS that it thinks you might want to add. But look down that left side, there are lots of widgets from which you can choose, most notably that "Smart Stack" I mentioned earlier. Also notice on the top you can search for specific widgets, though I don't know how you can get enough to need a search feature.
ADD A SMART STACK WIDGET TO YOUR IPAD SCREEN
Tap on "Smart Stack" on the left side and you'll see this: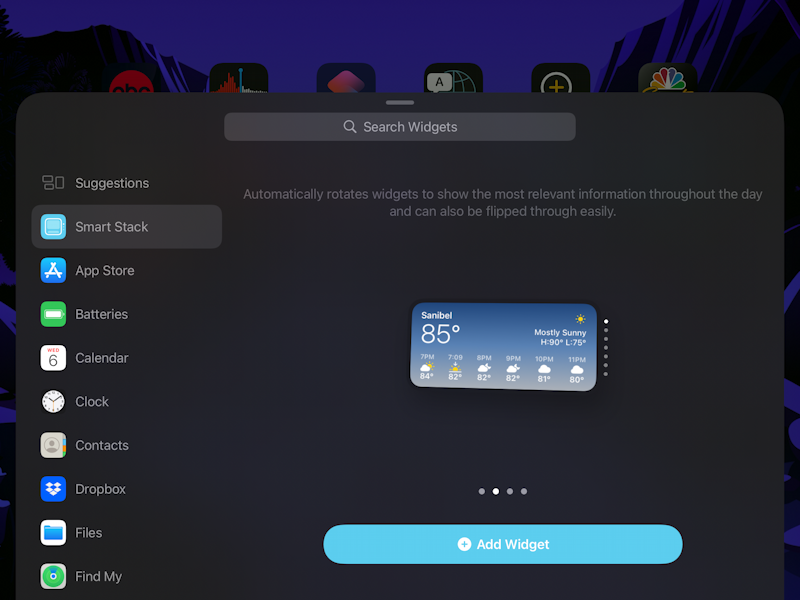 What you need to look at are the tiny dot rows and columns. The 7 dots to the right of the weather widget indicates that it's a seven screen widget, with auto-change but you can also swipe up or down to move to the next view. The four dots along the bottom? That means that there are four sizes of widget and we're looking at the second option that will take up two app icon grid spots.
Look good? Tap on "Add Widget" to add it.
You can also add app-specific widgets for those apps that have implemented it. For example, the Amazon Kindle app does a great job with a widget that shows what you're reading and lets you tap to jump right back into your ebook. For me, it's "All The Gin Joints: A Novel or World War II Hollywood" by Martin Turnbull: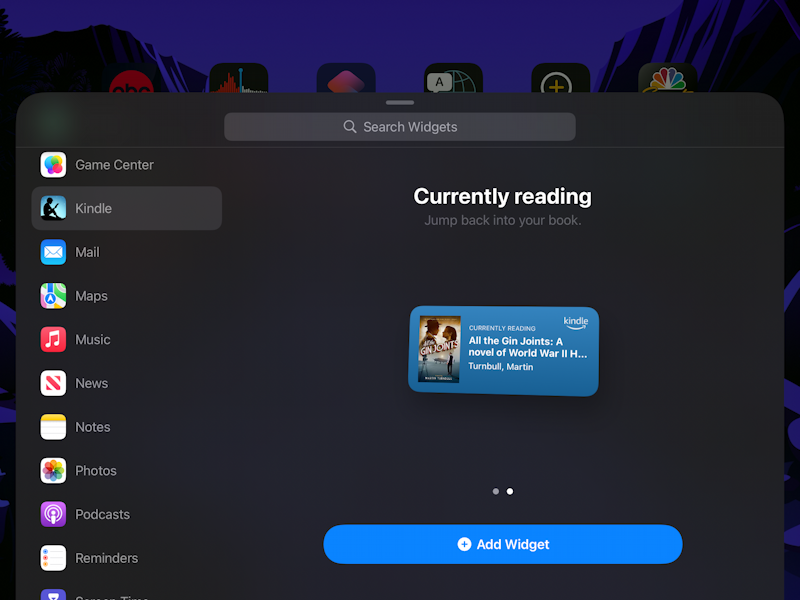 This widget has two size options, as shown by the two dots along the bottom.
I'll add that and here's my new home screen: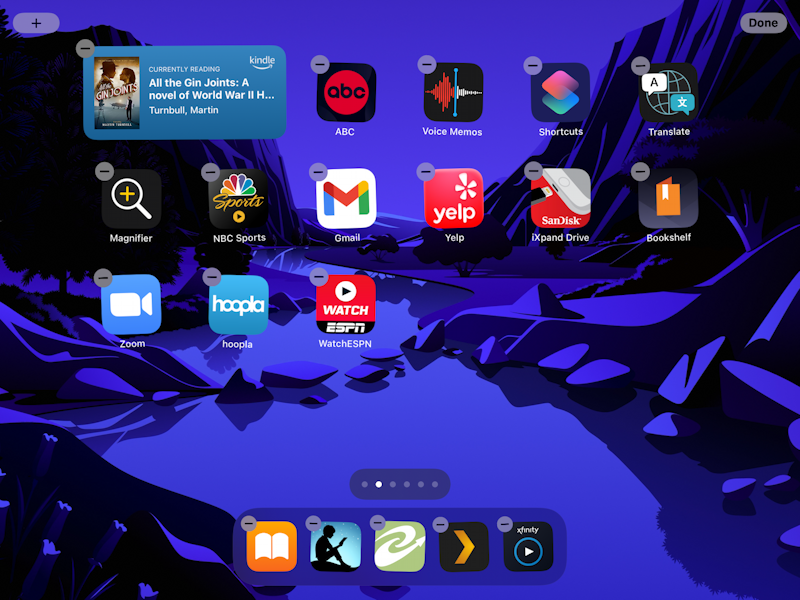 Notice that they're all still wiggling and the "-" is now on the top left of the widget as it is with the apps. What might not be obvious is that you can tap and drag the widget around on the screen just as you do with an app icon!
I'll add one more widget, the big Smart Stack, even though I don't seem to have any calendar events. The result is pretty cool:
A single tap anywhere on the screen and edit and arrange mode vanishes. Now you might be wondering what happens if you rotate the screen with these widgets? Here's the result: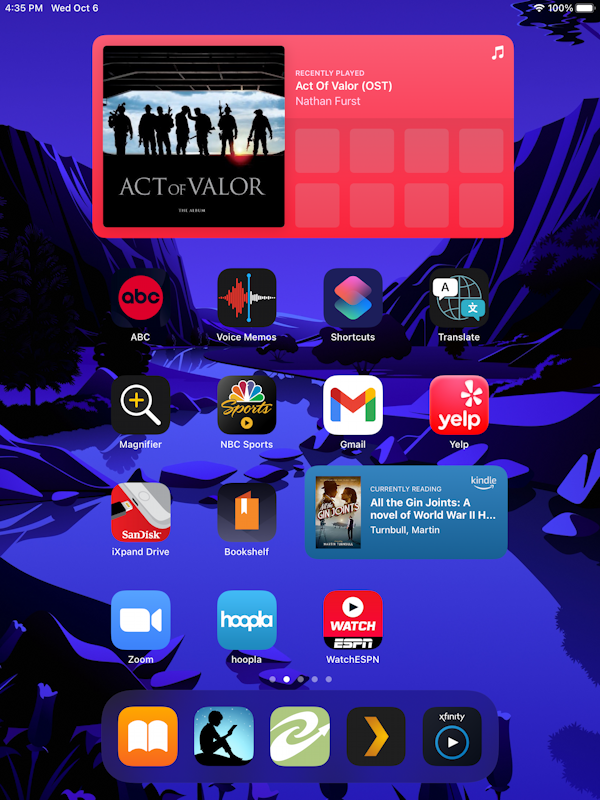 The Smart Stack has moved to my Music playlist. Disappointingly it can show you what's playing, but doesn't offer actual music controls. A strange omission from the Apple dev team that I hope is fixed in a future update.
In any case, that's how you work with iPadOS widgets. Pretty darn fun, if you ask me!
Pro Tip: I've been writing about the Apple iPhone and its many apps for years. While you're here, please do check out my extensive iPhone help and iPad help areas for lots more tutorials!