My girlfriend has told me that if we can stay together for 500 days she'll be willing to marry me. Unusual, I know. But how do I easily figure out when 500 days from the current day actually is?
Compliments to your girlfriend for an unusual challenge and making you do date math, of all things. Not doing math while on a date (though she might be okay with that from the sound of things) but actually working with dates and calculating the current day plus a certain number of days in the future.
You can do some back-of-the-envelope calculations, of course, figuring that 365 days from today is the same date, so you're really looking for a date 135 (500-365) days in the future. Subtract 30 a few times and you're looking at something roughly in 4 1/2 months from the current date. Obviously different months have different duration and you need to take into account that it's probably not the first of the current month either, but that's a ballpark figure.
Turns out, however, that there are better and more precise ways to calculate the future date. One solution if you have a Linux system available is to just use the command line to do some basic date math:
$ date -d "+500 days"
Mon Mar 22 14:58:10 PDT 2021
There's your answer. Given that today is Nov 8, 2019, 500 days in the future is Mar 22, 2021.
You can do bigger values too, of course. Like what if she said "2500 days"? Well, that would be…
$ date -d "+2500 days"
Sat Sep 12 14:58:22 PDT 2026
Don't despair if you don't have a Linux command line available. On the Mac there's a neat shortcut in the Calendar program. Simply click on the "+" symbol and state the future date parameters: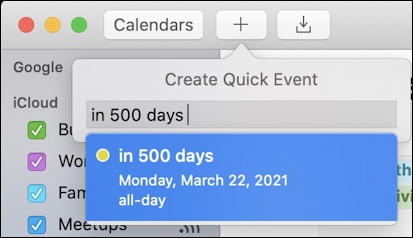 Same thing with that 2500 days in the future date too:
If you have neither, well, there's a Web site called TimeAndDate.com that offers date math. It's a bit more clumsy and not really a trick or shortcut, but it definitely works. Here's an example of the current date plus 500 days:
The answer's at the very bottom, of course.
Turns out that Alexa can figure this out too. Just say "what day is 500 days from now?" and she'll give you the answer. You can also do this for days in the past, of course. A Linux command of date -d "-10000 days" reveals that 10,000 days ago was Monday, June 22, 1992.
Now that you can do the math, I wish you the best of luck. And while you're waiting, the two of you might enjoy the romantic comedy that's oh so appropriate 2009 film 500 Days of Summer, with Joseph Gordon-Levitt and Zooey Deschanel!
Pro Tip: I've been writing about computer basics and helping solve people's problems for many years. Please check out my tech and computer help while you're here!