I need to have a weekly conference call with my sales team, scattered throughout the United States, and since not all of them can join us each time, I need to be able to record it and make that recording easily accessible for later download. Is this possible, and if so, how much would it cost for me to set things up for these conference calls?
A quick Google search for "conference call" reveals a zillion matches, and some of them can be hundreds of dollars per hour, but here's the great news: there are some very good free conference call systems out there, including the one I use, Free Conference Call.com.
Their site is a bit confusing, but the capability is very nice, especially since there's no fee associated with hosting or recording a call on their service. Let me step you through registering, setting up a call, and accessing the recording, so you can see that you really can use this for your sales team and even for client calls so you can build a recorded call library (or analyze sales calls after the fact).
First step is to pop over to the site and click on "log in" even if you don't yet have an account, or simply click on one of their little ad graphics, like this:

Click on the enticing "Get Free Service" and you'll have a registration page:

Couldn't be much easier. That's all you need to do, and once you click on "Submit" the next step will show you the incoming phone number for your calls, your moderator access code and the access code for everyone else who wants to join the call: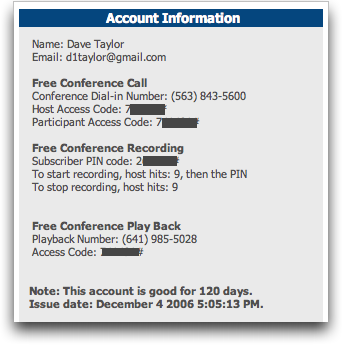 You can see that the number for everyone who wants to be on the conference call is
563-843-5600
and that as the host of the conference, you have a different access code to the participant's access code [I've blocked both for privacy, but it's six digits followed by a "#" symbol]
That's really all you need. Disseminate that phone number and a specific time to your team and at the appointed time, everyone calls in, you use the host code (so you can access various host features, including enabling and disabling the recording capability), they use the participant code, and you're rolling in just a few seconds!
Once you're on the call, press "9" to start recording, at which point it'll confirm that you are the host by requiring your "Subscriber PIN code" (again, a six digit number). Once you've entered that correctly, you'll hear "Conference is in Recording Mode" and it's all being saved to their disk for later access. Done recording? Press "9" again.
Notice that there's a phone-based playback capability with FreeConferenceCall.com here too: after you've recorded a call, your sales team can easily access the recorded material via their own phone at any time by calling in to
641-985-5028
and enter the access code specified on the page.
Once you have a recorded call, you'll be emailed the link to their media center, which will offer information in this form: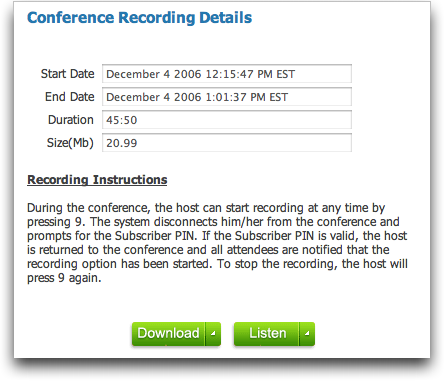 I use this service with great frequency because it's fast, easy, and definitely worth "free". Being able to have coaching calls with my clients, for example, and offer them the subsequent audio recording without a charge is a splendid option too.
Hope that helps you out with your sales team and business!