Okay, this is embarrassing. I was at an important business meeting and as usual, we all put our cellphones in the middle of the table before we started talking. Then a text message from my girlfriend showed up on my iPhone 4 with a, um, suggestive picture of her. My boss grabbed it, read the message out to everyone and raised his eyebrows at the photo. Super embarrassing! Short of telling her not to text me, how can I avoid this kind of situation in the future?
All that and you don't share the text message with us? Not even a link to your girlfriend's sexting message saved up on Flickr? Okay, okay, just teasing…
What you highlight is a significant problem with phone notification capabilities nowadays, and the more advanced the phone, the more it can be, well, embarrassing, as you've learned! Worse, you can imagine a message like "all set for the surprise party?" rather ruining things if the wrong person sees it.
Fortunately, Apple's thought of this and added a configuration option that lets you switch your text message notification to being more discrete.
I'll demonstrate with a step-by-step…
First off, here's a potentially embarrassing text message that popped up on my iPhone's lock screen:


A nice message to get, but not so appropriate if, say, I'm in a meeting during which time I am telling the boss that I'm not feeling well and am heading home to sleep off my ailment.
To fix this turns out to be surprisingly simple, if you don't mind monkeying with your settings. The trick is, you have to go into the "Settings" app, you can't make the change within the "Messages" app itself.
Tap on "Settings", then scroll down to find the entry for "Messages":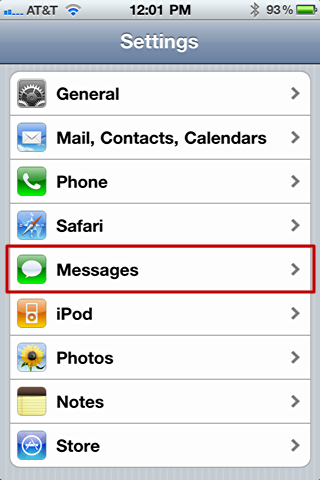 Tap on "Messages" and it's the first entry that lets you mark your text messages as private…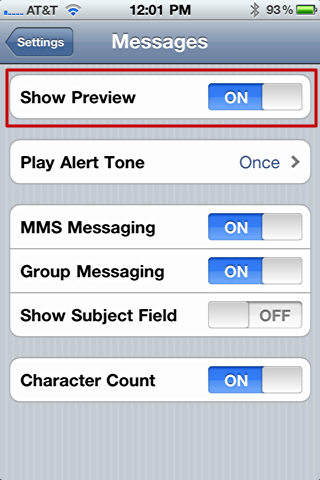 While you're here, review the other options as there are some useful changes you can make to how sms text messages are displayed. Done? Just tap on your home button (the circular button below your screen) and you'll be back doing other stuff.
Next time one of those suggestive, racy, or just plain old private messages arrives, you'll be safe: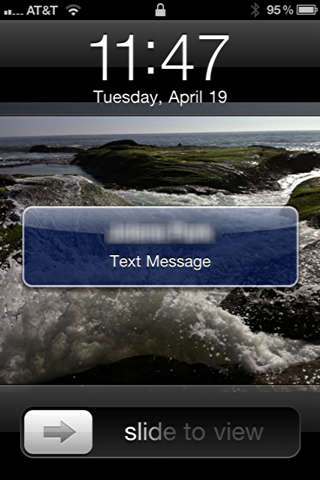 "That? Oh, that's my friend giving me an update on her sick doggie."
Bwahahahahahahaha!