I frequently plug additional monitors into my MacBook and it works great, but I wish the Mac OS X menu bar wasn't shown on that monitor screen too. Is there a way to disable or hide the menu bar on second or external displays?
I must say you have good timing with this question submission because I've been on the road for a few days, plugging my own MacBook Pro into the HDMI port of the TV in my hotel room and running it as a second display. Works well, particularly with my SlingTV app which lets me ignore the lame channel line up of most hotels and instead watch the channels I prefer, or anything out of iTunes, Netflix, etc.
Works great except, like in your situation, it's really annoying to have the app "full screen" and still have a menu bar along the top of the TV itself.
It ends up looking like this:
Fun to watch the movie on TV from my computer, but, um, the blue menu bar? No thanks!
Turns out you can turn off the menu bar on external monitors in Mac OS X, but it's not where you'd think it would be…
To start, go to System Preferences… from the Apple icon on the top left. Look along the top row of icons:

You'll want to click on "Mission Control"…
As I've highlighted, the puzzlingly labelled "Displays have separate Spaces" controls the menu bar on the second, external display. What they're thinking with this description I'm not sure, I'd have it instead read "Show menu bar on external displays" but at least you now know.
When you do change the setting, by the way, it'll tell you something interesting:

What's interesting is that most people don't know how to log out of their Mac system, and even in the other tutorials I've read on this subject, the writers say that you should just restart the system. Pah! You don't need to do that!
Instead, go back to the Apple menu: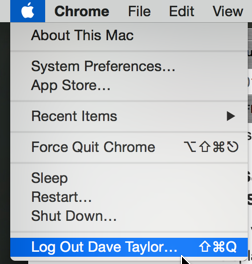 and, as you can see, choose "Log Out". And here's a handy tip: When you do go to log out, check the window that pops up: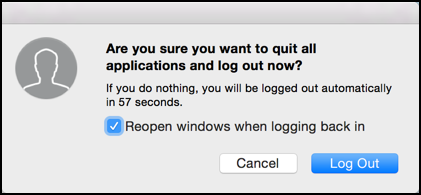 Choose "Reopen windows when logging back in", click "Log Out" and once you log in again everything will be as it was. Except for that darn menu bar, as you can see in this subsequent photo of SlingTV on the external monitor: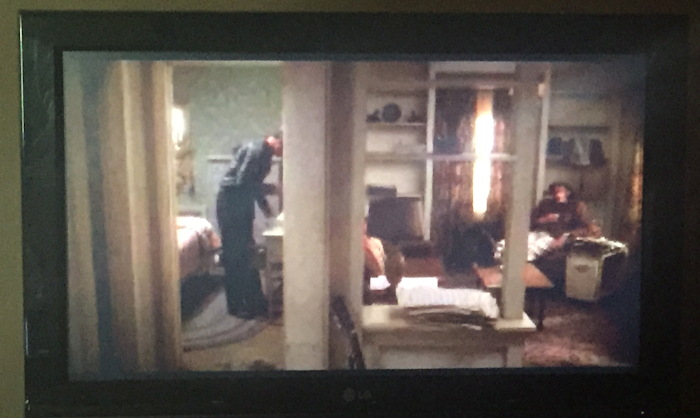 That looks a lot better. The menu bar is useful in some situations — and you can always reverse this process if you want it back — but it's nice to know how to get rid of it, isn't it?