I've been looking at the Compass app in iOS 7 on my iPhone and I don't get it. What's the point? How often do people actually need a compass??
You raise a great question, actually. I've looked at the apps on my iPhone and iPad many times, wondering which are useful to people and which are dead weight. I know my own usage patterns but I don't think I'm a typical mobile device user. For example, I have five different places in my Weather app so I can keep track of the weather where my Dad lives in California, where my sister lives in Alaska, and the weather of a few places I'm heading in the next few weeks in Utah and Idaho. When friends or family travel, I add their local clock to my world clock area in the Clock app.
But there are some apps that are still a bit puzzling, and Compass is top amongst them. Who needs a digital compass? Other apps on my never use list: Stocks, Newsstand and Passbook. In fact, I surmise that the latter is going to vanish when we move to iOS 8 as a failed experiment, but, again, there might well be huge groups of people finding great value in the apps that I find completely uninteresting.
And so we get back to Compass.
Based on your query, I dug around and it turns out that there are some pretty neat capabilities hidden in the app, enough that it is actually useful to have taking up space on my iPhone 5s…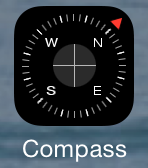 Launch Compass by finding its super-intuitive icon and suddenly you're looking at an instrument from a fighter jet:
You can see that I'm just about facing due West. The compass dial is broken into 360 degrees, in case you don't know that, and 0-degrees is due north.
Let's pay some attention to this screen before we go further. First, see that tiny grey bubble and floating ~ez_ldquo+ez_rdquo~ centered in it? That's a level indicator. But we'll see that more closely in a moment.
My current heading, as shown, is 269-degrees West and my lat/long is 40-degrees, 3-minutes, 27 seconds north, 105-degrees, 13-minutes, 8 seconds west. That's your exact location as ascertained by the GPS location system in the phone. Feed it to a mapping app that speaks lat/long and you'll find your exact location (or just go into Maps and tap on the "find me" icon, which is hugely easier!)
If you're sailing or otherwise navigating by compass, the app has a neat feature where when you have identified your desired heading, it can show you when you veer off course. Simply tap the screen once you're on course, and it'll remember that heading. Here's what happens when you're heading in the wrong direction:
I don't often navigate by compass directions, but that's pretty slick!
At the very bottom is a white circle and a faint grey circle. Ah! There's something to the right. Cool. Swipe left to reveal the second screen of the Compass app and…
What the heck is this? A "level". It shows the current tilt of the phone versus perfect level. I'm 6-degrees off.
Where is this useful? Turns out that it's great for making sure photos and other pictures are hanging level on the wall. Something that bugs me, so this is great: go to this screen then just lay the iPhone on the top of the pic and adjust it until you hit 0-degrees level.
But there's still more this little app can do!
Now, instead of having it perpendicular to the ground, lay it on a flat surface like a table.
A bit hard to visualize, but it's what I'd call a spirit level or bubble level, and it makes it super easy to ensure that the surface is exactly level. In the above capture, it's 8-degrees off level, with the problem being lower-left-to-upper-right, as the circles indicate.
When you put it on a perfectly level surface it turns a cheery green, actually:
0-degrees off from level. Perfect.
This is, of course, great for people who play pool (billiards), air hockey, or any other game where being perfectly level is critically important.
So there you have it, some really neat hidden features of the Compass app. Now, is it going to earn its position on your home screen now? I doubt it. But it's good to know it can do all these neat things nonetheless, right?