Looks like we're downsizing and moving, which means I can buy a new TV for the first time in, geez, 15+ years. No clue what to get. Plasma? LCD? 2D? 25D? I probably won't know exactly what size until we get into the place… and then talk my wife into something slightly bigger than she wants 😉 Plus, she's not a surround-sound person, so I'll need to pack good sound into a small package. Suggestions?
Ah, what a fun time you have ahead of you, if you can just survive all the industry jargon and rather ridiculous number of different options available today. First off, let's get this out of the way: don't wait for the next big tech to come out. Fact is, with modern consumer electronics, everything is obsolete the day you click the "buy" button at Amazon.com or put it into your car at Best Buy. We're all surrounded by obsolete tech, that's just the nature of things. Take a deep breath and skip the anxiety. 🙂
I also have certain brand loyalties in this space based on my own experiences and what I have in my own home too. My TV? An 8 year old Sony HDTV. It's a 43-inch LCD unit and still works great, though the display is a bit washed out in direct sunshine, but since I generally have it off during daytime, not a big deal. I had a superb Yamaha soundbar plugged in, but replaced it with a slick Vizio compact soundbar unit that includes bluetooth (I can play music off my computer!) a wireless subwoofer and satellite speakers that surround our room with audio for remarkably little $$. That one I reviewed on YouTube: Dave Taylor reviews the Vizio S4251 5.1 DTS Soundbar.
Watched it? Back? Great!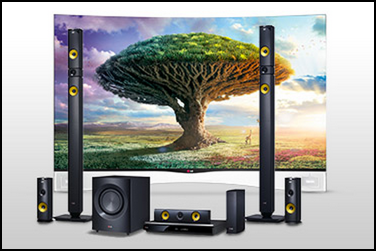 Since I go to the Consumer Electronics Show every year, I'm not just aware of the very latest in TV tech (like the splendid M-Series TVs just launched from Vizio and the gorgeous curved screens of the latest LG units), but truth be told, most high-end HDTV systems are gorgeous and amazing. So a great place to shop is Costco, believe it or not. Do your homework first at Amazon and pop into the local Best Buy to see the differences in style and features, but they all now are "smart TVs" that hook up to your wifi and offer access to YouTube, Netflix, Facebook and, often, Amazon Video and Hulu, among others.
A sea of content, now the challenge is to find something worth watching!
Contrary to some of my friend's views, it is possible to have a TV that's too big for your space. There's a formula that home theater experts use, actually, and it's based on how far from the screen you're going to be sitting. Check out the data that Crutchfield has on its site, for example. According to that data, if you're typically sitting 8-feet away from your TV screen then you should be looking in the 40-60-inch range. My 43-inch TV, for example, is about six feet from our couch, so Crutchfield would say it's a perfect size for the room. Me? I wouldn't mind another 10 inches of screen.
In terms of specific tech, you want to get the highest refresh rate you can afford. 240Hz is a minimum, and of course 1080p is just a basic element. Look for an "optical" connector for your audio system (we'll get to that momentarily) and you can't have enough HDMI connectors on the back. SD Card reader? I've never used mine even once. I'm a fan of energy star certified electronics to minimize your electrical footprint (mostly related to standby power usage) and if you have little kids, think about whether the TV can be tipped over (a surprising number of little ones get hurt pulling a big, heavy TV on themselves).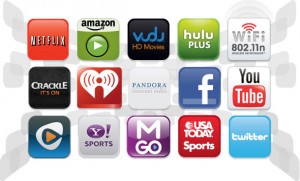 I'd skip 3D TV – it never really caught on, for a variety of reasons – and be wary of UltraHD or 4K: that's the next big thing, but you'll pay a premium for a relatively nascent technology at this point with almost zero source content available.
For brands, my favorites are, in no particular order, Vizio, Samsung and LG, though there are at least another dozen that have gorgeous HDTV units available on the market. Ask your friends, view your options at the store (with your favorite Blu-Ray disc so you have an apples-to-apples comparison) and check out Amazon customer reviews too.
TV manufacturers really don't pay much attention to the audio side of things because just about all of them offer surround sound speaker or soundbar systems. The question in that case becomes how invasive you want it to be: there are amazing audio systems for TVs that will take up a lot of space in your room and leave you with wires across the floor. For the optimal audio experience, DTS 7.1 would be amazing, but it means you'll have seven speakers in the room. Most home setups, even the Man Cave, aren't that hard core, so DTS 5.1 works great and with a soundbar like the Vizio, it's really four speakers: a long skinny speaker that rests just below the TV (which contains three speakers, in essence, front left, front center and front right), two satellite speakers placed behind the listener (back left, back right) and a subwoofer that amps up the bass, generally 100Hz or lower.
These are considerably less expensive than TVs and a basic unit can be picked up for under $300 that'll sound great and add a lot to your viewing experience. Just beware of neighbors: that great rumble that enhances Die Hard and Transformers is also shaking and bothering those poor folk who live on the other side of the wall or floor.
There are a number of ways to connect your sound system to your new HDTV but my recommendation is digital optical audio. It's a specialized cable with very little chatter or noise, so it'll give you the best results. As a consequence, make sure that whatever audio system you buy supports optical as an input option. If not, you can probably defer to an old-school RCA connection with very little adverse impact.
How much should you expect to pay? There are some terrific 50-inch and under HDTV systems for around $1000 nowadays, and if you want a really superb 60-70-inch screen, expect to pay $1750-$2000. Then $300-$500 for a soundbar and you should be good to go!