A friend and I were having a beer when her phone beeped: it was a direct message she'd received on Twitter. Cool. How did she set that up and how can I do the same on my iPhone?
With the rise of Twitter applications and mobile clients, many people forget that the service actually started out as a txt-message based service and indeed the 144 character limit is due to the limitations of text messages on cellphones in the first place. Jack Dorsey is credited with the original idea for the service (it morphed from a company originally called Odeo), as described here:
"Jack first described a service that uses SMS to tell small groups what you are doing. I remember that Jack's first use case was city-related: telling people that the club he's at is happening."
It's grown rather a bit since then, yes? 🙂
It turns out that Twitter supports your cellphone services (though if you have a limited text message plan you should be careful as you could get a lot of txt/SMS messages without realizing it) but you have to actually go to your account on Twitter with a Web browser: third party apps like TweetDeck or Twitter on your iPhone won't work.
Once you're at Twitter.com, make sure you're logged in, then click on "Settings" on the top right corner. You'll then see a variety of Settings options:


As you can see, click on "Mobile" and if you've tied your cellphone or mobile device to your Twitter account, you'll see something like this: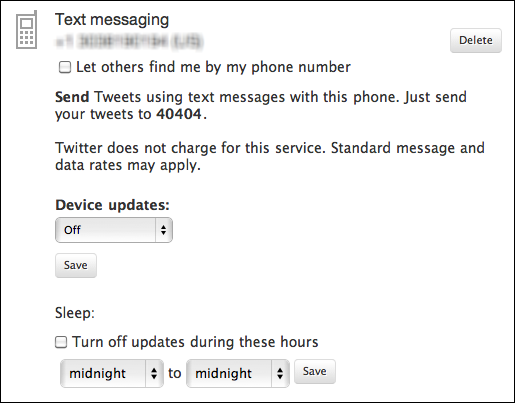 If not, you'll see the steps necessary to enter and validate your cellphone number. Do so. Now click on the pop-up menu below "Device updates":
Be careful here: if you chose "On", then you'll get all direct messages
and all @ replies
as text messages. If your Twitter stream is like mine (I'm
@DaveTaylor
if you'd like to follow me, btw) that could be quite a flurry every day.
I suggest you select "Direct Messages" instead so that only your DMs are sent to your phone via txt message.
If your phone buzzes, beeps, or otherwise indicates that you've received a text message, you might also want to specify a sleep period on this page too, so that it doesn't wake you up at 3am. I'm a night owl, so 12-7 works just fine for me…
That's basically all there is to do. Due to a UI error, note that you need to click on teh "Save" button for each of these two settings, so be careful you don't just click on one and leave the other unchanged!
When you've saved successfully, you'll see something like this:
Done. Happy DM'ing!