I'm a big fan of Pinterest [ I am too, you can find AskDaveTaylor on Pinterest as d1taylor — Ed ] and recently noticed that some of my friends are having their Pinterest activities show up on their Facebook timeline. Nice. I want. How do I hook up Pinterest to Facebook and vice versa?
Ah Pinterest. Just as Twitter is Facebook boiled down to just its status updates, so Pinterest is like the photo sharing feature of Facebook without any of the other jazz too. More interestingly, it seems to be much more weighted female, so the images that show up (depending on who you follow) are much more likely to be arts and crafts, fashion and homemaking, etc. Less guns and race cars, less curvaceous women advertising tools for mechanics. Oh, well, those don't show up on Facebook either, but you know what I mean!
Anyway, Pinterest has been humming along relatively under the radar until the last few months, when interest has exploded in the overall social media community. Now an invitation to join Pinterest is a hot commodity!
Not to mention Facebook, which is on its way to break a billion users. Which is astonishing when you realize that there at 6.8 billion people on Earth. That's 1/6th of the total population of the planet, and when you factor out anyone under thirteen and people who suffer under the yoke of illiteracy, I bet there're closing in on 50% of the global target audience for the service. Amazing indeed.
I noticed that there was a connection between Pinterest and Facebook just a few days ago myself, when I caught a Pinterest update for a friend in my Facebook news ticker. When I put the cursor over it, I saw this: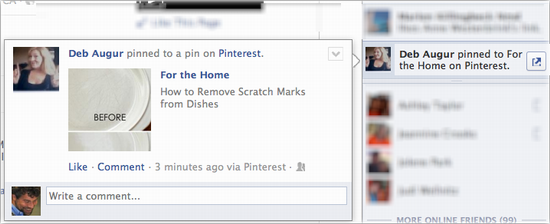 To hook things up so that your Pinterest updates show up on your Facebook timeline, you need to log in to your Pinterest account. Now, on the top right, click on your name, which produces a menu of options: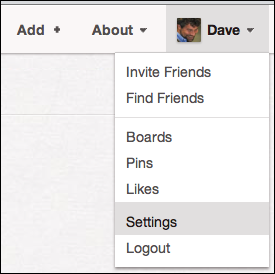 Choose "Settings", then scroll down a ways. Part way down you'll see this:

If you guessed "Add Pinterest to Facebook Timeline" is what you want to enable, well, you're right. In fact, you need both to be enabled, but you probably already set up the first option as that's been a part of Pinterest for a while. Either way, when you click on the slider to change the setting, you'll be asked by Facebook if you want to grant Pinterest permission to access your Timeline: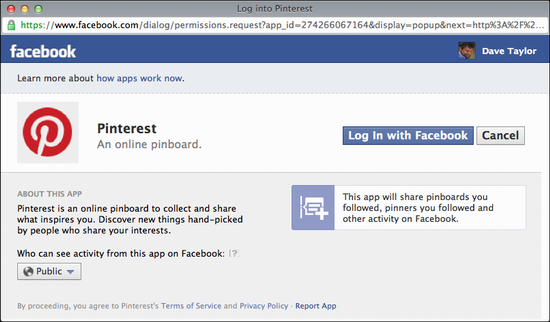 You good? Click on "Log In with Facebook" to proceed and it'll change your settings display to confirm that you're good to go:

Now when I repin something, for example, it all looks the same as usual…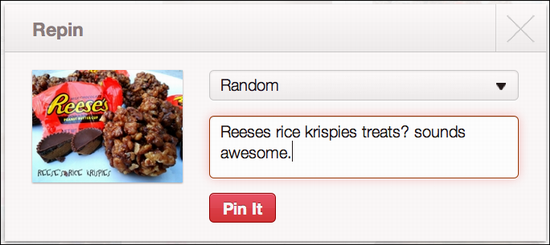 But now it also shows up in my Facebook timeline, albeit rather discretely:

Turns out that there's more info available, however. Users just need to know that they should mouse over the board name — in this case "Random" — to find out what I pinned to that particular board:

Still, kind of a drag if I want to share this with my friends, but then again, I have friends on Pinterest who are crazy enthusiastic and they'd quickly consume my news feed and their own timelines would be 100% images, which wouldn't be very good.
Want to do that for specific Pinterest postings, though? You can. Go to your own timeline on Facebook and click on the tiny gear icon…

By default, they're set to "Allowed on Timeline", but if you set it to "Shown on Timeline", the display changes and shows a lot more about the individual pin: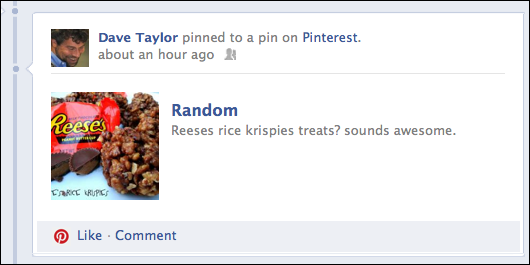 There ya go, I hope this is helpful in your journey to connect Pinterest and Facebook. Oh, and while we're here, please don't hesitate to "like"
Ask Dave Taylor on Facebook
so you can keep up on what we're writing about here too!