I just upgraded from MobileMe to iCloud and I don't see much different, except my iCal calendar is now empty! This is a huge problem as I use it to schedule patients and, well, it's made me rather anxious. Help!!
I went through the same thing when I did my MobileMe to iCloud update, actually, and worse, it turns out that the default action within the newest version of iCal, the one that's supposed to know about iCloud, ends up telling you that there's no calendar and no data to sync with. Can you say anxiety attack? I suspected you could! 🙂
What it turns out you need to do is explicitly choose "iCloud" rather than letting iCal automatically figure out what kind of calendar server you're trying to connect to. My suspicion is that it's because the @me.com addresses can now point to either MobileMe or iCloud accounts, but still…
To show you what happened with me, I'll go through the steps that led to the automatic-picked-wrong-service-type dead end, then show you how I fixed it. Ready?
Needless to say, when you have a full calendar of events, migrate to iCloud and open iCal to see this, it's not good: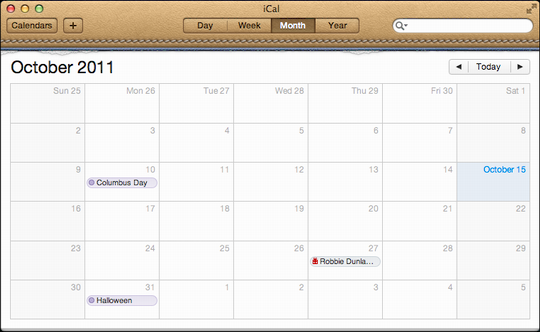 Rather than just hyperventilate and collapse on the floor I realized that a) I had indeed made a full backup of all 14000+ events in my iCal calendar and b) it was probably just a configuration change. No worries, then!
In Preferences (off the "iCal" menu) I went to "Accounts":


Here's where I took the wrong turn, though. I got to this window:


and figured "okay, automatic sounds good, let's have iCal do the work" and entered my email address and account password for
MobileMe
iCloud:


A click on "Create" and it all looks good…


And then looks even better…



Until I got to this error message:


What the heck??? What do you mean "no CalDAV servers were found for me.com"? Was something broken on the iCloud server already, and for such a basic function??
I was skeptical, so instead I decided to see what options I had during the setup process. I went back to the Accounts window and this time clicked on the pop-up menu for account type, to learn that it differentiates iCloud and MobileMe:


Same account info, but this time I specified iCloud and…


Voila! It found a calendar and added it to my Accounts area as I'd hope:


Problem was, the calendar itself was still empty. Until I noticed the little telltale "Updating…" on the top of the calendar window itself:


A few minutes pass — apparently it takes a while to load 14000+ calendar entries! — and my calendar suddenly had everything restored: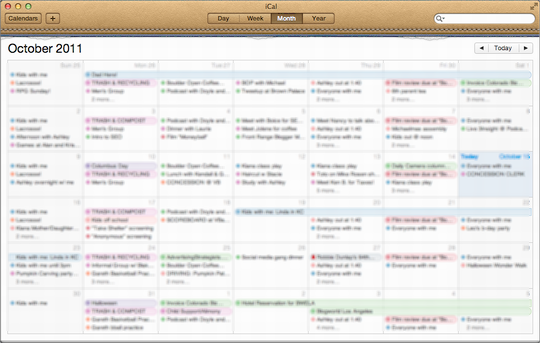 So that's the trick to getting iCal to work with iCloud: you have to explicitly tell the application that you're connecting to an iCloud account, you can't just let it figure it out automatically. Interestingly the Address Book didn't have that problem, but perhaps it's because it's a simpler utility?
Anyway, hope this helps you restore your calendar and patient data!