I'm switching to Ubuntu Linux and need to set it up so that system alerts flash my screen rather than produce an audible beep. Is that possible? If so, where in the Ubuntu Linux settings can I make this change?
There are a lot of reasons to mute or otherwise change the system alert sounds on a modern computer. From notifications of incoming text messages and email to mistakes you've made as you type or use a program, most of the sounds aren't actually something you want to share with people nearby. And beeps when you make a mistake? Definitely not something for everyone to hear! One solution is to just mute the system or device, but then you don't know when something does happen, which is suboptimal.
Fortunately, Ubuntu Linux does indeed support visual alerts, along with just about every other tech device in the industry. Even before graphical interfaces, typed "terminal" devices had a "visual bell" feature that would flash the screen instead of sending a beep sound: you can still find the visual bell settings option in the tty settings in Linux if you really dig around.
But let's start at the beginning with the system alert sounds themselves.
HOW TO CHANGE SYSTEM ALERT SOUND IN UBUNTU LINUX
Start by going to the same spot you head in Ubuntu for any system setting, the status info on the top right of the screen. A click and a small menu appears:
As shown, choose "Settings" to proceed.
This brings up the rather huge Ubuntu Linux Settings window. Find "Sound" on the left side and choose it. Now you'll be here:
You can adjust System Sounds to zero, as I have done above, but scroll down further instead…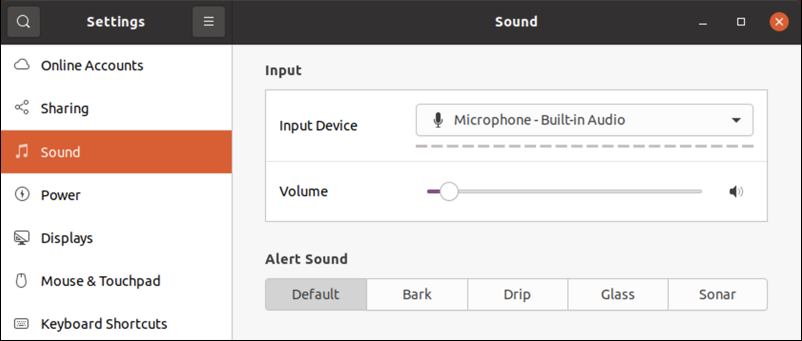 There ya go, the main options: Default, Bark, Drip, Glass, and Sonar. Unlike Windows, it's not at all easy to change or add new alert sounds, so if you do want audio feedback, I encourage you to pick from the listed options.
But what if you want that visual alert instead? That's also a setting…
ENABLE VISUAL ALERTS IN UBUNTU LINUX
On the left column, scroll down until you find the entry "Universal Access". Choose it, then scroll down the right pane just a bit to find the "Hearing" section with its single entry: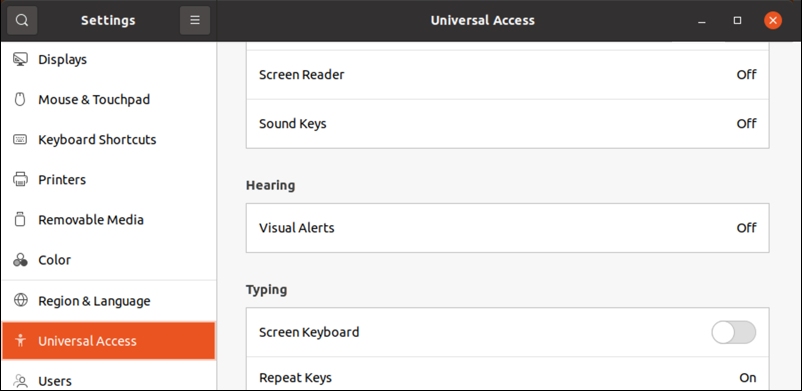 Click on the word "Off" in the "Visual Alerts" box and a tiny window actually pops up:
In the above, I've enabled this great feature and chosen the option to "Flash the entire screen". Choose it, then click on the "Test flash" on the top left to see how it works. Too much? Switch to "Flash the entire window" instead.
That's it. Now you have a system alert setup that will flash your screen or the active window without anyone else hearing any sound at all. Darn useful, really.
Pro Tip: I've been writing about Linux since the dawn of the OS. Please do check out my extensive Linux help area for lots of additional tutorial content while you're visiting. Thanks!