I now have a Google Pixel 5 and a pair of Google Pixel Buds. They're great together! Except I read somewhere that the Pixel 5 can actually double as a Qi wireless charging base to charge up the Buds as needed? How do I enable that?
Welcome to the world of the Google Pixel 5. It's a terrific little phone with tons of great tech at an affordable price. Better, it's also the main test phone for Android development so lots of things that migrate into full Android release features start out as test features just for the Pixel 5. Definitely fun if you like experimenting and being on the "cutting edge" of phone OS development. And those Pixel Buds are a solid addition too; the two devices seem to really work well together which makes it all just a bit more fun.
One of the ultra-modern features incorporated into the Pixel 5 is what's known as Battery Share and it's not only easy to use, but it's really smart how Google's implemented it to ensure that you don't end up with a dead phone while charging other devices. Not only that, but if your phone is plugged in and charging via USB-C, it automatically turns on so you don't have to enable anything to try it out.
Indeed, here are my Pixel Buds charging on the back of my Pixel 5 because it's plugged in and charging via USB-C:
Really can't get much easier than that! But you can also turn this feature on and off without having to plug in your phone, of course…
ENABLE PIXEL 5 "BATTERY SHARE" WIRELESS CHARGING
You can have it always enabled – it disables if not utilized after a short period – or you can turn it on or off either from the quick access shortcuts or from within Settings. Let's start with that shortcut. You already know that pulling down from the top edge twice brings up a tiny set of shortcuts, then a bigger panel of shortcut icons. Do that, then swipe left once and you'll see a similar set of icons to this:
See the lower right icon? That's the one you'll want: Battery Share. Tap on that and it'll turn blue and you'll be ready to charge up your Pixel Buds by just laying them on the back of the phone. Cool.
There's one tweak you want to make to your Battery Share settings before doing this, however, to ensure that you don't put the battery charge of your phone itself at risk. To do that, go into Settings and search for "battery share":
Both of those are going to be important, but let's start with Battery > Battery Share. Tap on that.
You're now in the Battery Share settings area:
You can enable battery power sharing via Qi wireless charging on the back of your Google Pixel 5 by tapping on the slider to turn the feature on, but even if you don't change that status here, it's the slider that you want to consider. I strongly recommend that you slide it to reserve more than just 10% of your charge so that the second device doesn't vampire your battery and leave you in a pickle.
So maybe settings like this:
Looks good! Now tap on the leftward arrow at the very top of the screen and you'll be on your Setting search. This time choose the second of the two options to get to the main Android 10 Battery management screen: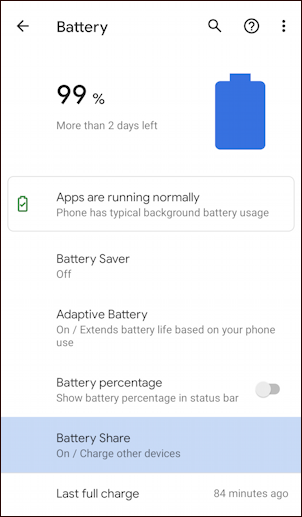 The feature I want to highlight is Adaptive Battery. This is a great thing to enable because it manages how much power different apps and processes on your phone can request to stretch your battery life out. Long battery life = happy user!
Tap on "Adaptive Battery" and here's what it explains:
"Extends battery life based on your phone use". It can slow down apps and notifications, but I suspect you won't even notice. You'll just notice that your battery seems to last even longer. Give it a try for a few days, see how it works for you!
And don't forget that shortcut so you can easily give your Pixel Buds an extra charge any time you prefer!
Pro Tip: I've been writing about Android since the early days of the system. Please check out my extensive Android Help area for tons more tutorials and how-to guides! Thanks. #teampixel