I use Google Drive quite a bit with colleagues and it's inconvenient to have to use the Web interface for uploading, downloading, and generally managing our shared files. Is there some way to have Google Drive show up as just another folder or drive on my MacBook Air running MacOS 11?
Ya have to give 'em credit, Google keeps trying to figure out how to have Google Drive show up on your computer as just another drive. Apple does it with iCloud, DropBox does it, plenty of cloud storage services have this feature, but Google Drive? So far, the company's released a couple of different programs, none of which quite delivered what users wanted. The most recent program was Backup and Sync, but it certainly doesn't fit the bill for "simple, seamless" in the way the other services have done on desktop systems.
That's why it's good to know that Google has a third gen solution to the problem and it's in what appears to be late beta: Drive for Desktop. Available for both Mac and Windows, it's not yet an official release, so you'll have to go to the Google Drive blog and grab the latest build from this page: Sync content across all devices with Drive for desktop. [note that I'm not reproducing the links here because you really need to only trust links on an official Google page for this utility, otherwise you could lose control of your Google account. Yikes!]
I won't give you the direct download links (they're in the first paragraph of the above referenced page) but I can walk you through the install and show you how it works! Let's do it…
INSTALLING GOOGLE DRIVE FOR DESKTOP MAC
Once you've downloaded the program all you have to do is double-click on the installer package (on Windows it will probably automatically open and launch). Then you'll confirm that yes, you do want to install the program, and it'll start downloading files…
Once it's installed the program will launch and prompt you to sign in to your Google account:
Interestingly, it actually uses your default Web browser for login confirmation. In other words, I click on the "sign in with browser" button and the following prompt then appears in my Web browser, not in the app itself:
I'll choose my usual Google account to proceed. Then there's a most interesting warning that pops up, one I haven't seen in other Google related programs. Is it because it's accessing Google Drive? Probably.
In any case, you'll get this:
This is why you shouldn't be trusting me to have clean and legit links to the Mac or Windows version of Drive for Desktop. Instead, get the app from Google! Remember, a dose of skepticism is a healthy addition to your Web and Internet experience.
I'm good so I'll click on "Sign In" to proceed, then sign in again to my account. After a moment, it shows:
Within a second or two, the Drive for Desktop app changes to show you that it's working…
WORKING WITH GOOGLE "DRIVE FOR DESKTOP" APP
The app is pretty straightforward and lives on your Menubar as yet another tiny icon. Drive for Desktop divides your displayed files into two categories. To start, however, click on the gear icon to get to Preferences:
The Preferences pane is where you can really see this divide between files duplicated on your computer (that take up space, but are fast and available even when you're offline) and those that are "ghosted" on your system:
At this juncture, you can easily add a folder on your Mac system that you want mirrored and kept in sync with your Google Drive account. For example, you might create a folder called "Google Drive" on your Desktop; anything you drag into that folder is then automatically synchronized with your Google Drive account. That means it'd be accessible from all of your other devices, easily shared with friends or colleagues, etc.
Want to see what you already have up on Google Drive? Click on "Google Drive", at which point you'll see the two ways these files can appear:
If you opt to Stream files then you won't consume local computer disk space resources, but if you Mirror files then they'll be fast, available even if you're offline, but consuming local disk space. I'm opting to Stream files, as you can see.
That's about it for preferences (at least, at this point in the app's development cycle. Remember, it's still an early beta). Click on "Open in Finder" and you'll find that Google Drive now shows up as another folder in the Finder: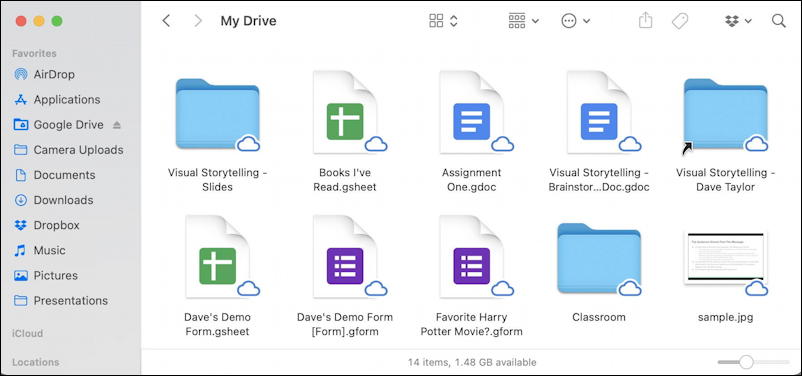 Double-click on a folder and it'll reveal its contents. Double-click on a file icon and it'll open up that file in your Web browser. Makes sense, really, since you don't have the Google office suite installed on your Mac, right? 🙂
That's it. Pretty easy to work with. Oh, except for an occasional error like this:
But, hey, beta software, right? I expect that there'll be an update that'll fix whatever this mysterious bug is, and that the program will get more and more reliable as it gets closer to full release.
Have fun, test it out, and be aware that it is beta software so might be less than 100% reliable.