My Dad's eyesight is starting to go and he complains that the tiny icons on his Android phone are hard to differentiate. Can I make the app icons bigger for him?
Unlike Apple's uniform experience with its versions of iOS, Android is a much more diverse experience, with each release of Android appearing different and offering different features from different manufacturers. Some companies then apply their own skin or layer atop Android with a UI. The end result is that there's not "an Android 12 interface", there are dozens of them. Add in people running Android 11, Android 10, and even older versions and there are hundreds of possibilities for your Dad's phone interface and user experience.
Since I have to pick one of 'em, I'll be demonstrating the Android user interface on the phone from the same company that makes the Android operating system itself: Google. This is all with the Google Pixel 6 Pro and if it's not yet on your Dad's phone, well, hopefully it'll show up soon. Because on the Pixel line, there is indeed a feature that lets you easily change the app icon grid density to make each and every app icon bigger!
ADJUSTING ANDROID 12 HOME SCREEN SETTINGS
It's easy in Android 12 to make these changes and see how it'll affect the app screen; go into Settings, then find and tap on Wallpaper & Style. On my Pixel, I see this: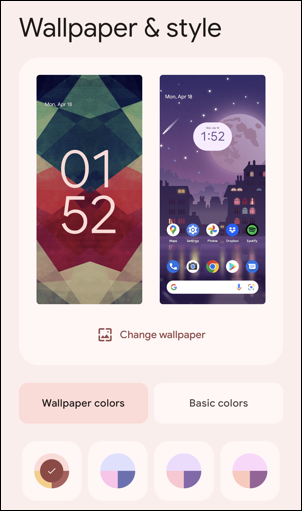 You can see that I favor bold graphic designs, with my lock screen a cubist sort of design while my home screen is a fun nighttime cityscape with oversized moon, all with a purple tint. Peek closely at the home wallpaper and you'll see that the icons are small and each is quite different, showing the original graphic from each developer.
Swipe down a bit further on this screen and two very interesting features appear:
Themed icons are really interesting and only just appeared on my Pixel phone, for apps that support it, they turn the colorful app icons into more muted icons that utilize the predominant color of the wallpaper to pick the background color.
We're interested in the App grid, but I'm going to enable Themed icons, as shown above. Tapping on App grid and in the preview, notice that the icons have changed to be much more consistent, with a color scheme based on the image:
As is apparent, Dropbox and Spotify don't yet support themed icons, but hopefully they'll get on the bandwagon soonest, now that the feature is in widespread beta (at least for us Pixel owners).
CHANGE THE APP ICON GRID DENSITY IN ANDROID 12
More interesting, notice the grid options. The default is 5×5, but now I can pick from 4×4, 4×5, 3×3, and even 2×2 for really big app icons. I'll make a modest change and choose 4×5: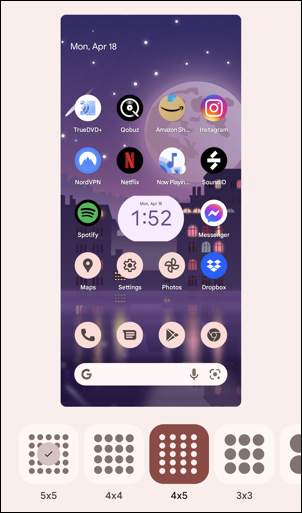 This removes 5 icon slots from the screen, but since any widgets automatically seem to shrink to their smallest possible size (see the clock, above, now taking up only 2 spots) and other app icons slide onto the screen from subsequent screens, it actually is more dense than when I had it at 5×5. Go figure.
How about 3×3?
Nice big icons, but the clock has vanished. Ah well, we can add it back, presumably, Notice, however, since the Android screen is not square, I've effectively lost access to the top of the screen in a 3×3 grid.
In fact, I'm going to apply this one (the "Apply" button at the bottom of the screen), then slide the top three apps off the screen, replacing it with the clock widget, spread across the three spaces:
This really shows just how much bigger the app icons get – which is great for people of differing abilities, vision challenges, motor control issues, or who just like things to be big and simple. Notice also the pink tint of the app icons due to the "themed icons" setting. In fact, if I change wallpaper…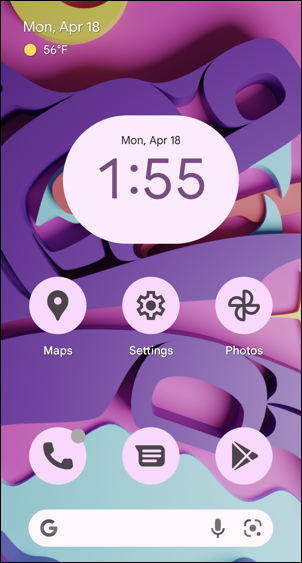 The icon backgrounds change color! Very cool, Google. Now to get these features widely implemented across the various Android manufacturers.
Meanwhile, I hope this helps you set up your Dad's Android phone to work better for him. Worst case, maybe it's time to have him upgrade to a Pixel…
Pro Tip: I've been writing about Android since the beginning. Please check out my extensive Android help area while you're visiting for lots more useful tutorials and guides! Thanks.