My little boy somehow ended up in Chrome on my Android phone, playing with image search. Wow! Some of the results Google showed! Way too explicit for a child! Is it possible to turn on 'safe search' or otherwise block explicit results on an Android phone's search results? Thanks.
Google indexes just about the entire Internet, which inevitably means that it also indexes a lot of content that will turn your hair gray or cause you to despair at the future of the human race. And that's just the comments on my YouTube channel! Just kidding, but while there is a mind-boggling amount of great and valuable information on the Internet, there are also corners of hate, violence, immorality, and other content that's probably best hidden from the majority of adults, but definitely way out of line for children. As a search tool, however, I don't think we want Google automatically censoring all content, so instead, it's up to us.
Enter "SafeSearch". It's a feature you can enable for your entire Google account (and every search thereafter) or just those searches on your computer. But what if you only want it on your Android tablet or smartphone, while leaving all your other searches unfiltered? Turns out you can do that too, that there's a setting buried deep in the Android settings menu that lets you enable safe search just on that particular device. Definitely handy!
GOOGLE APP SETTINGS ON ANDROID
The setting can't be found through a Settings app search, interestingly, so we'll have to dig. Let's get started. Fire up "Settings".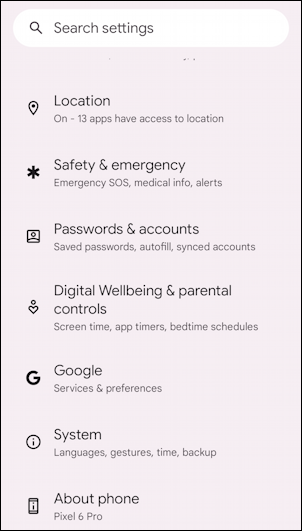 You'll need to swipe down to see the settings shown in the above image. You're looking for "Google". Find it, and tap on it.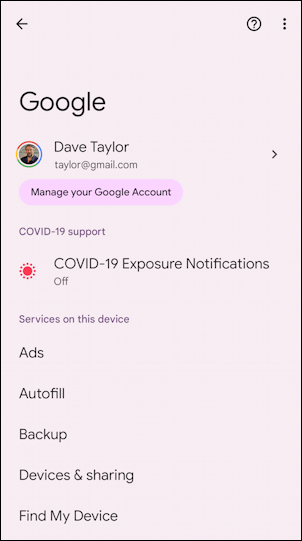 Your Google account is front and center, as is the Covid-19 Exposure Notification feature. I have that disabled, but you might opt to enable it, as is your preference. What we seek is at the very bottom of this list of services and features for which you can change preferences. Swipe upward to scroll down…
As a slight sidetrack, go into "Find My Device" and enable it if it's not already turned on. Someday when you lose your phone and find that you can go to the Web site google./android/find and find its last reported location you will definitely thank me for this diversion!
Okay, mission accomplished. Now tap on "Settings for Google apps" to proceed.
SETTINGS FOR GOOGLE APPS: SEARCH, ASSISTANT & VOICE
While there's a promise of lots of settings and options, the reality is a bit slimmer, as you'll see. For now, here's what you'll find (possibly dependent on what you've installed on your phone):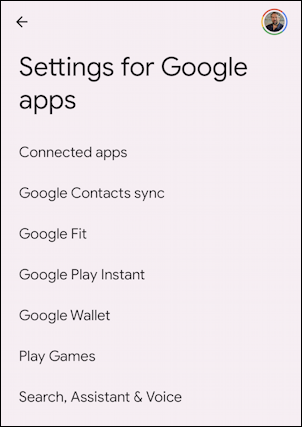 Tap on 'Search, Assistant & Voice" and you'll see a fair number of settings, some of which seem to be more about advertising than app usage, but I guess that's part of the Google online world too: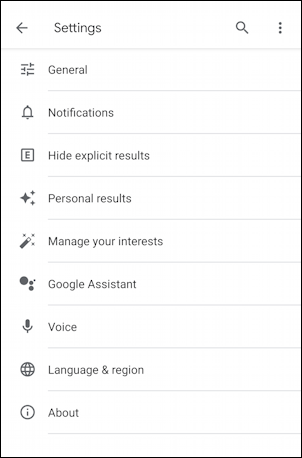 For our purposes, the desired choice is buried in the middle and, surprisingly, doesn't go by the name of "Safe Search": Choose "Hide explicit results" to proceed.
GOOGLE SEARCH ON ANDROID: HIDE EXPLICIT RESULTS
Here's what you'll see. Not a lot of options, just a single feature to enable or disable: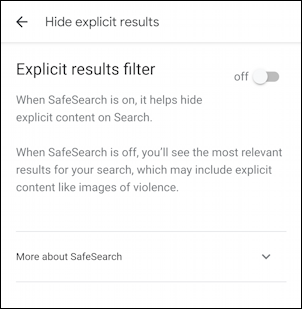 In the description, it refers to it as SafeSearch, but you would think that would be the title in big text too. No matter, as it describes itself, "When SafeSearch is on, it helps hide explicit content on Search." Sounds like what you want to enable!
Tap on the "off" slider and it will move to the "on" position: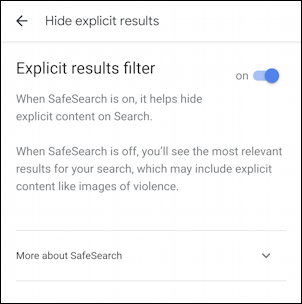 That's it. You can now quit the Settings app and know that SafeSearch will do its best to help prevent your child from bumping into explicit content when they're playing with your Android phone or tablet. Good luck!
Pro Tip: I've been writing about Android forever! Please check out my extensive Android help area for hundreds more useful tutorials and guides! Thanks.