I think I've been hacked! How do I go into my Facebook account and quick change my password?
The first thing to do if you are worried that you've been hacked and someone's broken into your Facebook account is to log out every other device that's currently logged in to your account. This will, of course, affect your smartphone, your work computer, any Apple TV units or other systems that might be hooked into Facebook and even your smartwatch if you have a Samsung Gear S, Moto 360, Apple Watch or similar.
It's all worth it, however, because if you're right, every minute you leave things as-is offers another minute that a potential bad guy could be posting as you, monkeying with your settings or trying to change your password or security questions.
Not good.
To start, then, go onto Facebook and pull up the main menu from the top right: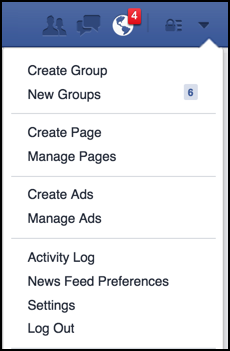 Choose Settings, then Security from the left menu list.
Part-way down you'll find this:
Click on Edit and it'll open up and show you where you're connected:
See the link "End All Activity"? You probably do not want to click on that one: just in case you can't get back into your account again, right?
Instead go through one by one and choose "End Activity" for all other devices and systems.
*phew*
Now let's change your password!
On the left menu, choose General instead of "Security" and you'll get to your General Facebook Account Settings, as shown here:
There are more options, but you want to click on "Edit" adjacent to the Password entry.
As you can see, I was lazy and hadn't updated my password in over a year. Not good. And now fixed!
Once you choose to edit your password, it's what you would suspect:
Enter your current password and a new – complicated! – password twice and click "Save Changes".

Done.
If you can't change your password because it's refusing to accept your existing password, then you'll want to go through the Facebook security process to recover access. First step: make sure your email address is correct and that your recovery questions are intact, then indicate that you've forgotten your password and need to have a recovery link mailed to you. Good luck!