There are a lot of Windows 11 apps, programs, and games, but imagine you could run Android applications on your PC too! Turns out that you can do just that with the latest version of Windows 11, though it's not through Microsoft. Here's how to get it all working…
While Windows developers have been creating productivity tools and big, complex games for many years, a lot of the best casual games and social media programs have been showing up on mobile devices. Indeed, some social networks are mobile-only, meaning you can't avoid pulling out your phone if you want to post on Instagram, check your BeReal, and enjoy a lively discussion on Clubhouse.
Except it turns out that there is a way you can run quite a lot of Android applications directly on your Windows PC, no mobile device needed. What you do need is an Amazon account, because it's the Amazon development team that's pulled it all together, not Microsoft. Why? That's a tough question to answer, but the good news is that we can enjoy the proverbial fruit of their labor without knowing why Microsoft didn't solve this problem itself.
In this guide I'm going to show you how to install the Windows Subsystem for Android, then find a game, install it, and give it a quick whirl on my Windows computer. Before you follow along, it's imperative that you have the very latest version of Windows 11, so start by checking for Windows updates.
STEP 1: INSTALL AMAZON APPSTORE
It's completely unintuitive, but the first step is to open up the Microsoft Store and search for an app called "Amazon Appstore"…
Yes, it has pretty low star ratings, but don't worry about that. Proceed by clicking on the blue "Install" button. This app is a fairly complex install, however, because it also adds some behind-the-scenes tools that let the system use something called virtualization to run Android within your Windows operating system. As you proceed, in addition to the prompts from within the Microsoft Store, you'll also need to grant system access to Host Process for Windows Server and Dism Image Servicing Utility.
The install itself requires three steps and will involve restarting your computer once it's done. As with many big installs, it's smart to just quit every other program you have running until the restart.
Step 1 of 3, as shown, requires granting those system permissions:
Proceed by clicking on "Set up". Then Step 2 of 3 will involve actually installing the program itself, though that's not clearly explained, nor is the icon particularly informative:
Scroll down just a bit once you click on "Download" and you can follow its progress:
Finally, step 3 of 3 is easy enough:
Click on "Restart" and your PC will restart; you're done!
STEP 2: THE AMAZON APPSTORE
When your computer restarts and you log in to your account, you'll notice that something new shows up:
Windows Subsystem for Android will run in the background so shouldn't be anything you'll have to worry about; if you're like most PC users, you only restart when forced, so you won't see that too often.
Once you're back to your usual Desktop view, it's time to actually view what you should consider The Android App Store, though it's called Amazon Appstore. Remember, we installed it a few minutes ago!
You can set up a new account, but it's just as easy to log in to your usual Amazon account, which is what I choose to do. Hopefully, you have two-step verification set up – here's how to set up Amazon 2-step verification for account security – so you'll have to go through that process too.
Once you're logged in, you can finally see Amazon Appstore, which looks quite a bit like both the Microsoft Store and, on your Android device, Google Play Store:
There aren't as many apps as the actual Google Play Store, from what I can tell, but it's remarkable how many Android apps are available through this particular channel nonetheless. Games? It's a separate category, making it easy to find something fun to play. You can also use the search feature to check if your favorite Android apps have made it into Amazon Appstore too.
STEP 3: INSTALL AN ANDROID APP ON YOUR PC
I definitely enjoy playing casual games on my Android phone so let's check that category out in the Amazon Appstore too. Easily done: Click on "Games". Here's a likely candidate!
There are a lot of games with this basic gameplay premise, so I know I can jump right in and play this one too, perhaps while on a Skype or Zoom call! Wait, did I say that out loud? 🙂
To install a game, click on "Download". At this point, all the Android system has been installed and is running, thanks to Windows Subsystem for Android, so it's exactly like how you would install a new app on your Android device. Once downloaded the button changes to "Open":
A click and the game launches, ready to play!
Hang on, I need to clear a few levels…
Okay. Back. That's it. When you're done with the app, simply click on the "X" on the top right. The new Android app is also now part of your Windows experience so you can even search for it if you want to run the program again: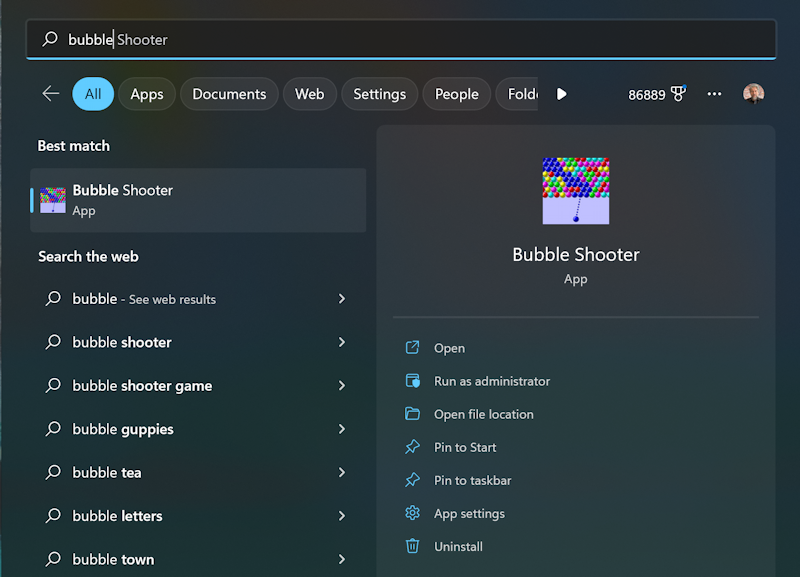 I would definitely discourage you from running any Android app "as administrator", so make sure you click "Open". Notice, however, you can also pin it to Start, your Taskbar, even Uninstall it, all from this spot in Windows 11. Handy!
Power Tip: I've been writing about Windows and Android for many years and have extensive Windows 11 help and Android help libraries here. Please check them out while you're visiting. Thanks!