Just upgraded to a new Windows PC laptop or desktop and want to quickly re-download all your favorite apps from the Microsoft Store? There's a way to have it show you everything you've ever purchased (so you don't have to pay again!) that also makes it super easy to re-install them too. Here's the scoop…
The process of migrating from an older PC to a new Windows laptop or desktop system has improved quite a bit in the last decade or so, but it's still the case that there are additional steps required beyond just using the migration tool. One of the biggest hassles is installing all your favorite apps so that the new computer looks like the old one. You don't want to copy programs from one computer to another but reinstall them from the Microsoft Store to ensure that their installers add every file needed.
The Microsoft Store actually has a list of all movies, books, music, and software you've ever purchased, but for some inexplicable reason, it's hidden in the default view. In any case, however, a good practice when you get a new computer is to check for updates for all the different apps installed from Microsoft and others; most of them will prove to be just a bit outdated. And for this demo, it's a good bit of luck that I have a new Lenovo Slim 7 Carbon laptop for testing, because it is exactly the scenario you're asking about. Let's have a look!
UPDATE ALL THE PRE-INSTALL APPS
You can't really log in to Windows from setup without actually logging in to your Microsoft account, but in case you managed to do so, start by logging in to your regular account. Then launch Microsoft Store…
The Microsoft Store app seems to change design with frequency, so notice that on the left column, there's a tiny blue dot adjacent to "Library". That means that there are updates available (and yes, it's incredibly subtle and easy to overlook).
Click on "Library" to move to that area of the Store…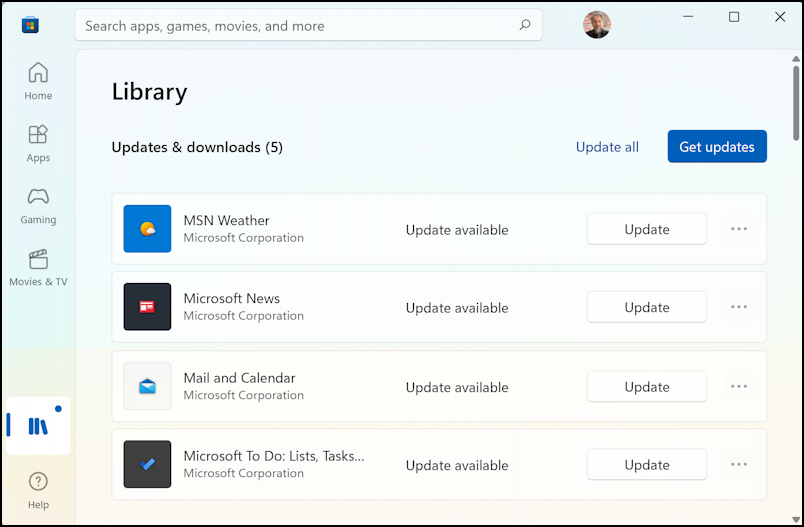 Notice along the top it's indicating that there are 5 updates and downloads available. Easily done: Click on "Get updates", then consider getting up for a cuppa tea, as it's going to take a while…
You can see that apps to update start as "Pending", then go to "Downloading", then have a progress tracker so you can see how it's going. Once all of the pre-installed apps are updated you'll have a display like this:
Now let's get some of the apps I have previously purchased and installed on other Windows PC systems.
DOWNLOAD PREVIOUSLY INSTALLED APPS FROM THE CLOUD
The trick to revealing the hidden list of previously purchased but not yet installed apps, movies, books, and other data is hidden on the "Sort and filter" menu. Click or tap on it to reveal the options:
Select "Show installed products only" so that it's not checked and… nothing happens. Well, something has happened, but all of the uninstalled apps are showing up on the list after all the apps that are installed. Scroll down and after all the installed apps are those that are uninstalled:
The cloud with the downward arrow indicates that the program's "in the cloud, ready to download". Easy enough; go through the list and click on that cloud icon for every program you want to add to your new PC. I'll add Spotify with a single click, for example:

In fact, I'll also grab a copy of the Plex client app too, producing this display…
Once they're down downloading, I'm ready to start logging back into the various services, knowing that all of my old apps from the Microsoft Store are now also installed, clean and ready to run, on the new Lenovo laptop!
Power Tip: I've been writing help articles about Windows for years and have an extensive Windows 11 help library here. Please check it out. Thanks!