Have a Chromebook computer running the latest version of Chrome OS and wondering how to pair and use Bluetooth earbuds or headphones? Here's a guide that'll show you exactly how to get it all set up.
Even the most affordable Chromebook systems have at least a tiny, plinky little speaker. Yes, if you're wondering, "plinky" is a technical term! While they can all reproduce audio at some level, the real question is whether it actually sounds good and is enjoyable or not. Some Chromebooks have a 3.5mm jack offering wired audio out – an easy way to plug in a speaker, for example – but some of the best audio devices are wireless, utilizing Bluetooth instead. While Bluetooth isn't a requirement for a Chromebook, just about all of them include support (and if they don't, there are Bluetooth adapters you can buy for under $10, like the TP-Link UB400 that's $9.99).
Bluetooth is very helpful for wireless keyboards and cursor control devices (a mouse, trackball, touchpad, there are quite a few options nowadays), but what about audio? Turns out that's pretty darn easy too, and a remarkably similar process to what you'd do on a Windows computer and, to a lesser extent, on a Mac system. Let's check it out with a Lenovo Chromebook and a pair of Shure Aonic 50 headphones…
ADD A NEW BLUETOOTH DEVICE
Start out by going to Settings on your Chrome OS system. It's organized with shortcuts on the left, but the right side is actually a really, really long list of every possible setting so you can always just scroll to find a specific setting too. Fortunately, though, Wi-Fi and Bluetooth are two right at the top:
Make sure you have Bluetooth ON, as shown (if not, click on the slider for it to turn blue). Click on "Pair new device" to get started.
Meanwhile, you'll also want to power on your Bluetooth device and put it in pairing mode. Usually, that's pushing and holding the Bluetooth or Power button for a few seconds, but check your manual. On the Shure Aonic 50 headphones, it's a long push on the power button when the unit's off, for example.
It will show you a list of available devices. Find your own device in the list (and don't be surprised if it identifies as something like "Earbuds 004" or similar since not every manufacturer implements Bluetooth the same way):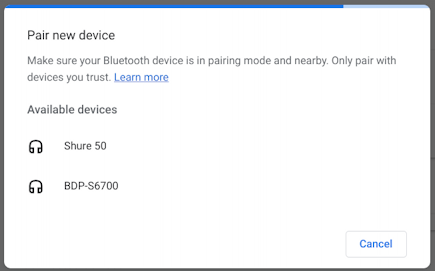 I have no idea what the BDP-S6700 device is, but the "Shure 50" is unquestionably the Aonic headphones. A tap or click to select it and it'll take maybe 15-20 seconds to establish a paired relationship.
Once that's done, it will show up on the Settings page as the currently selected device:
Paired. Well done.
WORKING WITH A BLUETOOTH DEVICE ON CHROMEOS
Mine immediately pops up a warning notification about the battery level, which is pretty cool!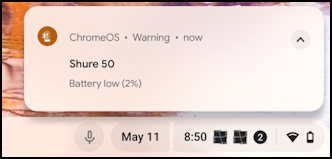 I think it's time to charge my headphones! Meanwhile, though, since we're looking at the lower right portion of the "Shelf" (what ChromeOS calls its Taskbar), click on the very rightmost pair of icons, the wifi and battery indicators. It pops up a big window with lots of shortcuts and information: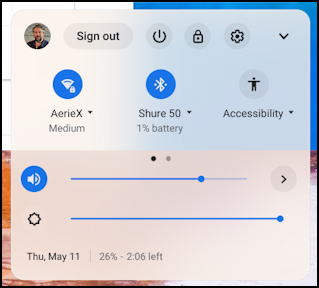 I've chopped this down a bit for space; yours will be a lot taller and have many more shortcuts! What's important here is that the slider is an easy way to adjust the volume and if you click or tap on the ">" adjacent, you can get to the ChromeOS audio controls:
If you have more than one Bluetooth audio device, here's where you can choose which is in use both for the output audio and the input (microphone) too. Notice both are set to the Shure 50, though in practice if I were on a video call or similar, I might use the built-in microphone instead!
That's it, now it's time to enjoy these great headphones…
Pro Tip: I've been writing about Chromebook systems for many years! Please check out my extensive Chromebook help area for hundreds of useful tutorials and guides! Thanks.