My ex remains logged in to my Netflix account, which is infuriating. I don't want to log out of my TVs and other devices, however, just kick her off my account after changing my password. How can I give her the boot?
While the company might deny it, Netflix has always made it really easy to share an account. Its login-once-stay-logged-in-forever policy is a definite contributor to the problem, though if they had even an annual login requirement plenty of people would undoubtedly complain, and the more devices they had, the more of a pain it would be. Worse, it could encourage people to use simple passwords that made it easy to type on a TV with a remote control, which would increase the chance of being hacked.
Prior to the very latest version of Netflix, however, the only options were to grin and bare someone using your account or log out every single device, including your smartphone, tablet, TV, set-top box, and more. And then log back in, one by one. At least on TVs you can usually go to netflix.com/tv8 or similar and enter the code shown on the television, rather than hunt-and-peck to enter the password via a remote. No flashbacks to late 80's mobile telephones!
As of November 2022, however, there's a new option in the Netflix account settings that let you see every device logged in to your account and selectively boot 'em off, one by one. Without changing your password first, however, it's of limited value, but it's easy to change your Netflix password. Let's check it all out…
NETFLIX ACCOUNT SETTINGS
Start by going to Netflix. You can do this on your mobile device, but I'm going to just go to netflix.com in my Web browser. Once logged in, here's the menu I see on the top right after clicking on my profile pic:
It's tempting to go to "Manage Profiles" but you want to instead choose "Account". Turns out that there are a lot of settings and preferences associated with a Netflix account! The one that we want to focus on is Security & Privacy:
As highlighted "Manage access and devices" is the new feature offering better granularity than the mass destruction "Sign out of all devices" choice…
NETFLIX: MANAGE ACCESS AND DEVICES
Once you choose "Manage access and devices" you'll see a list of every device that's currently signed into this Netflix account:
I have a number of Vizio TVs in both my home and office, along with an Apple TV and a Mac running Chrome. All are shown in the above capture, including which profile used that particular device, when the last shown was watched, and an approximate location based on the IP address. I'll scroll down further to find one that I can easily log out…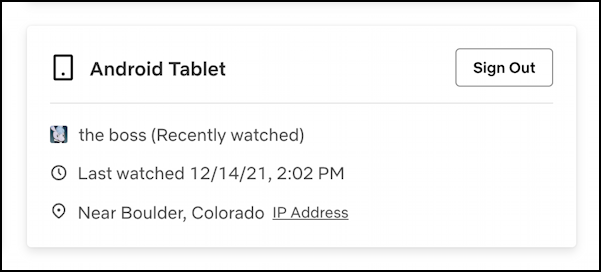 I don't even remember watching Netflix on an Android tablet, but that's also almost a year ago. Definitely safe to kick out.
I can accomplish that by simply clicking on "Sign Out" and after a moment or two this confirmation appears:
If someone using that device was actively watching a movie or show on Netflix at the time, my expectation would be that they'd be kicked out and logged out within a few seconds. This is why changing passwords is important; if it's the same, your ex will just log in again and assume it was some random Netflix glitch.
CONTROLLING CHILD NETFLIX ACCOUNTS
While we're in Netflix settings, a quick refresher on how to set up account limitations because another way you could change your account settings is to simply set your profile to only watch child-friendly content. Of course, the better strategy is to just kick 'em out, but you might have other reasons for filtering content for a specific profile.
Go back to the main Account screen and scroll down to find the various profiles set up:
You can see that the critters profile is already locked (the padlock icon) so that they cannot change their settings, but it also is marked for "All Maturity Ratings". Click on the "v" adjacent, however, and a world of moderation and filters appears:
Not only can you change the maturity rating, but you can also block specific programs, so a show like "13 Reasons Why" can be blocked from a younger child's access, regardless of what Netflix rates it.
Hopefully, between all of these, you'll be able to boot the ex and get back to enjoying your own Netflix account.
Pro tip: I've been writing about computer and Internet basics for many years, including Netflix. Please do check out my computer and internet basics help area for lots more useful tutorials!