Did you realize that for hundreds of Web sites, everything you do is also shared with Facebook? From VPN sites to your public library, it's startling how connected everything is. Here's how to see what sites are reporting on you and shut them down!
You might not have noticed, but we're no longer in the Information Age. We now live in the era of Big Data and there are few companies more enthusiastic about collecting every possible datum about everyone than Facebook. Every click, every notification, every comment, every like, it's all recorded in the big FB database. Not only that, but since Facebook offers one of the most popular shared login services, it enables the service to collect usage data from thousands of other Web sites you utilize too.
That's one reason why I always use separate email address-based accounts for all of my offsite work, though as you'll see in this Guide, that hasn't really helped me. Why? Because Facebook also offers ad tracking and other services to commercial sites and, apparently, if sites offer Facebook login but you don't opt to use it, they still somehow end up gaining access to your usage data. It's a bit maddening for those of us that are still trying to hold on to an iota of privacy. It's also an indication that the effort is probably pointless. Let's have a look…
WHAT EXTERNAL SITES REPORT TO FACEBOOK?
There's a way you can navigate through the Byzantine maze of Facebook's privacy settings to get to the right place, but they have conveniently offered a simple shortcut too. Just go to facebook.com/off_facebook_activity/ to jump to the correct spot in your account settings. I'm using my computer and Web browser, but this should work with mobile and the Facebook for Mobile app too.
Note: I encourage you to either copy and paste or manually type in the Facebook shortcut URL above. That's why I haven't linked it. It's a good practice to stop trusting sites to lead you to the right place, even from reputable content authors. Part of that heightened security thing, ya know!
Here's what I see when I go to off_facebook_activity: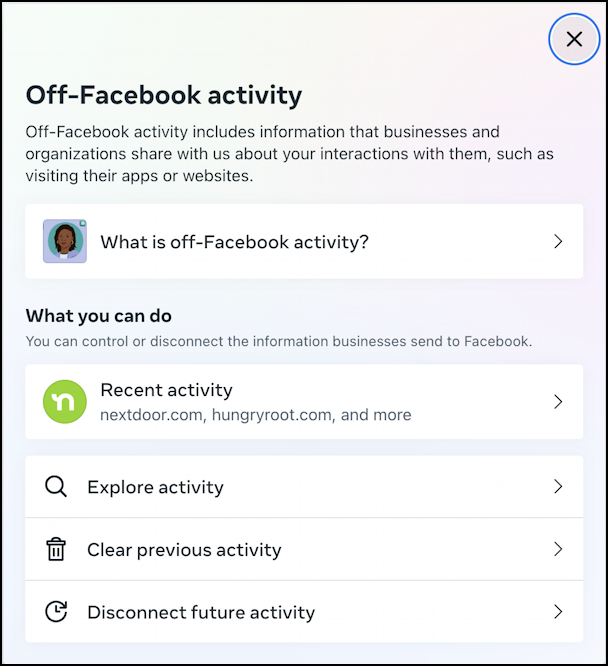 Are you surprised by the sites listed in your "Recent activity" section? I certainly didn't realize that nextdoor was busy reporting my activity to Facebook!
Click on "Recent activity" and it will reveal even more information that is quite likely to startle you:
I'm a moderator on Nextdoor so I visit the site with some frequency, but 925 reported events? And how about my local newspaper The Boulder Daily Camera? 1,342 activities logged? What the actual heck??
LEARN MORE & DISCONNECT A SPECIFIC DATA SOURCE
To learn more about what the Daily Camera is reporting, I can simply click on the entry and get a bit more detail, though it's not very helpful: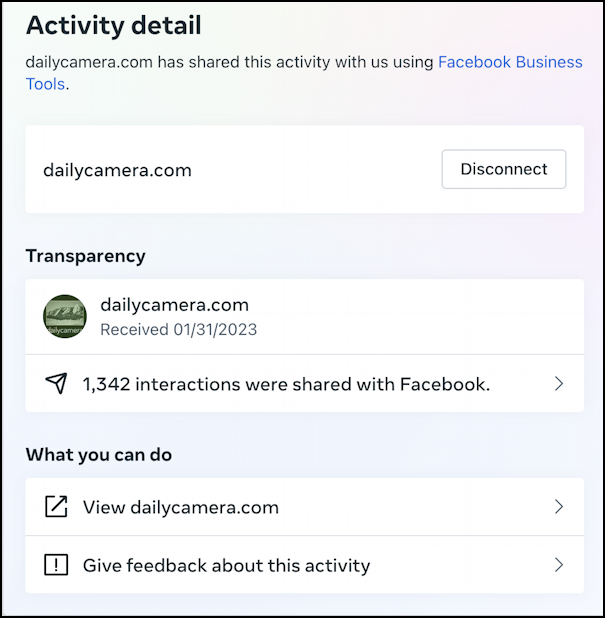 The only really useful thing on this window is the "Disconnect" button. I can click it to stop having Facebook log the events shared from the site (I don't think it turns off the reporting, however), but instead, I'm going to back up to the previous screen and click on "Select future activity to disconnect". It yields this:
This is a much more efficient place to see what sites are reporting and mark them to be disconnected so future activity is not saved by Facebook. Scrolling down there are going to be surprises. Like these:
My public library reports activity to Facebook? One certainly hopes that it's not what books I search for or check out (which is supposed to be covered by privacy laws). And PureVPN? I hope it's just for their Web site because a VPN service should definitely not be reporting activity to any other site, or even logging it for its own analytic purposes. Weirder still: I don't use PureVPN, so how are they connected at all?
Go through the list, selecting every site you want to stop having recorded in your Big Data profile on Facebook, then click on the big blue "Disconnect" button.
Facebook then warns you That This Is A Serious Decision With Consequences in its own inimitable way:
Notice the typical Facebook messaging that "We'll still receive activity… but it will be disconnected from your account." As I said earlier, this doesn't stop the sites reporting what you're doing (with personally identifiable information), it just changes how Facebook (ostensibly) logs and tracks it.
At this point it's really easy to drop into a conspiracy theory and conclude that this is all an exercise in fooling the masses and that Facebook is going to collect, collate, organize, and analyze the information regardless of your personal settings. I'll let you decide if that's credible.
I choose "Disconnect Future Activity" and a small message flashes up for just a few moments:
So that's something, at least. Right?
UNDERSTANDING WHAT ACTIVITY IS SAVED AND ANALYZED
This still leaves the question of what information is actually archived for analysis, however. I can back up and go to the dailycamera.com entry, then click on "1,342 activities were shared with Facebook" entry on the site's information window. It reveals this:
Check out that bullet list of what kinds of interactions can be reported to Facebook, archived, and analyzed for future predictive behaviors and topical interests:
made a donation,
made a purchase,
added an item to a wishlist,
searched,
opened an app,
visited a Website.
That's a lot!
More to the point, it still isn't showing what exactly the Boulder Daily Camera is reporting to Facebook. To learn that, I hopefully click on "Download Activity Details". In a demonstration of how Facebook doesn't really want to make this process easy, it then takes me to the generic "download" page, which has about 100 different types of data and interactions you can include. By default, everything's selected, so unselect everything then scroll down, down, down to finally find "Apps and websites off of Facebook":
Check just that box, then request an archival download. You'll have to wait a bit for it to be assembled, but eventually, you'll get an email and Facebook notification that it's ready. Download it, open it up in your favorite Web browser and…
In fact, it still doesn't answer the question: Does Facebook log generic "page viewed" or does it include the URL visited, page title, topic, theme, content, or anything additional? The lack of actual transparency suggests that there might be more going on than is immediately obvious, so my assumption is that, yes, my local newspaper is reporting every article I read to Facebook, which is squirreling that away as part of my Big Data user profile.
So that's the state of things. You can try turning off activity logging from off Facebook entirely, but your guess is as good as mine whether that actually stops the information being archived and associated with your profile or not. Y'know, that printed newspaper is suddenly looking pretty good, isn't it?
Pro Tip: I've been writing about Facebook since it first came online. Please check out my extensive Facebook help library for hundreds of useful tutorials and insider tips and tricks. And why not follow AskDaveTaylor on Facebook for even more great content? Thanks!