Dave, I'm totally fed up with the chaos at Twitter and want to join a new but similar social network. I hear good things about @Post. Can you walk me through the signup process, please?
You're by no means the only person who finds that Twitter has become a cauldron of chaos with its ever-changing rules, ever-shrinking staff, and a CEO who seems overly enamored of earning mentions in the trade press for outrageous decisions. With over 395 million registered accounts, Twitter is tough to beat in terms of sheer presence and visibility. There are, however, some interesting alternatives, most notably Mastadon and Post.news. The former uses a distributed server system which is pretty darn complicated for most users, so @Post, as I'll refer to it in this tutorial, seems like a solid alternative.
Like all good beta releases, however, you don't just go to the Web site and sign up, you enter a queue after requesting an account. You can speed up the process by inviting at least five friends and colleagues to join the waiting list, or you can just wait until the company opens up more capacity. I signed up and after a few days found I was invited to finish the signup process, so I can at least give you a sneak preview of what you'll encounter once you're in!
SIGNING UP FOR A POST.NEWS ACCOUNT
Once you do receive the invitation to actually sign up for your account email message, it'll include a link that takes you to this page: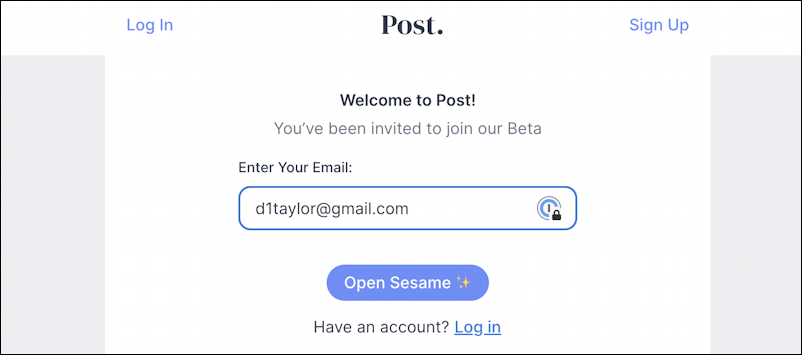 Everything's tied to that all-important email address, so make sure that the address you enter on your request is the same you use here to sign in to your new, nascent account. I'm using Gmail, which @Post seems to prefer, as you'll see in a moment.
First is to specify your display name and handle; since it's a new service, you should be able to get a good handle, not something obscure like TomatoCat3645: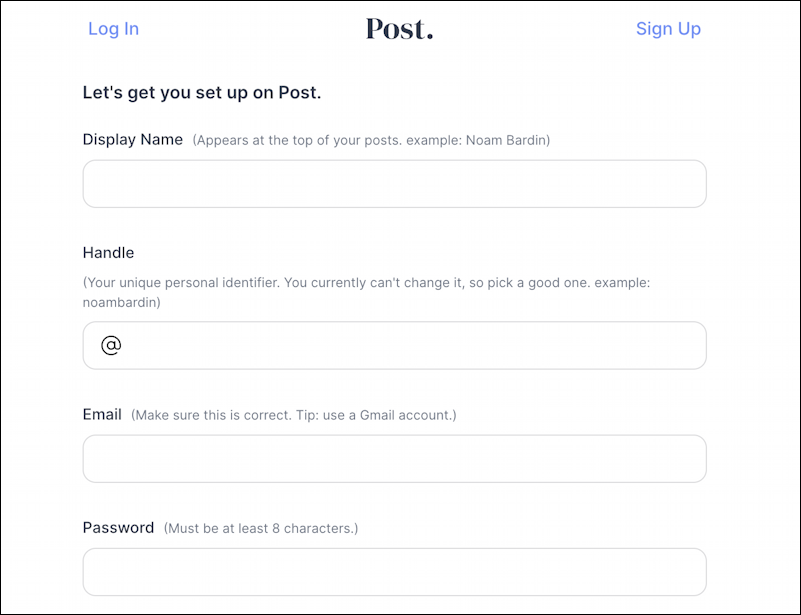 Notice that it uses a "@" preface similar to Twitter, so your handle will be "@"handle-name. I picked my standard one: @DaveTaylor.
Then you'll be prompted to enter an official email address (though I don't know why since I just entered my email address on the previous screen), and specify a password. Pick a complex password of at least a dozen letters, digits, and punctuation symbols.
To proceed, @Post sends a six-digit numeric code to your email address for confirmation: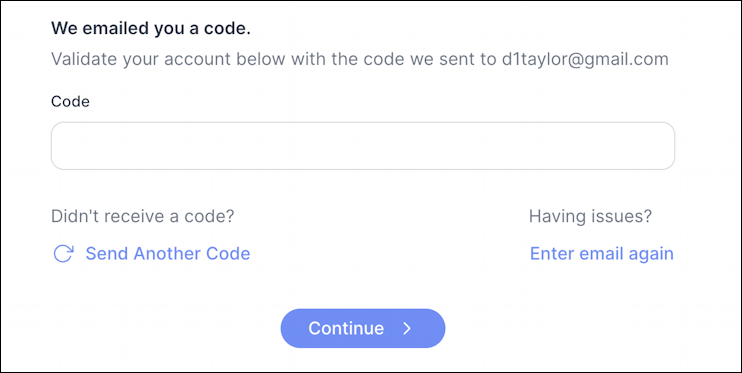 Since the codes are auto-generated and have a very short lifespan, make sure you do this step promptly to avoid any hassles. Once entered you should be ready to proceed!
CREATE A USER PROFILE ON @POST
Since hopefully you're not a 'bot masquerading as a human, it's now time to upload a photo and enter a bio, etc. Notice that it automatically harvested my Gmail account photo as the default image: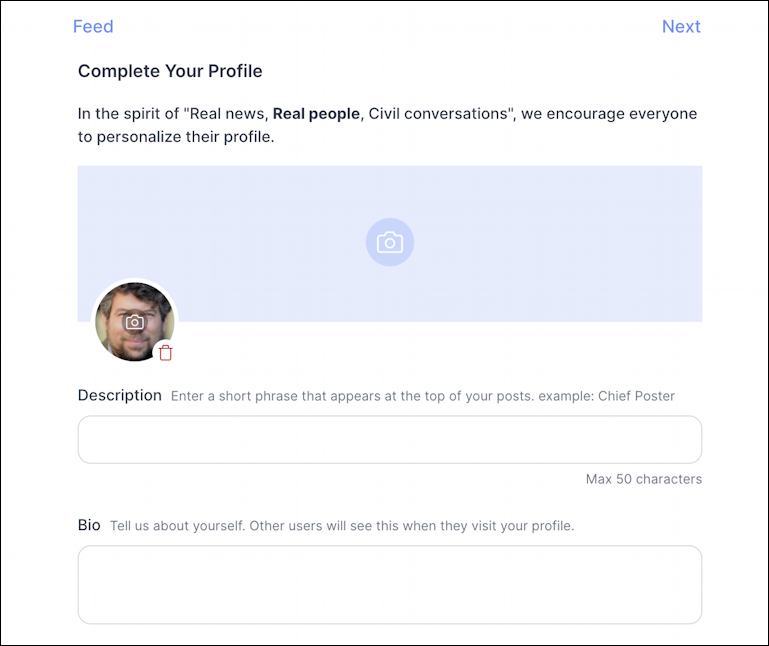 You can enter the credentials you feel best describe your online persona, but why not use a nice portrait and an honest description and bio? Your call, I guess, but my expectation is that anonymous accounts might be filtered and removed over time to avoid the bot-chaos that is today's Twitter universe.
I have a handy portrait photo I can upload and crop: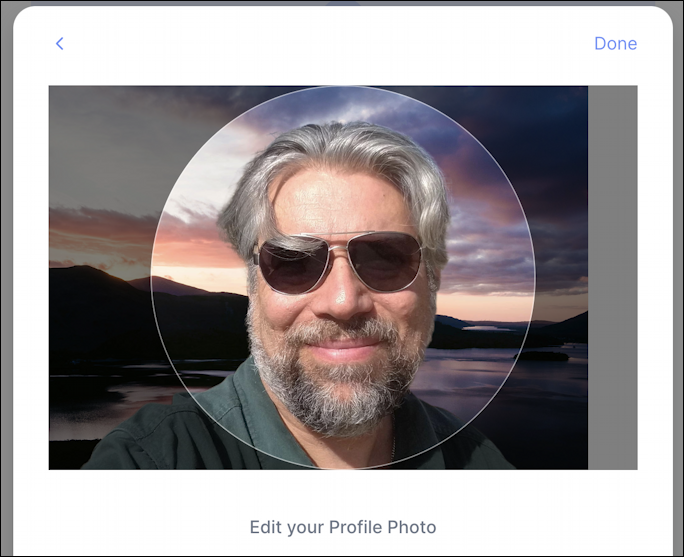 (What's fun about this image is that I replaced the original background with a new one, as detailed in an earlier article about Using Adobe Express to Replace Photo Backgrounds. In case you're curious!)
Back to task, however. I uploaded a photo and a background banner image, entered a description and bio, and pressed "Submit" to proceed.
To my surprise, @Post then "gifted" me Post Points: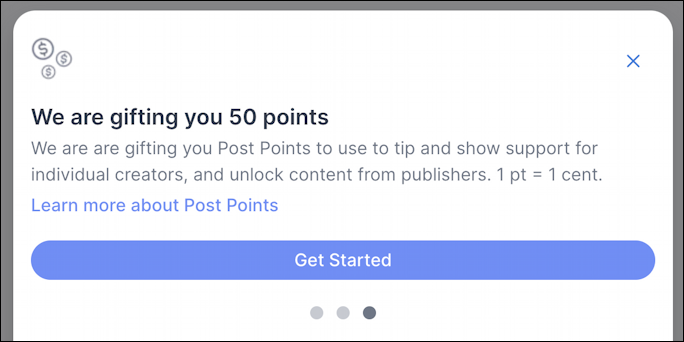 There's a lot to unpack from this, actually, starting with the rather surprising valuation of 1 point = 1 cent USD. This means that there's an entire economy on @Post where people are paying for access to individual content from news wires and premium content producers. Smart. It also seems a bit like the "Reddit Coins" you can use on Reddit to award particularly great posts too.
I'll figure out how to use those in a bit. For now, I'm all set up!

As with any social network, however, it's a bit discouraging to start out without anyone you're following because your feed is necessarily empty. Not very exciting, for sure. Fortunately, I have some colleagues who are already on @Post so they were easy to find and follow. You can follow me too! I'm @DaveTaylor on @Post.
Tip: Your profile URL is simply https://post.news/ followed by your handle without the '@' symbol, so mine is https://post.news/davetaylor.
Now let's post a first entry!
POSTING NEW CONTENT ON @POST
It's easy to add a new post by clicking on the compose button that floats on the lower right of the main page. It brings up a simple and elegant editor that allows rich text formatting and even a title, as I demonstrate: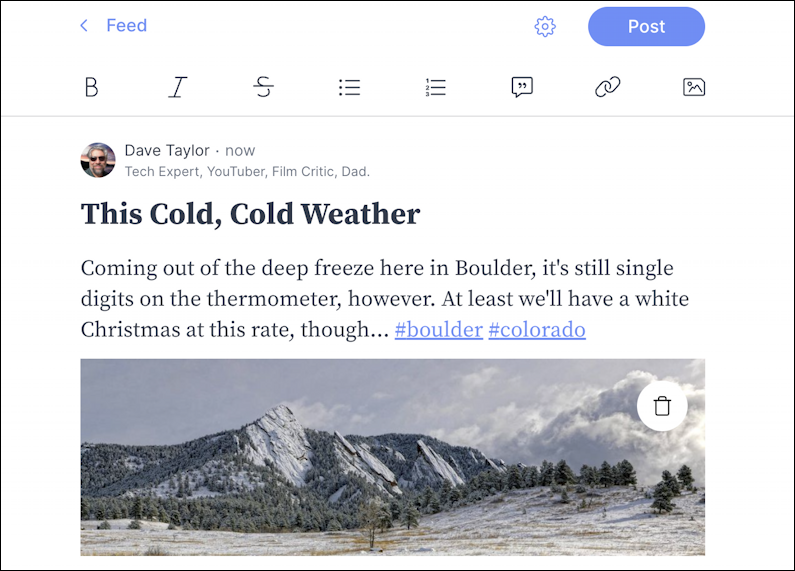 I can include an image, URLs are automatically clickable, hashtags become clickable, and so much more. A very attractive composition window. Ready to post? A click on the blue "Post"on the top right does the job!
At any point on the feed you can also check the main menu, which appears on the left side of the screen in the Web interface: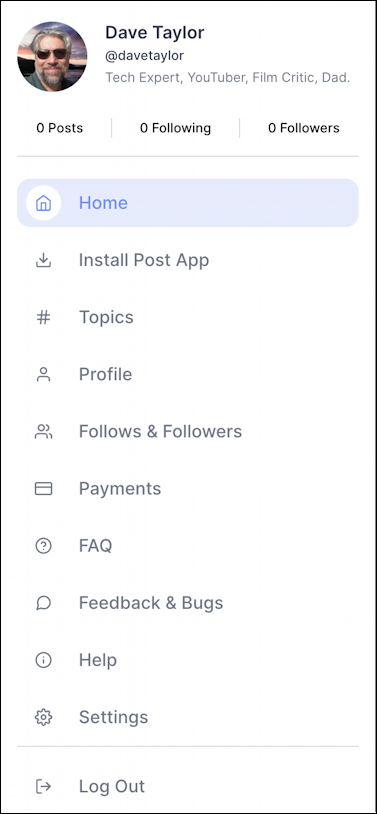 That "Payments" entry lets you buy more "points" if you find the initial 50 points just aren't sufficient. You can also go to settings – and Notifications is one to tweak as it defaults to OFF – to get your account all set up properly.
That's about it. My profile is looking a bit better, for sure: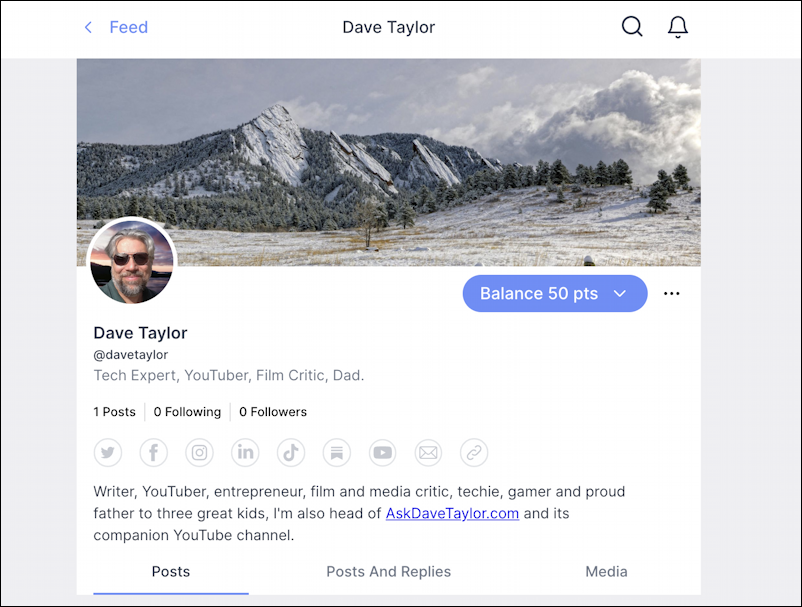 Still, it's time to get those followers. So why not follow me and I'll follow you back? I'm @DaveTaylor.
Pro tip: I've been writing about social media sites and the Internet for many years. Please do check out my computer and internet basics help area for lots more useful tutorials!