Always thought that FaceTime video calls were only for Apple device owners? Surprise, it's not true! Android users can't initiate a call, but they can join a FaceTime chat with just a few clicks! Here's how…
Before there was a pandemic and Zoom became the video conferencing platform of the moment, there was FaceTime, which made it really easy to have a face-to-face video chat between iPhone users. Since there are many families that are all iPhone, it meant that lots and lots of FaceTime calls every day. In fact, according to Apple's numbers, there are a staggering 15-20 million FaceTime calls every single day of the year. But they're all between Apple device owners, right?
Not so much anymore.
If you're on another platform, what you need is the latest version of Google Chrome – even on a mobile device – and, with the appropriate permissions, you should be able to join a FaceTime call with your iOS-using friends and colleagues. What you can't do from an Android phone or other non-Apple device is initiate a FaceTime call, but perhaps that limitation will be eliminated at some point in the future too.
There are a lot of steps required, but the basic process is easy: The iPhone user shares link to FaceTime call with Android user. Android user taps on the link, grants that Chrome session permissions, then connects. iPhone user then sees request to join, accepts it, and the call's up and running. Let's look at the process in more detail…
IPHONE: INVITE ANDROID USER TO FACETIME CALL
We'll start out on the iPhone and with both the iPhone and Android phones utilize, it's important to ensure that you have the very latest versions of the operating system and key apps. Now, fire up FaceTime and you'll see this opening screen:
People often begin calls from the Phone app or even Messages, but for this situation, you'll have to be within the FaceTime app. Now, tap on "Create Link" and the system will assign a unique ID and link that you can then share with your friend or colleague. It's a pretty typical Share window with different options:
Yes, you could theoretically post the FaceTime link to a Facebook group if you wanted (though there are limits on how many people can join a FT call). For this task, I'm going to use SMS text messaging to send the link to my mate Harry Potter by tapping on "Messages"…
I can add additional information or just send the link and brief text ("Join my FaceTime") as suggested. A tap on the upward-pointing green arrow and it's sent. Done.
ANDROID: JOIN A FACETIME CALL
Now picking up the Android phone, a text message arrives with a pretty gnarly URL:
Doesn't really matter how long and convoluted the URL is, however, because all the user has to do is tap on it. Their web browser of choice – probably Chrome – opens it up and FaceTime online prompts for them to enter their display "handle" or nickname: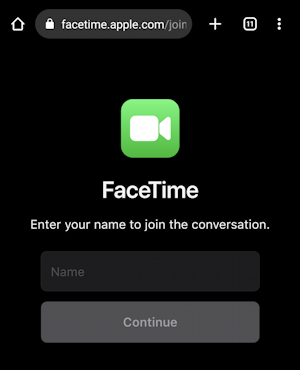 Enter a name and click "Continue" and the Android user is prompted to grant Chrome permissions to access the camera and microphone on the device:
Security-conscious users will choose "Only this time" but everyone else can choose "While using the app" instead. Either way, the next step is to have what looks exactly like FaceTime, but in an Android phone!
Notice the green button on the top, however: "Join". Tap on that to actually proceed and the Android user will then be put in a to-join queue as subtly indicated in the lower portion of the screen:
Now it's time to switch back to the iPhone because it's the Apple user who is actually in control of the call.
IPHONE: LET ANDROID USER JOIN FACETIME CALL
On the iPhone it's time to start up the actual FaceTime call, as indicated by receipt of this notification:
Tap on the notification and FaceTime comes to the foreground with the following info at the top of the screen:
Notice at this point that the iPhone user hasn't actually joined the call either. Time to do so. Tap on the "i" information icon adjacent to the "1 Person Waiting" info. The latter action produces this info screen: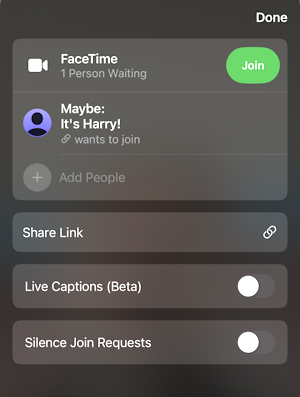 A tap on "Join" and the iPhone user is finally in the call, but before that notice the other options, including "Silence Join Requests" in case they suddenly regret sharing that link on Facebook. 🙂 A tap on "Maybe: Its Harry" to let them in and the FaceTime call begins!
Now, on the Android side, suddenly the app shows the other person:
The Android user can leave with the red "Leave" button, but before we wrap up, it's worth noting that the iPhone user remains in control of the FaceTime call and can access this info screen in the app too: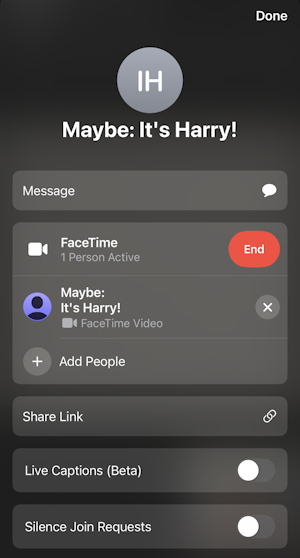 A tap on the "X" kicks Harry out and a tap on the red "End" wraps up the call for everyone.
That's it. Lots of steps between the two devices, but after the first or second attempt, you'll find that it's pretty logical and at any given point there are only one or two possible actions to take. Then again, there are plenty of other video chat utilities available too, including Zoom, so that might be worth keeping in mind too.
Pro Tip: I've been writing about Android and iPhone/iPad systems forever! Please check out my extensive Android help area and iPhone help area for over a thousand useful tutorials and guides! Thanks.