I spend a lot of time traveling and would like to have a library of movies I can have on my computer. I'm a big fan of old horror movies along with classic sci-fi. Don't care if they're old, it's just something to pass the time in hotel rooms or on a train or bus. Where can I download these without paying anything?
There are a lot of ways you can download movies and other content onto your computer, ranging from the fairly illegal copyright-violating torrent sites to paid services like Netflix that support downloaded content, but free movies? There are lots of free streaming channels but they have a tendency to be drowning in way too many adverts (and those ads are often at a higher volume to force your attention, yech). YouTube has some free movies, but they're too often illegally uploaded and vanish, plus downloading videos from YouTube is also rather non-trivial.
Since you like older films, however, you're in luck; older films eventually fall out of copyright and thence into the public domain. Generally copyright now lasts 70 years, but even that means films made before 1953 are in the public domain. The question is where you can find them, and the answer is the Wayback Machine, also known as archive.org. Archive.org is a fantastic site for lots of reasons – most notably that you can view earlier versions of popular sites like Amazon and eBay – but it also has thousands of public domain movies, free to watch and download with zero ads or interruptions.
FINDING PUBLIC DOMAIN MOVIES ON ARCHIVE.ORG
To start out, simply pop over to archive.org while on a reasonably fast Internet connection. You'll likely be downloading fairly big files, so a slow connection ain't going to cut it…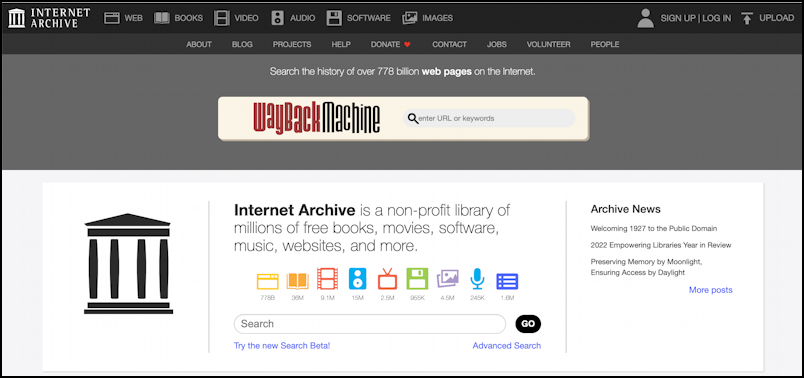 The site really is an extraordinary resource and well worth exploring. Click on "Video" along the top and you can see the many categories of video content accessible:

I've added an arrow so you can find the "Movies" link as there are a heck of a lot of categories. It's also really fun to check out the Television area too if you like old, obscure shows like I do!
Click on "Movies" to proceed, however.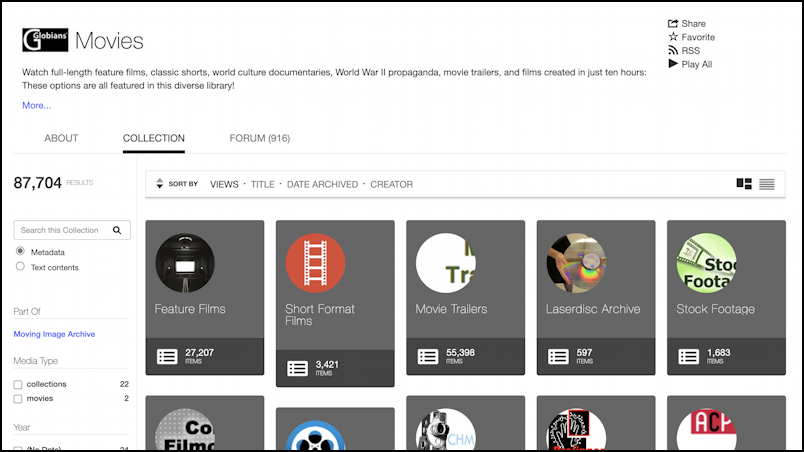 As you can see in the above, there are 87,704 movies on the Wayback Machine. That's a lot of options! I suggest you click on Sort by "Views" to organize it in order of popularity. Then click on "Feature Films" and again sort it by clicking on "Views":

Notice that there are 642 feature films categorized as "Sci-Fi / Horror", which is a pretty solid catalog to peruse. Click on "Sci-Fi / Horror" to proceed.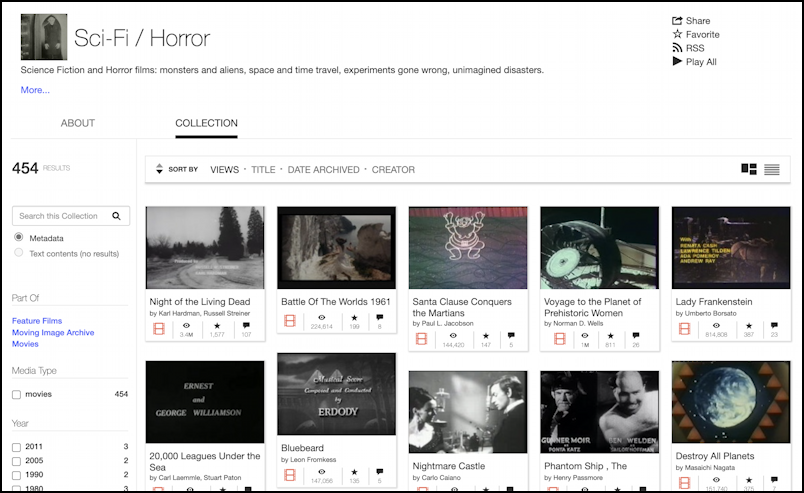 None of these are box office dynamite, but there's a lot of fun viewing to be had with these retro, classic and nostalgic science fiction and horror films, with the most popular of them all being the groundbreaking "Night of the Living Dead" from 1968. But really, who hasn't seen that by this point? 🙂
Note: 1968? While it's theoretically still covered under its original copyright, the copyright laws have changed over the last decade or two and film companies can also release their content into the public domain. Don't worry, The Wayback Machine isn't going to have an illegal film in its library.
HOW TO DOWNLOAD A MOVIE FROM ARCHIVE.ORG
Instead, let's grab a copy of "Battle of the Worlds", an Italian sci-fi epic from 1961 that IMDb describes as "A runaway asteroid dubbed "The Outsider" mysteriously begins orbiting the Earth and threatens it with lethal flying saucers." Doesn't that sound excellent? Click on it and you can immediately begin watching this cinematic masterpiece: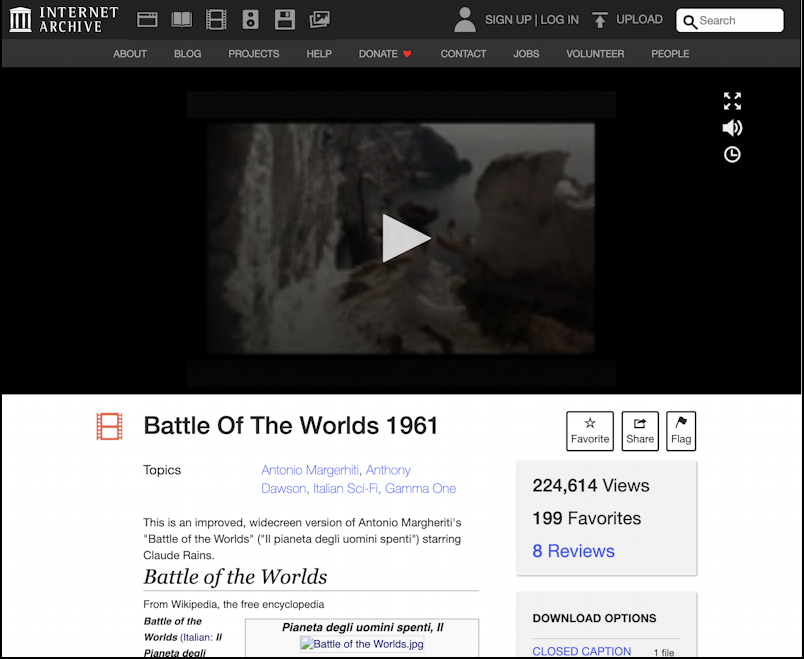 Okay, so out of 224,614 views only 199 people have favorited it, so maybe it's not quite a cinematic masterpiece. But as background viewing while you're doing some work or eating room service food? Entirely acceptable.
If you're online, just click and you can watch it live, but you were asking about downloading it, so instead scroll down just a bit to the "Download Options" panel on the right: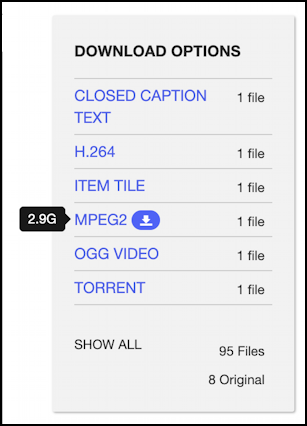 As you move your cursor over the download options, you can see the relative file sizes. H.264 is smaller than MPEG2, but since I have a fast connection I always opt for the larger file since it's generally better quality. A click and I can download it (with some patience, that is):
Yes, that says 5 hours left. These sort of downloads are best to do overnight or in background. You can also opt to try Bittorrent – this is an actual legal use of the distributed file sharing service! – though you'll want to use some caution. Some Internet Service Providers automatically block torrent traffic and can even flag your account for potential shutdown (even though this is an entirely legal download). The way to sidestep that is to use a Virtual Private Network (VPN) service, of which there are many.
If you have a VPN or a network where you know torrenting is okay, choose the .torrent file instead and let 'er rip:

54 minutes is definitely better than 5 hours. For this task I am using a BitTorrent client called "Transmission" on my Mac system, but there are also plenty of good clients for Windows too. If you don't know much about it, might be safer for you to just do a regular .mpg download and not worry about this technology.
Grab a dozen or so, potentially just leaving your desktop computer grinding on the task over a weekend or while you're on a business trip, and you'll be building out a video library of fun, entertaining, and free movies!
Pro tip: I've been writing about computer and Internet basics for many years, and have been watching old movies even longer than that! Please check out my computer and Internet basics help area for lots more useful tutorials!