Google is one of many companies that's been pushing the various capabilities of mobile devices and exploring how to make its vast storehouse of search data accessible in novel and interesting ways to people with the G-1 (the so-called Google Phone) and the Apple iPhone.
The latest example is Google's introduction of its mobile shopping interface, officially called Google Product Search for Mobile. If you never search for products for sale – probaly to do some comparison shopping – you might never bump into it, but it's pretty cool.
Let me show you…
It's a pretty common scenario for people with smart phones, actually: you're out shopping, you bump into a product that you're thinking about buying and you say "hmm… I wonder if I can find it cheaper online?"
The solution? Use Google or similar to search for the product and see what you find, or use something like the mobile interface to Amazon.com to just check that one site.
Problem is, you want to step through the data quickly, not slog through reviews and other information about the products. Since there's no more shopping interface for Google (remember Froogle?) it's been a bit of a tough situation.
Fortunately, Google's introduced its "Mobile Shopping Interface" which you can easily find by simply clicking on the "Shopping Results" link.
But let's get there, first of all…

You can tap on the "New! Mobile product search" link, but that's going to take you to an explanation of the new feature. Let's skip that and just jump in instead? I suspect you're like me: impatient!
So here's a typical search that you might do: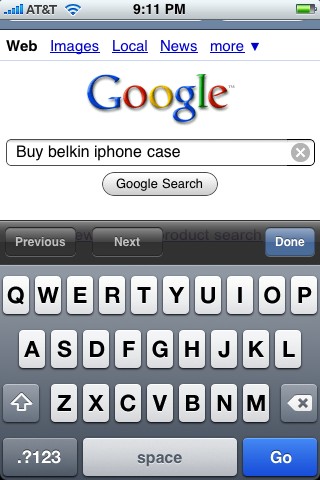 These results are pretty familiar, I bet, even if you've never used Google on a smart phone of any sort: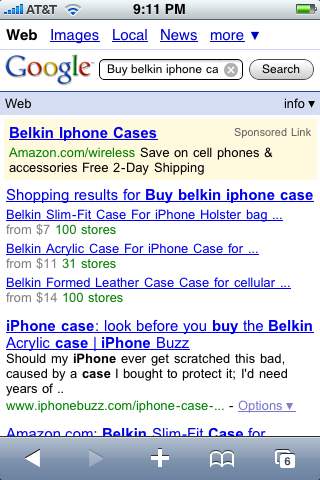 This time, though, skip the sponsored links, the organic results, etc,. and just find and tap on the "Shopping results for …" line.
The result? You've just switched into Google Product Search for Mobile:
It's not earth-shattering, but it's a nice step forward for accessing the vast amount of product information on the Internet in a simple manner on your smart mobile device.