I have an iPhone and appreciate all its features but one: I can't use the calendar capability because I use Google Calendar, not iCal on my Mac. Is there some way that I can either manually or automatically synchronize Google Calendar with iCal?
There is indeed a way to do this, but it's a bit tedious, so I imagine that you'll be very interested in Spanning Sync, a subscription service that automates the process of synchronizing iCal calendars with Google Calendar and across multiple Macs. It's expensive, but it sure makes this task a breeze…
Nonetheless, let's document how you export your Google Calendar data, import it into iCal, then set that up to sync with your iPhone. Even if you only do it once in a blue moon, it'll still be better to have that than nothing, and since the iPhone has a full Web browser, you can indeed simply go to the Google Calendar site and view your calendar there.
First step is to go to Google Calendar and export your calendar data in iCal format. This is a bit trickier than it should be – I don't think Google wants you to be migrating data from its application, really kinda like Microsoft in that sense! – but the easiest way is to click on the small down-arrow adjacent to your calendar on the lower left of the screen: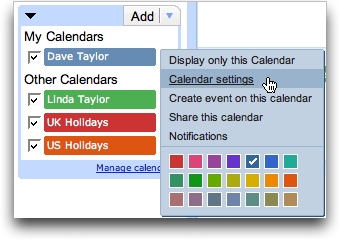 Choose "Calendar Settings", scroll down a bit and you'll see: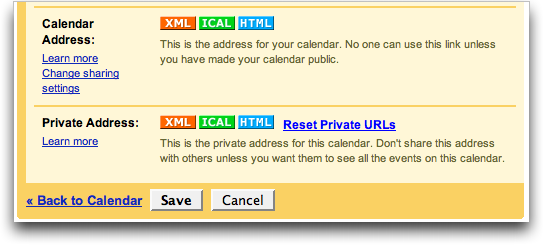 Click on the "iCal" button under the Private Address section and it'll pop up a window with a URL that lets you access the iCal format export of your entire calendar (image edited for clarity):



As far as I can tell, Apple's iCal application cannot work off a URL, so you need to click on it and download / save the resultant file. In Firefox, it's easy as the browser pops up with the following dialog box: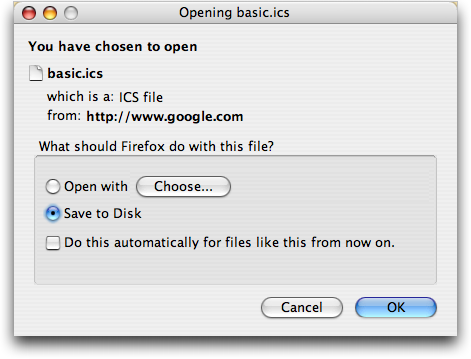 Almost done. Really!
Now you have your entire Google Calendar data in a form that iCal itself can import, so launch iCal and choose
File
–>
Import…
and you'll get this dialog box: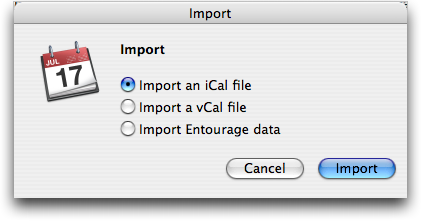 Choose iCal format and select the newly downloaded and created file "basic.ics" that you just grabbed from Google Calendar. It'll ask if you want to add it to an existing calendar or create a new one: create a new one so you can delete it if things don't work properly.
Assuming that they do, however, your iCal calendar should now have all your Google Calendar events added. Nice!

One trick I use is to create a new calendar in iCal called 'iPhone Events' and then you'll always be able to differentiate events created on your phone from those created in your online calendar. You can do this with File –> New Calendar.

Last step is to tell iTunes that yes, you do want to actually synchronize calendars. This is done by plugging in your iPhone then clicking on you're phone's name on the left side, then the "Info" tab in iTunes itself. It'll look like this: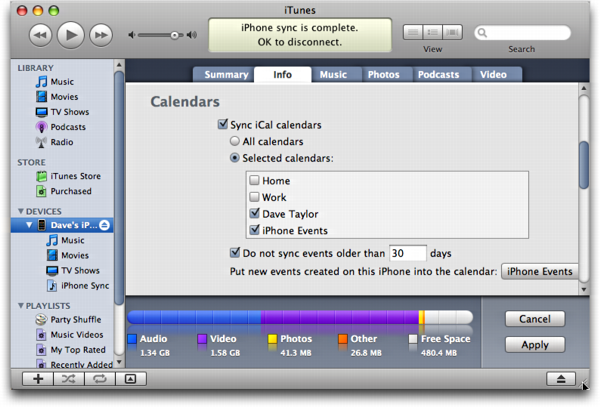 Notice here that I've chosen to sync both my "Dave Taylor" calendar, as imported into iCal from Google Calendar, and my newly created "iPhone Events" calendar too. Then, lower in the configuration, I've specified that all newly created events on the iPhone are automatically dropped into "iPhone Events" so I can later figure out where events came from and manage them as needed.
Finally, click on the ole' "Apply" button in iTunes and a moment or three later, you should indeed find that all your Google Calendar data is now accessible on your iPhone in its own attractive calendar application. Not as easy as it could be, but certainly doable.
Interested in other ways you can get your iPhone to work intelligently with your computer and the data that surrounds your life? Please check out the ever-growing set of
iPhone help
here on the site.