I want to keep track of time in a couple of cities around the world, but would like to have it displayed on a map rather than just a list of times. More visually interesting. Possible on my PC or do I need to buy an app of some sort?
With the rise of digital tech and precise GPS positioning anywhere on the planet, it's a bit of a surprise that we still have timezones and an International Date Line, but we do indeed still have both. Indeed, they might just be necessary to have global communications and a similar mechanism might eventually appear on the moon and Mars as we colonize those worlds too. Hard to imagine, but at some point in the past, there weren't timezones and time was just whatever the locals decided. Must have made travel quite confusing, and doubly so regarding what day it was!
The International Date Line is exactly opposite 0º longitude, also known as the Greenwich Meridian since it goes right through Greenwich, England. In other words, the IDL is at 180º longitude East or West. Weirdly, it's not a straight line either, with some zigs and zags near the Cook Islands, Fiji, Tuvalu, Samoa, and the Marshall Islands, along with another zag to ensure that the Chukchi Peninsula in Russia is all in one timezone too. Suffice to say, looking at a map is a lot easier than trying to visualize all of this.
I've written before about how to add a couple of additional cities to the time display on the clock pop-up window in Windows 10 — see How to Display Multiple Timezones in Windows Clock — and my standard display includes this: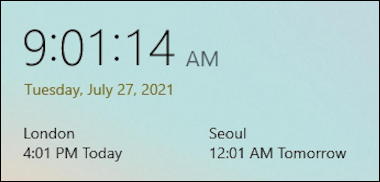 Easy enough; when it's 9:01 am in Denver, Colorado (my location), it's 4:01pm in London and 12:01am tomorrow in Seoul.
But, as you say, a boring display. So let's do something with more pizzazz…
WINDOWS 10 ALARMS & CLOCK APP
No need to download anything, turns out that one of the apps already on your PC is ready and up for the challenge, the unheralded, barely known Alarms & Clock. Launch it by searching for 'world clock' on the Taskbar: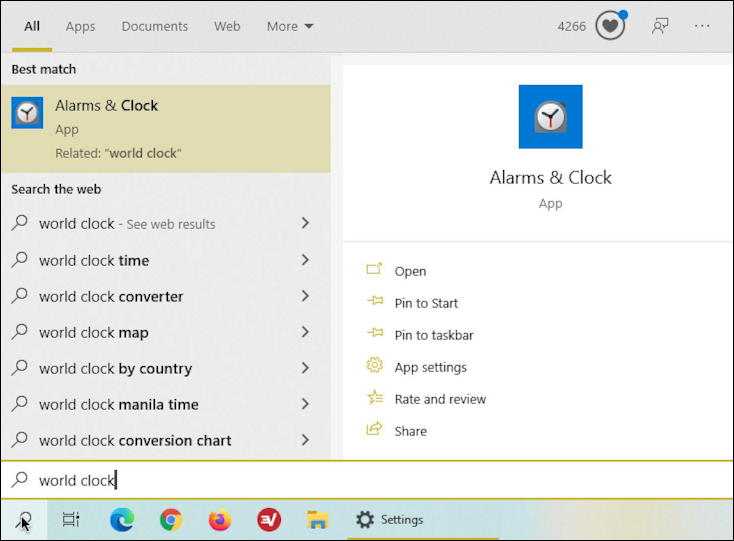 A click or tap and Alarms & Clock will launch. It has four main areas, very similar to a clock and timer app you might have on your smartphone, actually. Click on "World Clock" (the third icon) to get to the world clock area: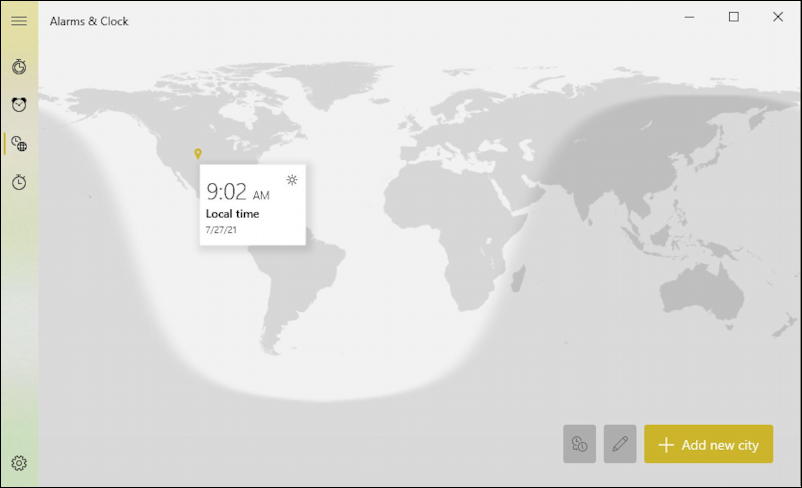 That's a pretty cool map and shows how the angle of the Earth relative to the location of the sun greatly affects the passage of day and night across the globe. The southernmost spots like the very tip of South America have very little light this time of year, while the northernmost areas of Greenland essentially have no nighttime darkness at all. In six months it'll switch.
ADD NEW CITIES TO ALARMS & CLOCK
Your city's location, date and time are displayed, which is great, but how do you add more cities? With the "+ Add new city" button, logically enough. Click and start to type in the name of a city you want to add, like Toyko:
Choose the listed match and it'll pop up on the map: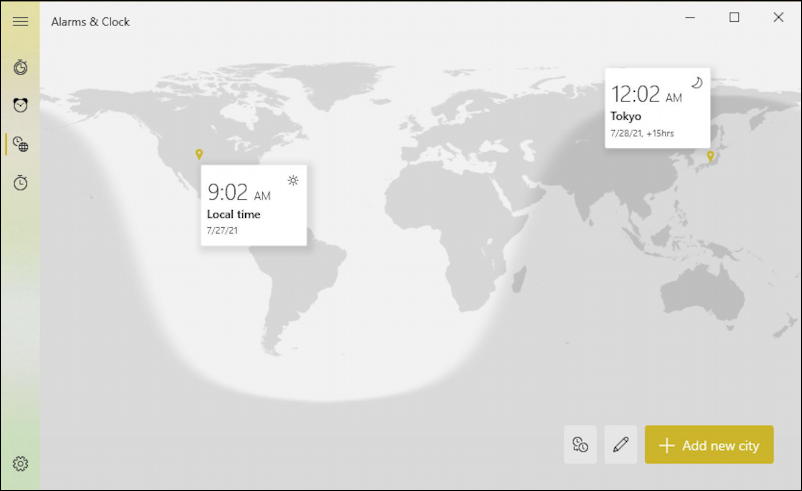 You knew Japan was on the right edge of the continent of Asia on the map, correct? If not, well, now you can see. Look closely and you'll realize it's an island too; most people don't realize it, but Japan is an island nation, an archipelago of over 6,000 islands! Most everyone lives on one of the four big ones, however: Honshu (where Tokyo is located), Hokkaido, Shikoku, and Kyushu.
All useful, but what if you want to add a few more cities too. You can do that easily enough with the same process, though I have found that the database of cities isn't super extensive, so you might have to pick a big city adjacent to a smaller town sometimes. I couldn't find much of anything on the southern tip of Argentina or Chile, so I picked Buenos Aires instead. Here's my world map of times with a few more cities listed:
It's a bit hard to see in this screenshot but my location, Buenos Aires and Johannesburg are all the same date, 7/27/21, while both Tokyo and Brisbane are already enjoying tomorrow, 7/28/21. Cool!
WORLD TIMES AND CITIES AS A GRID
If you prefer a tabular presentation of data then click on the tiny double-talking-balloon icon to the left of the pencil. Not sure what it's called, but it replaces the map with a pretty cool display:
Here it's a bit easier to see which cities are in our "today" and which have already bumped forward to tomorrow.
Done with that view? Click "Done". Now, finally, you can remove cities by using the pencil icon on the lower portion of the map. A click on the pencil and every location will gain a tiny trashcan: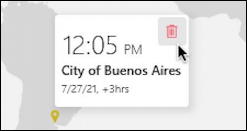 Easy enough. You can also zoom the app window to fill your screen, but there's no way to make it an active background wallpaper, alas. Perhaps in Windows 11…
Pro Tip: I've been writing about Windows 10 for many years and have quite an extensive Windows 10 help library. Please check it out to find lots of additional tutorials and guides while you're here. Thanks!