I'm a big fan of Google Gmail, but sometimes the conversation view can really confuse me with incoming messages. Can I disable it on my Galaxy S9?
You're not the first person to ask about disabling conversation view in Gmail by any means. What's confusing is that disabling it on one platform doesn't automatically turn off conversation view (or, as I prefer to call it, "conversation threading") on the other platforms you use. Case in point: disable it in your computer's Web browser and you still are stuck with conversation view on your Gmail for Mobile app.
Where this really gets fun is that while you can disable conversation view in Gmail for Android, that setting isn't yet available for the Apple iPhone / iOS version. So if you're on an iPhone, well, ya better just get used to the threading view for now (though Google has said that this setting option is coming very soon).
Oh! Not sure what "conversational view" is? Here's Google's explanation: "You can choose whether replies to emails are grouped in conversations, or if each email shows up in your inbox separately."
So, let's get to Gmail on Android and see how to disable it, then you can run that way for a while and decide if it's the best option for you on your smaller mobile screen. Here's my incoming mail:
Where you can see that it's in conversation view / threading is the second email entry from "me, Jennifer". See that tiny "6"? That means there are six emails in that thread, all grouped together by subject. If a new message comes in, it then is part of that thread rather than just the most recent incoming message, which can be confusing.
Before we go further, however, let's rotate the phone so that these screen captures aren't so tall, okay? 🙂
Now to get to settings, tap on the so-called "hamburger menu" on the top left (the three tiny horizontal lines stacked atop each other). That brings up this:
Looks like a lot of folders (err, "labels" in Gmail parlance), but swipe up, up, up on the left side and eventually you'll get to the bottom of the menu where you'll find these options: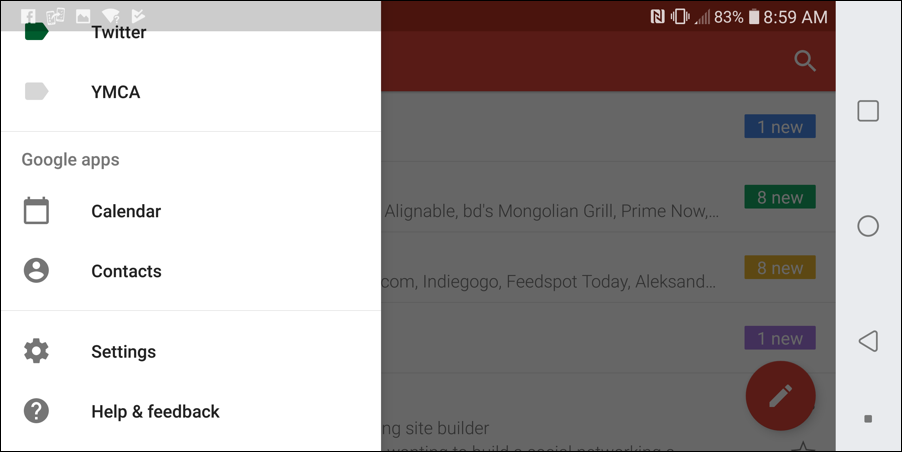 You want to choose "Settings" here, so tap on that.
Now you'll see a list of accounts – if you have more than one associated with your Gmail account – or just a single email address, like this:
Almost there. Tap on "General settings" and the "Conversation View" option is front and center: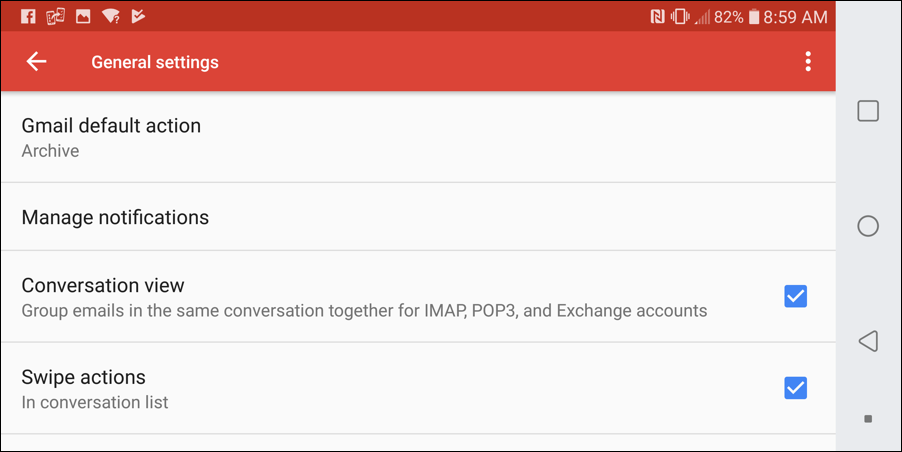 You can see that by default it's checked, and enabled. To disable it, simply tap to uncheck the box. Done. That's it.
Now here's what's a bit weird; you won't actually notice anything change. It's as new email comes into your inbox that it's organized differently. After a while, I do get a new message:
Notice that the new email from grace hasn't been threaded or paired to the original conversation, it's just a new message.
And that's it. Now you know how to enable or disable conversation view in Gmail for Mobile. Coming to an iPhone near you soon too!
Pro Tip: We have lots of Gmail and Android help here on the site. Please check it out while you're here!