Are you still pushing around an upright vacuum to clean your carpets and hardwood floors? That's so old school. Like 1950's old school. Instead it's time to upgrade to a robot vacuum! I check out the surprisingly affordable Deenkee DK600 vacuum to see how it performs…
I already have a number of robot vacuum cleaners – as I've reviewed on my YouTube channel – and they're great. I will often fire up the main unit as I'm leaving my house, and when I get back, it's returned to its charging station after spending 1-2 hours circling and sucking up all the dirt, dust and debris that plagues my house.
Note: Since I'm cat-sitting my daughter's college cat I currently have three cats in the house. It's a lot, and it's a lot of fur added to the already dusty environment we have. Hence the need for constant cleaning!
If you're just pushing about a vacuum, it's easy to know where to vacuum and where to avoid, to side-step wires and have a reasonably efficient coverage pattern to ensure that you don't leave unvacuumed gaps. Heck, most people probably do all of this unconsciously while their mind wanders to the beach, a party or the latest TV show. Duplicating that is the task of the AI smarts in robot vacuums and that's not such an easy task. And getting back to the charging dock? I've watched some robot vacuums struggle and spend 5-10 minutes circling and trying to figure out where they started!
Enter the Deenkee DK600 Robot Vacuum. The company sent me one to review so I plugged the charger into the wall, placed the 'bot on the charger and then used the included remote control to get it moving…
You can see that 1. My cats remain pretty interested in robot vacuums even after we've had them for years, 2. The remote has a handy little storage space on the charger and 3. the green square on the back of the vacuum (the side with the indicator light is the front) that lets you pop out the dirt bin to unload.
Now, let's flip the unit over so you can see how it all works. It's pretty cool: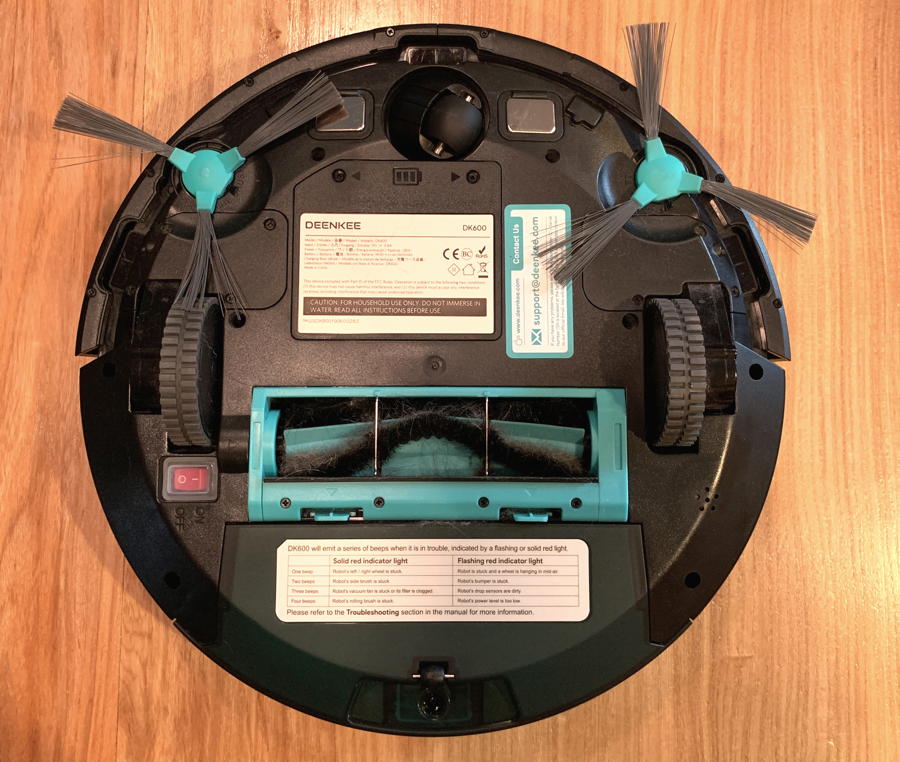 There are three cliff sensors on the edges; one just in front of the front ball wheel and one on each side of the main drive wheels. See 'em? Those ensure that it doesn't fall down stairs, as I demonstrate in my video review. Notice also that there are two rotating 'sweeper' units that basically pull all the dirt and dust into the central portion, which is then pulled up by the roller brush. And, yes, that roller already has a lot of dust and dirt. Which means the DK600 works!
Since this is one of the few robot vacuums I've reviewed that didn't include a smart app on my phone for control, it's worth a closer look at the remote control:
The vacuum has four primary cleaning modes, a timer, and various other useful features, but I found that I only ever used the top two buttons – AUTO starts an automatic cleaning cycle and the HOME button has the DK600 head to its charging unit – and the pause/play button to temporarily stop the vacuum. The others let you set up timers, do a spot clean, move into MAX clean mode, etc, but in my daily use, those were not tested.
Here's my video review, but don't vanish, I have some thoughts on the vacuum after!
I found the Deenkee DK600 robot vacuum a bit of a mixed bag because I missed the smarter features of higher end units. My 360Robotics does a fantastic job with coverage, for example, and you can watch it go back and forth, back and forth, covering every square inch of the floor, but it's twice the price. The DK600 was a lot more random in its journey, leading me to suspect that there were areas of floor that were omitted in a clean (though probably covered the next time, but do you want to rely on a random walk of your floor for cleaning?).
Having said that, however, the price is right with the Deenkee unit. It's on Amazon right now for a highly affordable $219.95, making it one of the most affordable in the market today. And yes, it's so worth it and even if once in a while you take your old school canister or upright vacuum for a pass, the fact that it's getting even 95% of the dirt, dust, hair and other junk dirtying up your floors is totally worth the investment.
Deenkee DK600 Robot Vacuum with remote control and charging base. $219.95 at Amazon.com
Disclosure: Deenkee sent me the robot vacuum in return for this review and my YouTube review.