I saw you had an article on how to Add someone to your google analytics account but, um, that's out of date, Dave, and is no longer helpful. Now, today, February 2013, can you write a new article that shows how to grant a colleague access to a Google Analytics account without them being able to tweak or change things?
You're spot on that the earlier article is indeed out of date because of the most recent changes in the Google Analytics user interface. It's the way of the online world. Since things aren't carved in stone (or printed on paper) interfaces become extraordinarily fluid and can change in both subtle and dramatic ways on a daily — or sometimes even hourly — basis. This means that there's always successive refinement going on, which is really good, but it also means that help sites like mine are a bear to manage because with over 3000 articles, it's pretty darn hard to know what's obsolete and what is still accurate, possibly even years later.
Which is why I appreciate you highlighting that the older article is defunct.
Then again, it's only a little bit defunct because just like how Windows 8 is really Windows 7 with a different layer of frosting, there's not too much in Analytics that has changed. The tricky part is getting to the right starting spot.
So let's have a look!
First off, log in to your Google Analytics account:

That's a gimme, right? 🙂
Now you should see one or more entries like this:

Click on the indented URL display link and you'll get to your usual reports, like this:
As you can see, I'm coyly not showing the actual traffic stats for
GoFatherhood!
But we can still see what's going on.
To add another person to my Analytics account for this particular domain, I need to click on the "Admin" button on the top right.
This moves me to where it shows what Google Analytics profiles have access to this particular traffic data:
At this point you may be tempted to click on "New Profile" but that's not the right move. Don't do it!
Instead, you need to move to a point where you can add additional users to the existing profile. Which, yes, is confusing. Trust me, tho.
Click on the actual profile name. In this instance, I'll click on "gofatherhood.com/".
Now it'll move into details of the specified profile, including a new bunch of tabs along the top. The one you want is "Users":

Once you've clicked on Users you'll see a list of all authorized users who have access to this particular profile in Google Analytics:

Now click on "New User" (see how that's different from "New Profile"? Yeah, confusing) and you can set your colleague up with access: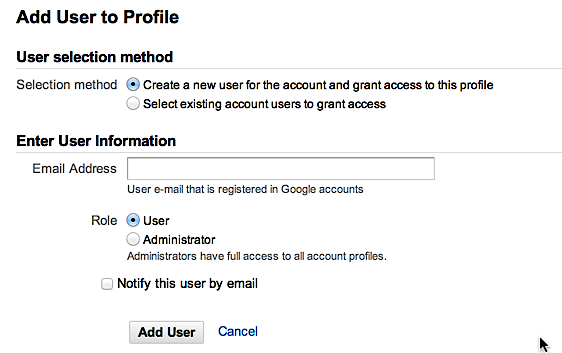 The most important thing is to pay attention to the Role: Unless you want them to be able to monkey with settings, set them up as a "User". Then it's all read-only data with no risk of them changing settings, tweaking things, adding additional users, etc.
Done? Click on "Add User" and they'll be added to the profile.
Add enough people, and you'll end up with something like this profile I have configured for a different Web site in GA:
As you can see, everyone but me is just a User.
Hope that helps you out and good luck with Analytics. It's great stuff but really complicated to figure out. Just look for tutorials here on
AskDaveTaylor
and elsewhere online.