Congratulations, you just received a shiny new iPod Nano, iPod Shuffle, iPod Touch or iPod Classic as a present from someone, someone who was willing to pony up the big bucks for a gift. Nothing to complain about. Except, of course, if you're not yet part of the iPod world, someone who has already figured out the basics of getting music on and off the device.
If that's you, we've got ya covered. This tutorial will show you how to get music onto your iPod from your computer using iTunes 11, then it'll also show you how to perform the reverse trick: get music off your iPod and onto your computer.
Why both? Sometimes you just want to grab songs off someone else's iPod, or off an old iPod of your own, and perhaps that device is no longer sync'd to your current computer.
The first thing you need to do is figure out what computer you're going to use to pair with your iPod. Indeed, the first and perhaps most frustrating thing about the Apple iPod line (and any other iOS device like an iPhone or iPad) is that it establishes a unique 1:1 relationship with exactly one computer that you own. That computer is where you'll find backups of everything on the device (unless you use iCloud storage, but that's only available for the most advanced of devices like the iPod Touch) and that's the only computer that will be able to add or delete music, videos, photos or other content.
This means that if you have a work computer and a home computer, one's going to inevitably be out in the cold, serving basically as a charging station, while the other is the master sync device. I sidestep this by using my laptop as the master device for all my iPods, but not everyone totes their portable computer everywhere…
You can also use either a Mac or a PC as the master system, the iTunes software is available for free from Apple for both computer systems (go here: apple.com/itunes). Having used both extensively, however, I will say that I think the Mac version is better written and easier to use, particularly when it comes to photos and other non-musical content. Your call, though.
Once you decide, fire up iTunes, then plug in your iPod using the cable included with the device. The most modern designs use "lightning" connectors which are tiny on both ends, but the more common interface is called a 32-pin iPod connector. Not a big deal, but they're not interchangeable so if you get additional car chargers or cables. make sure you match what your new iPod needs.
Plug it in and iTunes will welcome you with a cheery display:


Very nice. Click on "Continue" and you'll get to the device itself within iTunes:


Now the fun part!
Let's start by getting some music into iTunes.
There are three basic ways to do this:
1. Buy music through the iTunes Store
2. Rip (copy music from) CDs that you already own.
3. Add audio files (usually ".mp3" format) you already have on the computer
Of course, if you have other iPods or iOS devices, it's possible you might already have a ton of music in iTunes, but if not, iTunes can scan your computer for audio files that would be suitable to add (for example, if you're on a PC, it could be music that's currently in the Windows Media Player library).
To buy music is the easiest of the lot! Click on the iTunes Store button on the top right of just about any screen in iTunes and you'll see something like this:


Find something you like (and with a massive selection of just about all genres, it shouldn't be hard), click "buy" and they'll be happy to take you through the steps of creating an iTunes Store account, tying in a credit card, etc. Once it's done, the music files will automatically download into iTunes, ready to copy onto one or more devices.
If you want to rip or copy a music CD, simply insert it into the computer while iTunes is running and you'll get a prompt something like this:



Click "Yes" and iTunes will read in the CD, track by track, and add it to your music library. A bit tedious if you have a ton of CDs, but you only have to import each once, so I recommend you go through the effort so you can enjoy your music anew! Need more info? Here's a longer tutorial on this process:
rip music CDs into iTunes
.
There's a fourth way you can add music to your iTunes library, of course, and that's by pulling content off other iPods or iOS devices (for example, Uncle Bob's iPad). I'll get back to that.
Here's what's important to know here:
By default, music in your iTunes library is not automatically copied to your iPod.

This is a great source of frustration for people as they can see all the music in iTunes on their computer, but when they plug in that shiny new iPod? Nothing gets copied over.
To fix that, you'll need to get to the device configuration page in iTunes for your new Apple iPod and set it up correctly. On the right of the window you'll see a button that takes you to the iTunes Store (if you're already in the store it is instead labelled "Library". Click on it) and adjacent to that is a button that lists how many devices iTunes knows about on this particular computer. Mine says "4 Devices", for example:


Click on the Devices button and it'll show you the device or devices it knows. Pick your new iPod and you'll see a screen like that shown above. Along the very top, however, are a bunch of content types:


Click on "Music" and it'll show you a very sparse screen:



As you can see, nothing's being sync'd between the computer and the iPod.
No worries. Check "Sync Music" and it'll attempt to automatically copy all of your music, the entire iTunes music library, onto the new iPod. That might not quite work, however, as the status bar on the bottom of the window shows me:



You might not be able to read what it says, but the status line indicates "Over Capacity by 14.30 GB". Not good.
If you aren't over capacity, just click "Apply" on the lower right and grab a cup of tea. It's going to take a while to copy your content onto the new iPod.
If it is over capacity, then choose "Selected playlists, artists, albums and genres" at the top. Now it shows a lot more about your library: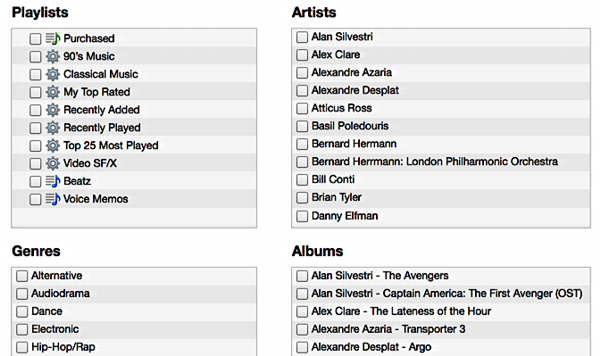 At this point you can select by musical genre, by playlist, artist or even specific individual albums. As you select content the fill bar along the bottom will show how much room you have left. Kind of like this:



Work with other content in a similar manner, clicking on the tab along the very top, then either having iTunes automatically sync everything of that type with your iPod, or picking and choosing specific audio books, TV shows, movies, photos or other content.
Once you have what you prefer marked for the device, click "Apply" and it'll copy everything across. The more you're copying, the longer it'll take to complete.

Getting music and other content off another iPod

This tutorial has gone on super long, so let's just wrap it up by linking to the two most relevant articles already here on Ask Dave Taylor:
•
Copy Music from an iPod into iTunes on Mac OS X

•
Copy Music from an iPod into iTunes on Mac OS X

That should get you going. Got more questions about your iPod? We have tons and tons of
iPod Help
here on the site, and if that's not enough, feel free to click no the big red "help!" button to ask a specific question too.
Good luck getting started and enjoy your shiny new gadget!