I use PayPal extensively with my business and hear that the company launched a new shortened URL payment technique. Sounds interesting, how do I set up paypal.me and use it with my customers?
You're exactly right that it's all tied to the new paypal.me domain and basically gives you a mnemonic shortened URL that you can share with customers and clients that makes is ridiculously easy for them to send you money. I'll show you how to set it up and how to even preset the payment amount as needed, but let's start with a sneak preview: Here's my paypal.me URL:  paypal.me/askdavetaylor. Click on it. Don't worry, you don't have to send me any money. But isn't that easy to work with?
I set it all up on my Apple iPhone 6 since it's ostensibly a mobile tool, but the fact is you can also set things up through your desktop browser too as PayPal is very aware that even non-mobile businesses might well find this shortened URL darn beneficial.
To start, simply go to paypal.me: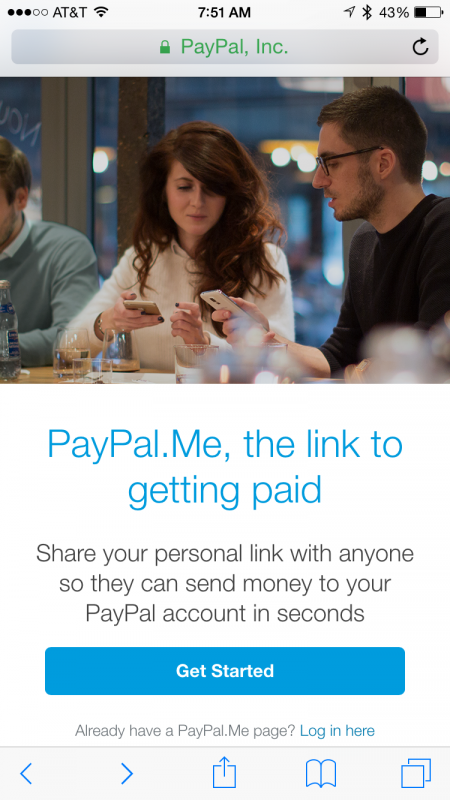 A tap on "Get Started" explains it all: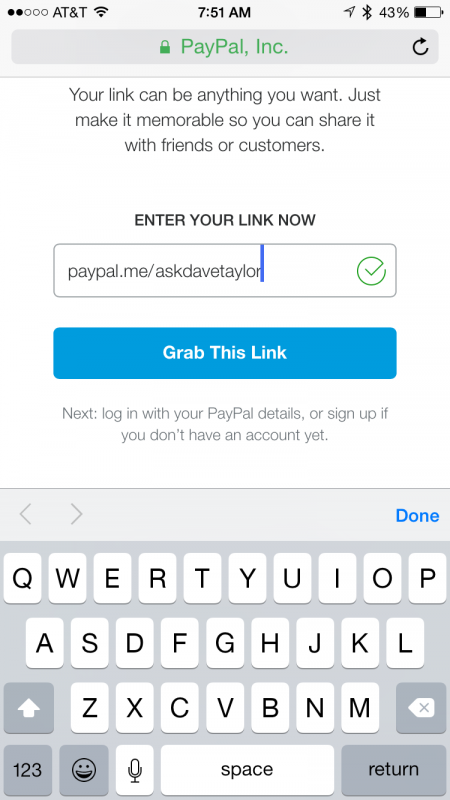 Obviously with a constrained namespace it's going to be important that you grab your name or business name sooner, not later, or someone else will beat you to the proverbial punch. It's like domain names…
Tap on "Grab This Link" once you've entered your desired shortened URL (and be careful about spelling! too).
Next step will be to log in to your PayPal account: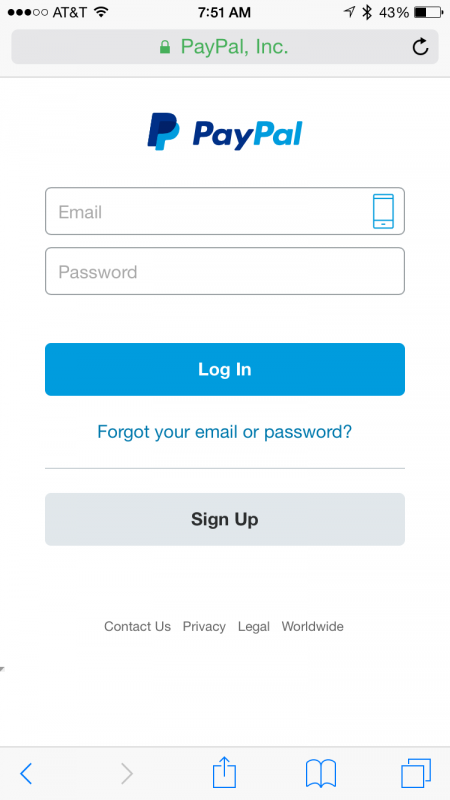 You do have two-step verification set up for your PayPal account, right?
If you don't, do it. Seriously. It's a smart way to keep your account more secure. Here are some instructions: Enable two-step account verification security on PayPal.
Since you do have two-step verification enabled, you'll then have a secret numeric sequence sent to you that you'll enter to confirm your identity: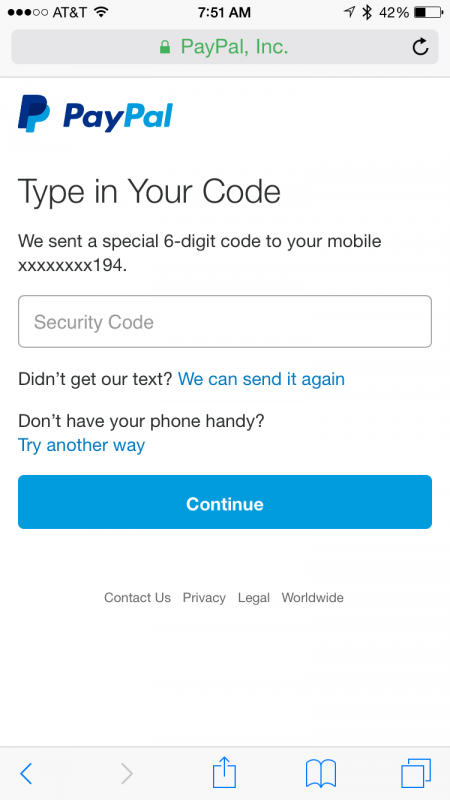 Entered? Tap "Continue".
You'll now be able to customize the landing page a little bit by choosing a color theme and adding a photo. In the screen capture below you can see that I'm part-way through picking a specific photo (I simply tapped on the camera icon on screen):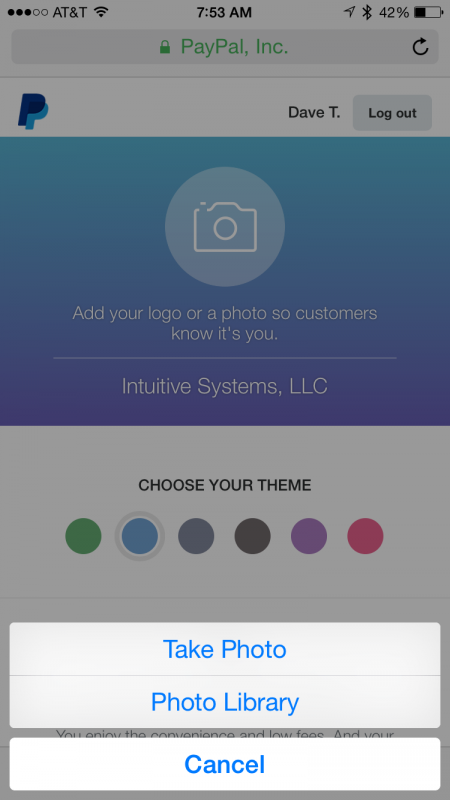 I go into my Photo Library, find a picture that's going to work (tip: you can always change it from your computer if you don't have a logo or good portrait pic handy on your mobile). The result: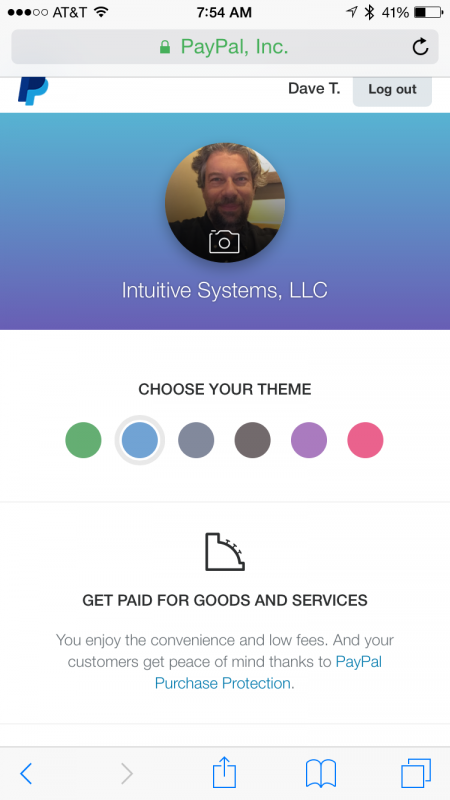 Looks good. Scroll or swipe downward to be able to enter a succinct business description too: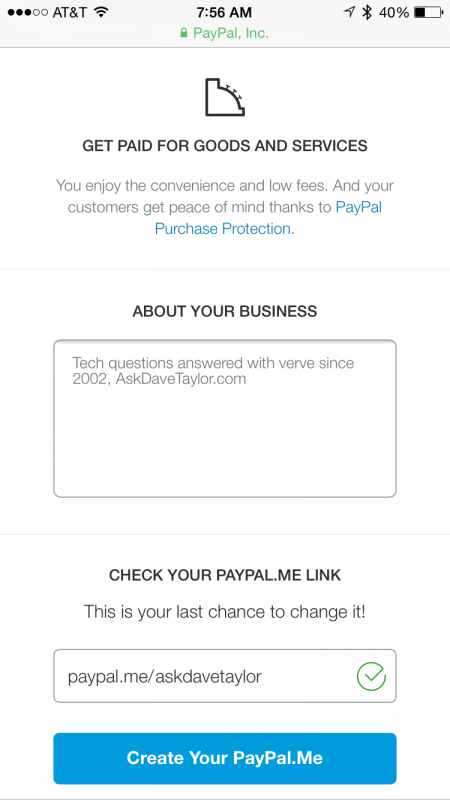 One last chance to double check the spelling of the shortened URL that you're about to set for your paypal.me link.
Looks good? Description looks good? Tap "Create Your PayPal.Me" and…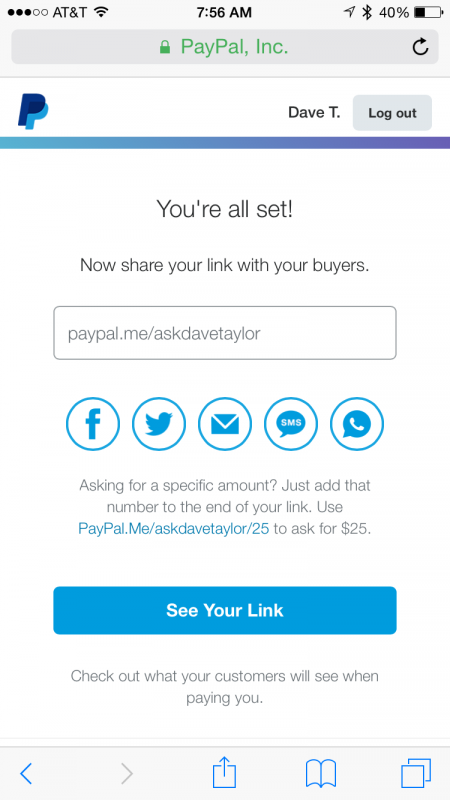 Very nice. Now you can share it with people via any of the social media sites (I tried it out with Twitter and Facebook, both look very nice) but you can also try just going to the new link with your computer's Web browser to see what that looks like. And it looks like this for me: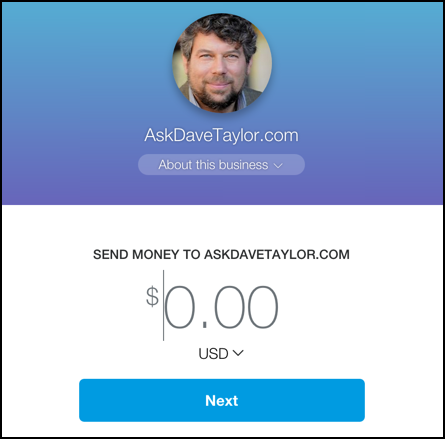 Tip: You'll notice that I changed the photo and updated my business name for my PayPal account both. Easily done from the main Web-based interface. Just seeking consistency, of course.
More importantly, notice that it's really easy to enter any amount at all — a friend already tested it by sending me $0.25 via PayPal.me! — and proceed.
Here's a secret, though: when you share the link with someone, you can hardcode the amount that they should pay you to avoid confusion or misunderstandings. Simply append the desired amount (in even dollar figures) to the URL. So if I wanted you to pay me $10.00 USD, I could share with you the URL: paypal.me/askdavetaylor/10. Try it, click on the link.
That's all there is to working with this new service. I'm really impressed, I think it's a very elegant solution to requesting money from other PayPal users. What's your take?