I heard from a friend that Google Maps has returned to the iPhone, but when I check for app updates, there's no indication that the Maps app has updated or changed in any way. And when I tap on it I see the same old Apple Maps that's been driving me nuts for months. What do I need to do for my Maps app to return to Google Maps?
I think your friend needed to be a bit more clear with you about what's transpired: Apple hasn't replaced its Apple Maps app with Google Maps, effectively backing up in time and tossing away its troubled map application. That won't happen. In fact, given that there hasn't even been a bug fix release to Apple Maps since it came out with iOS 6, I am sure that there's a big update and fix that's queued to be distributed as soon as they can really nail all the major problems.
Meanwhile, though I imagine they don't like it, the Apple team has finally approved a separate app that Google submitted to the App Store that offers up the functionality of Google maps within a standalone app for the iPhone and similar devices. So it doesn't replace Apple Maps, it's another application you add to your iPhone that you can use instead.
The downside of this, however, is that it's not integrated into your iPhone experience, so tapping on an address in your Contacts list, for example, will still push that address to Apple Maps. Apple's reasonably friendly to arch-rival Google in this situation, but it's not going to toss out the proverbial baby with the bathwater! 🙂
Fortunately you can use copy and paste to circumvent most of these hassles, so it's not a big deal and if you're looking for public transportation information or just prefer how Google routes you on drives, you can simply add it to your iPhone, either directly from on the phone (iTunes -> search for "Google Maps") or within iTunes.
I'll demonstrate all the steps needed to grab a copy of the new app within iTunes 11 then copy it onto your iPhone…
First off, click on the "iTunes Store" button on the top right of the main iTunes 11 window, then search for "Google Maps":



(Yes, I'm listening to the
Game of Thrones
soundtrack!)
The results show a variety of matches, and it's perhaps ironic that the exact name match isn't the #1 result, but rather #5, left-to-right:


Click on it — or use this shortcut: Google Maps in the App Store — and you'll see more information about the app, including its quite impressive user ratings: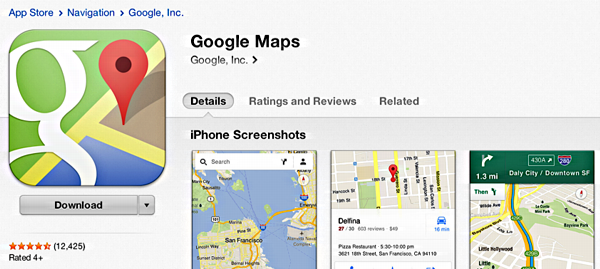 From this point, simply click on "Download" and it'll be sent to your computer. Well, first you'll need to log in…


Once it's downloaded, you can find it in iTunes 11 by clicking on the "Library" button on the top left of the main app window, then choosing "Apps" from the library menu on the left:


Plug in your phone, then to ensure it's copied over, choose that device within iTunes if it doesn't automatically pop up, then click on "Apps" when looking at your device:


Sort by Name then scroll down. Here you can see I have it neatly tucked in between Google Drive and Google Voice (why yes, I do use a lot of Google apps now that you mention it):


If the button adjacent to the app says "Install" that means that it's not on your iPhone. Click on the "Install" button. If it says "Remove", as mine does, that means that once you next sync your device with iTunes 11, you'll find the app has returned to your iPhone and is ready to tap and use:


And that's how you go from Apple Maps to Google Maps!