I have an iPhone 4 and while I haven't seen any major problems with the reception based on how I hold the phone, what the heck, I'd like to get a free case through the program Jobs announced earlier in July. How do I score a free Apple iPhone 4 bumper or case??
Remember how Steve Jobs reassured everyone in his press event on July 16 that there wasn't really anything wrong with the Apple iPhone 4, even as reports surfaced left and right about antennas not working if you held the phone wrong? Well, he explained, it turns out that every smart phone has that problem (something a lot of other phone vendors are now vociferously debating, as you would expect).
More importantly for the 3 million iPhone 4 owners, Jobs announced a program that Apple would refund your purchase of a bumper if you bought one (I did, but returned it) or would simply send you a new one as a simple solution to the problem.
Today, July 23, that program has shown up in the form of an iPhone app in the iTunes App Store called "iPhone 4 Case Program" [iTunes link].
What's interesting is that if you search for this app from the App Store utility on your iPhone it doesn't show up. You need to get it from iTunes and then copy it across by syncing your phone to your computer. Not sure what that's all about, perhaps just timing?
I downloaded the free 1.1MB iPhone 4 Case Program app, sync'd my iPhone, and here's what the experience was like from that point…

Launch the app and its pretty darn nice looking, actually. Was someone working late into the night to get this up so quickly? Quite possibly so, and it's a fine example of if you're going to do something, make it look good.
I tap on "Get Started" and it asks me to log in to my iTunes account: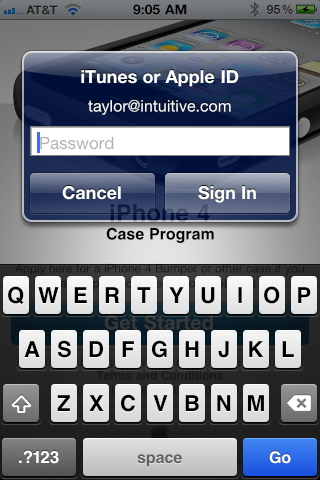 Once done, I find that there's quite a list of different cases available, more than I expected, from Apple, Incase, Belkin, Speck and Griffin. Nice windfall for them, I'm sure!
Move down to see all the options: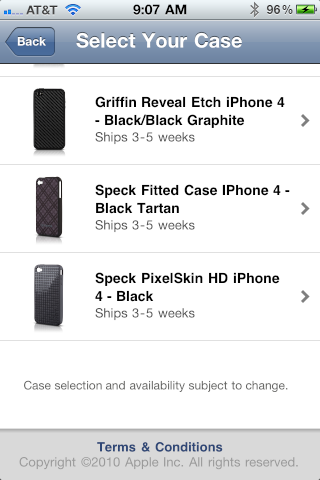 The Speck fitted case is a great one – I have had similar for my iPhone 3GS – so I tap to learn more about it: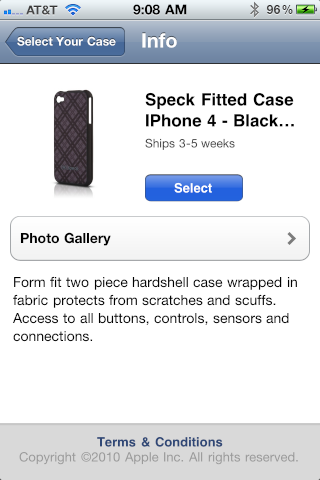 Let's have a look at a photo of this particular case by tapping on "Photo Gallery":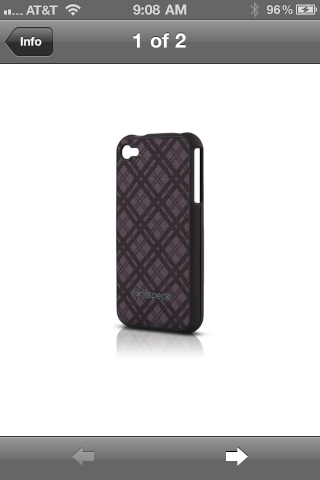 Somehow I expected a rotating 3D image, but this suffices, It's the one I'll order. I back up by tapping "Info", then tap on the blue "Select" button, and…
Hey! It knows all about me. That's why I logged in to iTunes, right?
If all that looks good, tap on "Place Order" and you're good to go:
Oh, if you're thinking you can go through the process again and order another free iPhone 4 case, well, you can't: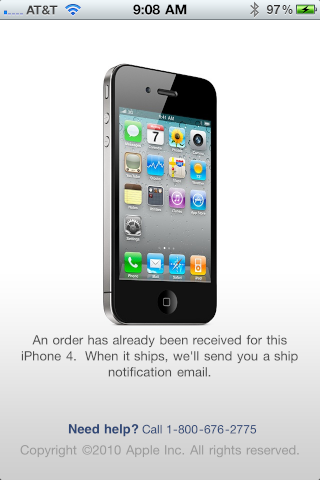 Yeah, they thought of that too. Now, go, grab that free iPhone 4 case if you're eligible —
iPhone 4 Case Program
[iTunes link] — and enjoy knowing you beat the crowds.