I listen to a lot of music and have thousands of CDs on my iPod and now my Apple iPad too. On the iPod – and on my PC – I can get to the "equalizer" and adjust the audio profile for small speakers, jazz, etc. On the IPad it doesn't seem like that's available any more. Did Apple just axe it in the iPad version of iTunes, Dave?
Apple has actually retained the equalizer capability in iTunes on your Apple iPad, but it suffers from one of the biggest UI glitches (mistakes?) on the iPad interface: the split of having individual app settings under "Settings" rather than accessible from within the app itself.
iTunes is no different. On the iPad, settings for many apps including BBC News, iBooks, Keynote, Netflix and WeatherBug are also located in the Settings area, along with settings for Safari, iPod, Video, Photos and the iTunes Store too.
Let me show you how to get to it and tweak your settings. Ready?
To start, tap on the Settings icon:


Now look down the left side and find "iPod":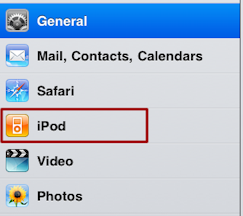 Tap on that and you'll see the main settings for your iPod / music player on the iPad:
You might want to tweak and adjust other things now that you know how to find it, but for what we're talking about, tap on "EQ":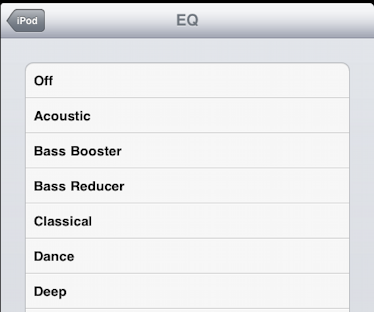 There ya go, all those helpful equalization settings to ensure that your iPad music sounds terrific! Hope that's helpful for ya!
You can find all sorts of iPad help here on my site. Got an iPad question I haven't answered yet? Ask away and I'll do my best to help you out!