I have a ton of overlap between the people in my Address Book / Contacts on my iPhone and the people with whom I'm friends on Facebook. Since my iPhone can display people's photos when they ring, I'd really love to have as many of my friend's pictures in my iPhone contacts data as possible. Which leads to an obvious question: is there some sort of tool that lets you import Facebook profile pictures and match them with your Address Book contacts? That'd be very cool…
There surely enough is just that capability, and the ability to pull Facebook profile pics and match them to your iPhone phone book comes from a surprising source too: the Facebook app that you probably already have on your iPhone!
For reasons I don't really understand, it's basically a hidden capability, a cryptic button deep in the Facebook iPhone app interface, and I don't mind sharing that I was a bit anxious when I first tapped on it, because I wasn't really sure what the heck was going to happen afterwards. 🙂
Nonetheless, I did tap on it and was quite pleased with the results.
To start out, launch the Facebook app on your iPhone (If you dont' have it yet, grab the Facebook app from the iTunes App Store). Now go into "Friends" and tap on "Requests" on the lower right corner. Here's what you'll see: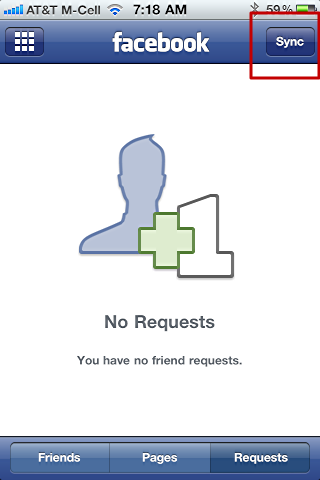 See that "Sync" button on the top right? That's our doorway into this featureset, so tap on it…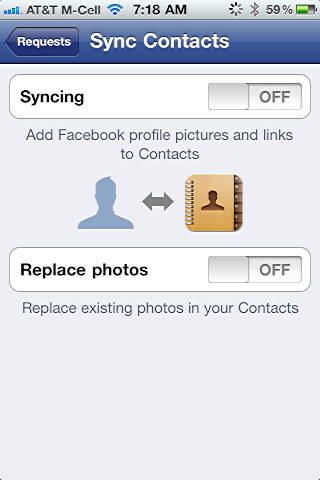 I opted to enable Sync, but not to have it replace any photos I might have already associated with individual people in my Address Book. To do that, I slid the first slider to "ON" but left the second "OFF". As soon as I did enable it, the app moved to the following warning screen:
No problems with this personally, but if you're very concerned about your privacy, you might want to think about sharing your entire iPhone contact list with Facebook, a company that has a spotty privacy track record in my opinion.
If it's acceptable, tap on "I Agree" and you'll be back where you were, but the app starts up its sync process, as shown on the bottom of the window:
Once it starts copying photos onto the phone, a new "Delete" button shows up, even as it continues its work:
And some more time passes and you see:
Finally the app has done its job and matched as many of your contacts as it could find in your Facebook friends list. I'm guessing it matches by phone number not name, by the way, so if you want your friends to be able to get your pic using this sort of process, you'll want to ensure that you have your cellphone number on Facebook (though I recommend you mark it for friends-only in your privacy settings).
The end result is that friends now have their Facebook profile mug shot associated with their entries on your phone too: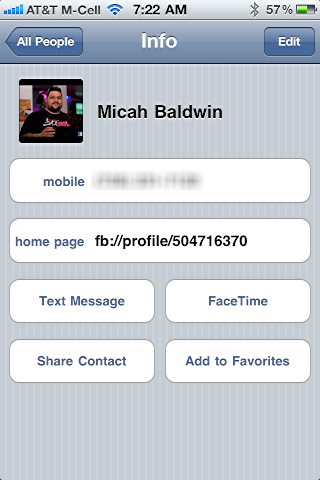 Slick. Very slick.