I was looking at a Windows 8 tablet at the store and noticed that on the start screen the weather tile was updating current weather conditions. Super cool. Why doesn't mine do that?
You'd think it would be the least interesting application on a Windows 8 — or 8.1 — system, because it's so darn easy to look out a window, but knowing the current and upcoming weather in your location turns out to be remarkably useful As a result, the Weather app that Microsoft supplies with Win8 is surprisingly featureful and has a lot more capabilities than people realize. And the tip of that iceberg is turning that passive "Weather" tile on your Start Screen into a live tile that updates automatically and shows you the current weather at a glance.
In fact, let's start there, though as you'll see, the weather app has a lot more tricks up its proverbial sleeve.
Go to your own Start Screen on your Windows 8 computer, laptop, or tablet. Your weather app tile is going to look like this: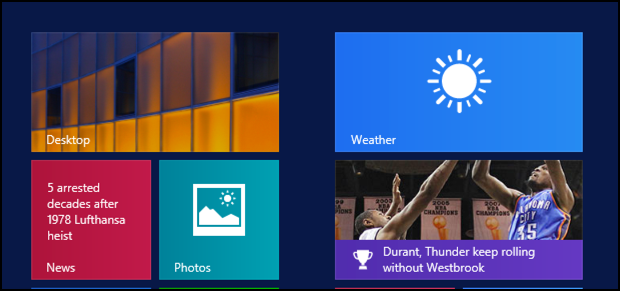 Boring, for sure.
Let's fix it!
Right-click (or tap and hold if you're on a touch screen) on the weather app tile and you'll see a menu bar of options appear along the bottom:
That's all pretty small I admit, so let's zoom in on the lower left:

The one you want to select is "Turn live tile on".
That now changes the weather app tile on the start screen to actually show you the current weather forecast for your current location: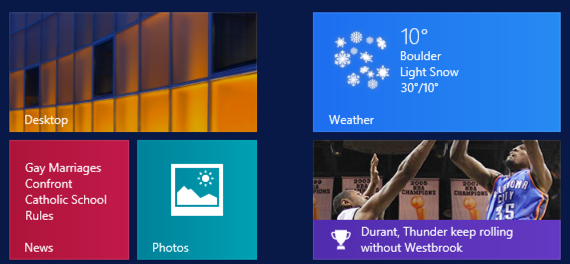 Ah, 10F and snow. Brrr…
Then again, I could just look out the window, but that'd be too easy, right? 🙂
While we're at it, click on the weather tile and enjoy the full screen forecast with photographic representation of the current weather. Very nice.
Now swipe or use the cursor to move to the very right edge of the multi-screen weather app. You'll see this: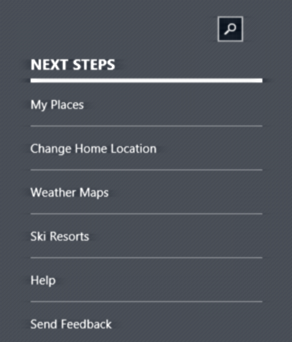 You can tap/click 'Change Home Location' if you travel a lot and always want your home weather shown instead of the local weather, but instead let's add a second city by tapping on 'My Places'.
Here you can change your home location if you want, as you can see, or you can add a "Favorites":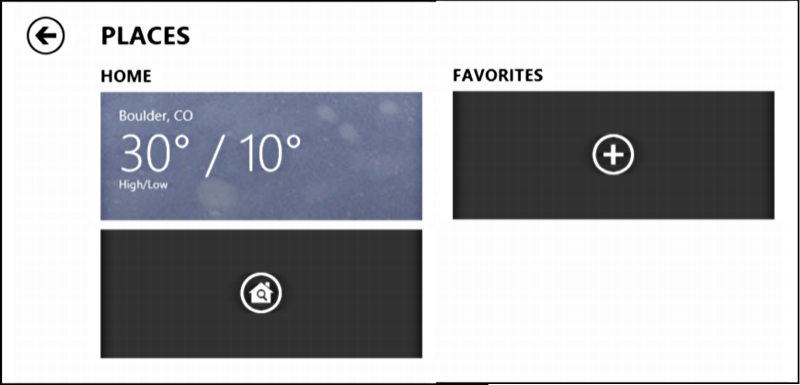 To add a new place, tap on the "+" tile immediately below FAVORITES.
I'm going to add Tottenham, a borough of London where I was born, so I'll just type in the first six or seven letters:

You can see all the options it's presenting me with for "tottenh". #2 is what I seek, so I'll tap/click on that match and…

There you go. Rather a bit warmer than my current location in Boulder. And much better soccer teams and tea too. 🙂
There's more you can do if you want to poke around in the weather app, and if you prefer Celsius to Fahrenheit, you can switch on the settings bar once you right-click (or tap and hold) within the weather app itself. You'll see a button "Switch to Celsius" or "Switch to Fahrenheit" show up. That's it. Now your Windows 8 start screen should be cool too!