I'm all about simplicity and need a really simple text editor for my PC. I have Microsoft Word, I know about Google Docs, but I want to be able to focus on my words, not the toolbars, ribbons and features. What do you recommend?
While you can hide the ribbons, toolbars and other features that make modern document editors so complicated, there's actually a really slick – and very basic – text editor included with Windows 11 that's a great alternative. In fact, it's been included in Microsoft Windows since the very beginning: Notepad. Yes, you've probably ignored or even shunned it because it doesn't have all those fancy bells and whistles of the big programs, but sometimes that's just what you need as a writer.
You can go even more old school by opening up a Terminal and using a command-line editor, but that's probably going a bit too far into the world of simplicity! On a Mac, the Notepad equivalent is TextEdit, another program that has resisted the creeping featurism of so many programs on our computers. You might well have used Notepad in the past, or its big brother Wordpad, but let's have a quick refresher.
GETTING STARTED WITH MICROSOFT NOTEPAD
Since we're talking about an older program, I thought it would be fun to go back a decade and work with an article I wrote about the Consumer Electronics Show (CES) back in 2011. Notepad can open .txt files but that's about it; if you try to open up a .doc, .docx, or .xml format file it'll just get confused and show you all the formatting codes. Remember, this is super basic!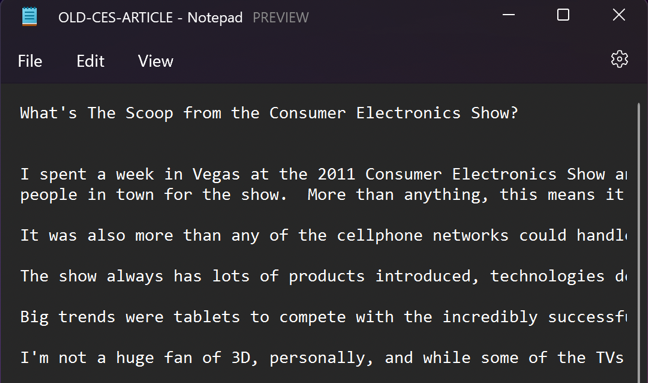 The first thing to notice is that text doesn't wrap around, so the paragraphs are actually cascading off the screen to the right. This makes it pretty hard to edit, but it's fixable. In fact, there are a couple of key settings you'll want to immediately adjust.
Click or tap on the "View" menu to bring up the basic settings:
I really like having the Status bar, so that's easily chosen. A bar with useful information immediately appears at the bottom of the window:
This is showing the current cursor location: line 1, column 1, the zoom level (100%), the text file format (Unix, each line ending with an LF or linefeed sequence), and, finally, the character set (UTF-8). Most you can safely ignore, but the zoom level is useful and the cursor location is an easy way to count lines: Move to the last line and have a look.
While you're exploring the View menu, also enable "Word wrap" and all those words that are off-window suddenly fly back into view:
Notice the status line at the bottom too. Helpful, right?
Surprisingly, though, you can't click on the zoom level indicator on that status line to change it. That's the third option on the View menu:
How did I switch from dark mode to light mode? That's one of the very few Settings…
CHANGING THE SETTINGS IN NOTEPAD
To access the two possible settings, click on the gear icon on the top right of the window. That offers these choices:
I simply chose "Light" as the App theme to get black text on a white background. Easy. Notice you can also change the font, but it's for the entire document, there's nothing as sophisticated as word or paragraph styling. Basic, remember?
And that's it. You can change font, zoom in or out, enable word wrap, and that's about it. Notepad is rudimentary, but sometimes that's just what you want:
A small step up is Wordpad – which you can find by searching for it on your PC – and from there, the bigger, more powerful tools are part of Office 365, Google Docs, or similar. Want a powerful program for your PC that doesn't cost money? There are some terrific free office suites out there too, notably LibreOffice and FreeOffice.
Pro Tip: I've been writing about Windows for many years and now have an extensive Windows 10 & Windows 11 help area. Please check it out to find lots of additional tutorials and guides while you're here. Thanks!