Every time I give my Android phone to my little one she ends up jumping into other programs and messing things up. I don't want to buy a new device for her, so is there some way to lock her into a particular app in Android to avoid mischief?
You might be loaning your phone to a stranger so they can make a quick phone call, allowing a colleague to test their Web site in your phone's browser or keeping your personal data safe from little fingers. In all these cases, you'll want to know how to enable what's known in the Android world as screen pinning. This is one of those features where there's no iOS equivalent so iPhone users are outta luck.
But if you're running a reasonably modern Android phone (screen pinning showed up in Android 5.1 Lollipop) this is a great feature to leave enabled so you can use it with just a tap or two. If you're just worried about the little ones then you can leave it set up with a secret button sequence to unlock, but in most cases, you can also have it require re-entry of your security PIN before the phone returns to normal use.
First, let's enable the feature. This is done in Settings. Search for "pinning":
If you get zero results, well, then your version of Android doesn't support this feature. I've found that some of the third party skins atop Android disable this sort of optional or advanced feature. Sorry 'bout that.
Hopefully, though, you get a result just like the above. Tap on "Security > Screen pinning" to proceed…
Fairly self-explanatory, but the idea is that once it's enabled you'll be able to "pin" an app and force it to stay front and center until you're ready to restore full functionality. Enable screen pinning by tapping on the slider on the top right.
Then you'll be able to decide if you also want to require a PIN on disabling a pinned app:
Enable both for now because you can always fine tune your settings later.
Done. Now, how do you use it? I'll jump into Spotify on my Android phone to demonstrate. While the app you want to pin is running, swipe up from the bottom to reveal the "running apps" view:
Here you can swipe left and right to quickly zip between the apps you have running, so hopefully you've been to this handy view in Android before. This time, however, pay attention to the app icon superimposed on the window. In this instance, the distinctive green icon of Spotify itself.
Now tap on that icon and a menu appears!
Did you know that menu existed? It has a number of handy features, really. For screen pinning, all you need to do is tap on "Pin". Done. The chosen app will take over the screen but this time you'll get a reminder: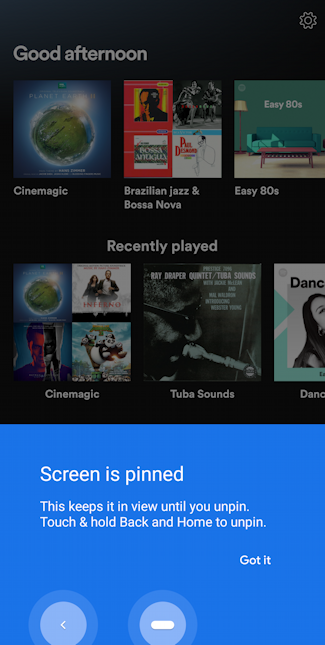 That's it. Pay attention to the specifics of how you cancel screen pinning, however, because in testing I have found that different phones require a different double-press combination. This one is Back & Home being held simultaneously along the very bottom of the device.
Once you tap "Got it" the blue info window vanishes and the app looks exactly like it would without being pinned. The only difference is that if you try to go to your home screen or anything else, you'll see a small reminder: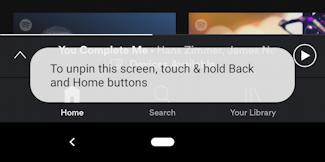 Obviously without the PIN it's pretty easy to figure out how to unpin an app if you have reading skills, which is why it's great for little ones who are just tapping around looking for something fun. Enable the PIN in the settings, however, and after you unpin the app, it'll prompt for your phone PIN: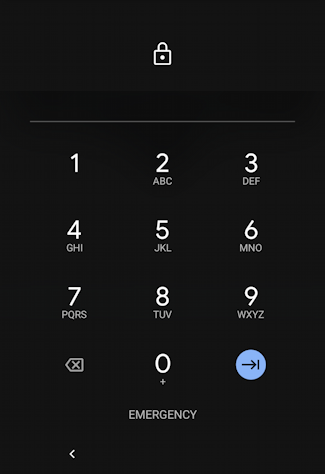 That's it. If you don't know the PIN code, well, I hope you really like the app you pinned to the foreground of your phone.
Pro Tip: I've been writing about Android since the released were named after candy bars. Please check out my extensive Android help center for lots more tutorials while you're here!