I have a lot of music in my Apple Music library and want to listen to it in new ways. My default is all music on shuffle or by artist, but are there other ways I can create playlists or similar to expand my listening options? Thanks. Running the latest MacOS on my iMac, if that matters.
Do you remember the old days when the application was called iTunes? Somewhere along the way that seems to have gone out of vogue – along with all the other i-prefix app names – and the program ended up renamed Music or Apple Music. This is definitely confusing when you consider that Apple's paid music service is also called Apple Music. Ah well, assuming you're talking about the application on your Mac system that goes by the name "Music" then we're on the same page. I'll resist calling it iTunes. 😁
Anyway, while it may appear that the Music app is just collecting all of the mp3 and aac files you have bought and ripped, it actually is much more of a database of audio files that you can explore and filter by any of over twenty different criteria or characterizations. For example, you might want to have a playlist of songs that have a certain beat (fast, slow, meditative, dance) or were released in a specific era (oldies from the 1960s) or similar. Music can do it! That's what the Smart Playlists are for, and what's great is that once you have it set up, as you add additional music to your library, any matching tracks will also automatically be added to your smart playlist if they match your specified criteria.
Let's have a look, by creating an electronica smart playlist that's only long tracks, to weed out all the 45-90 second songs, themes, or experiments that some musicians occasionally include in their collections.
HOW TO CREATE A SMART PLAYLIST IN MUSIC
The first step is to make sure you have all the music you want already in your Music library. If you've already been listening to it, you're probably in great shape. Then open up Music and choose File > New > Smart Playlist: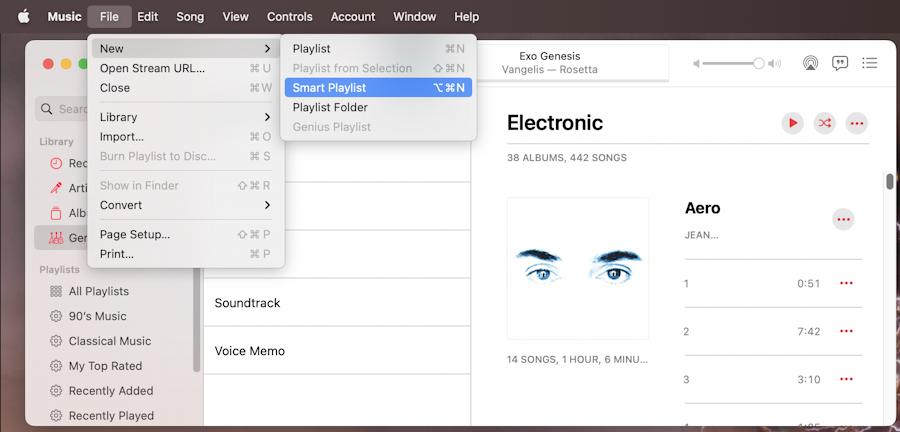 You could also use the keyboard shortcut of Option + Command + N, but who's going to remember that?
Once you create the new Smart Playlist, it's time to figure out what criteria you want to use:

There are a number of elements here that are critical to understand before we proceed, however.
SPECIFY SMART PLAYLIST CRITERIA FOR APPLE MUSIC
There are a lot of ways you can use the smart playlist that aren't obvious. For example, that second option that says "limit to 25 items selected by random": uncheck the rule matching and you'll have a random 25 song playlist. Disable Live updating and as new tracks are added, they won't be able to magically appear on the playlist (though part of the fun is to have it be smart and dynamic, in my opinion).
For our task, we're going to set up some rules. It's not obvious from the image above, but there are a lot of criteria from which to choose with a rule, and a lot of ways to specify how they relate. I'm going to choose a genre and a song duration, for example:
See where it shows "Match all of the following rules"? That means I have specified an AND relationship. I could also specify an OR, but in this instance I want songs that have a genre containing  'electronic' AND have a song duration that's greater than 5 minutes. Easy enough to understand, right?
That looks good, so I'm going to ensure that it has "live updating" enabled, then click on "OK".
It's created my smart playlist. There's a fair amount of information included on this screen, including how many tracks match – 162 songs – and the overall duration of every track, played one after the other: 19 hours, 21 minutes. That's almost a full day of music without duplication, and no song shorter than five minutes. Nice!
Notice that Music has also created a montage of album covers that represent the music in the list. Handy. It's smart to then come up with a mnemonic name for your smart playlist. I'll choose "Long Electronica". Done.
LISTENING TO A SMART PLAYLIST
Now it's easy to switch to this playlist any time you'd like, just find it on the left menu area and click. The first song it plays when I tried Smart Electronica is over 17 minutes long. Perfect!
Notice that on the top the track Saturn, The Bringer of Old Age has 16:57 left to play. You can "Edit Rules" at any time or add a description if you want to share it with friends or family too. Unfortunately playlists don't automatically migrate to other devices, but given that they might not all have the same music in their libraries, that sort of makes sense.
Anyway, that'll get you started. Now you know how to use Smart Playlists in Apple Music. Go have some fun!
Pro Tip: I have hundreds of Mac tutorials and help pages on the site as I've been running MacOS since the introduction of the operating system. Please take the time to check 'em out!