I hear that there's a new competitor to Twitter on the net called Mastodon. What is it and how can I get started?
Social networks come and go because it's incredibly hard to create and sustain the momentum and participation required for a lively, active and interesting social network. Remember Ello? Remember Google Plus? (just kidding on the latter. Sort of). With Facebook seeing 1.2 billion active daily users — yes, you read that right — and even Twitter claiming over 300 million active daily twitterers, it's hard to go from zero to any meaningful number at all.
But if you take a different angle, if you allow users to create their own specialized sub-communities, and if it's a decentralized open-source platform, it becomes interesting to a significant percentage of online users who are dissatisfied with the lack of privacy and easy trackability of the major networks. And that's exactly what Mastodon is.
While anyone can download the server software suite — it's open source, after all — and run an "instance" of Mastodon, you'll want to start your online adventures by going to Mastodon.Cloud
Here's what you'll see when you get there:
Yup, capacity planning rears its ugly head. But then again, as a highly distributed social network, the intention is for there to be dozens or even hundreds of different servers; you pick the one that's the best match for you. Interestingly, though, they aren't really broken down by geography as much as by theme or topic. And this is where Mastodon gets a bit confusing, because it's a single "stream" of updates just like Twitter, but there's a local stream that are just from others on your particular server and a federated stream that's everyone on all the servers mixed together.
Further, a bit of nomenclature: an "instance" is basically a server. In the above message, however, mastodon.cloud is saying that it's at capacity and it's up to you, the user, to find a different server (a different "instance") that is allowing signups. Click the link and you'll see a long, long list of your options. Here are but a few:
The numbers are growing pretty quickly as Mastodon finds its initial community, but you can see that some are quite modest: soc.mtb.wtf has a user base of 22, for example! More importantly, notice they're all open for registration, so any of these choices could be a good match. Take a minute to scroll through the list and see if any of your interests are listed too: If you can start with a like-minded group, then your local stream is going to be way more interesting.
I signed up at mastodon.xyz but that one's closed now too, so you'll have to find a different one. Once you do, click on "register" and here's the information it'll request: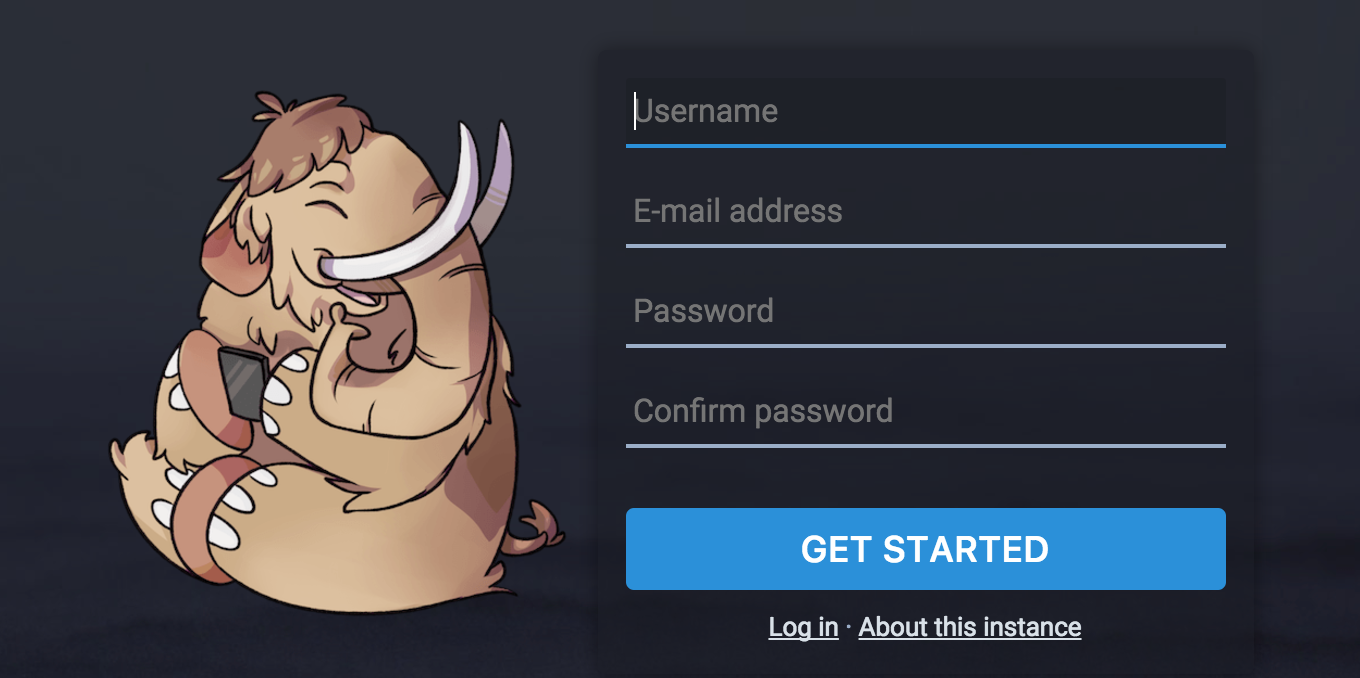 Use a good password, as always, and one that's different to what you have on other sites. A tip: Experiment with adding a space or punctuation to your password. It's a quick way to make it considerably more secure.
Once you register, you'll need to confirm your email address,
Pretty basic stuff. Confirm by clicking on the included link and you're ready to log in and join the dynamic new world of Mastodon:
Once you've logged in, you will see that the standard Web-based interface is a lot like Tweetdeck for Twitter, with columns of data representing different ways to look at the stream and your account:
The leftmost column is where you type in your "toots" (they can't call 'em tweets, can they?), the second column is your feed of people you follow on Mastodon, the third are people referencing you or your account, and the fourth column can be the local feed or, as shown above, the federated feed.
No better way to get started than to just jump into the pool:
Looks a lot like Twitter, doesn't it? A few really big differences: you have a 500 character limit on individual messages. Adult-oriented messages are supported from the get-go (that's the tiny "cw": it adds a content warning to your post), no advertising, no tracking, and per-post privacy if you're so inclined. The camera lets you add photos, GIFs (including animated GIFs), videos or similar, and the globe lets you specify the privacy for that particular toot.
Want to send something that kids shouldn't see when they first log in? Click "cw" and it shows up on the feed like this:
You can see a glimmer of it in the above, but let's have a closer look at the BBC Mastodon account, because it reveals something pretty important and different about Mastodon. First off, it's not an official account, but you'll see that in a second. Here's a toot that showed up on the federated feed:
Yes, Mastodon supports hashtags and all the other fun jazz from Twitter, including the notation of "@" followed by a handle to signify an account. But remember how this has hundreds or even thousands of "instances"? Turns out the home server of a particular account is also specified. You can see it above in the grey, when BBC is really "@bbc@social.undern…".
A click on "BBC" and you learn more about this particular Mastodon account:
You can see it's a nascent account with only 189 followers. Mastodon is in its very early stages, no question. Much more importantly is that names are only unique to a specific instance of Mastodon, so the above is @BBC but only at social.undernet.uy. If I wanted to set up an @BBC account on a different instance, that's completely acceptable in the Mastodon architecture.
I believe that's a significant design mistake and I am a bit disappointed that you, dear reader, can grab something like "AskDaveTaylor" on whatever instance you join and then start pushing out messages on the federated timeline, but that's what it is. Will that significantly slow down actual companies with registered trademarks adopting Mastodon as another possible avenue of communicate? Absolutely. But at this point that's not the purpose of the service anyway.
Let's go back to a toot and look at some of the icons under the post:
Using Twitter as a model makes Mastodon much easier to understand: left to right it's reply, retoot, like/favorite and the ellipses that gets a few more options for you:
You can take it from here. There's a lot to like about Mastodon and I will say that the conversations I've had with strangers via the federated timeline have been far more pleasant and interesting than the modern fire-hose of Twitter. Give it a whirl, send out a few toots, and see what you think!