Hi Dave. I got a new Amazon Echo for Christmas and am a bit confused about the iPhone app. Do I need to use it? What are the best settings for a good Echo / Alexa experience?
Congrats on getting an Amazon Echo speaker for the holidays. There are quite a few of them in the Alexa family now, and you can even get some that have little screens on them, like the Amazon Echo Spot [which I reviewed on YouTube just a few days ago: Amazon Echo Spot Reviewed]. There are also third party speaker systems that include Amazon Alexa too, including offerings from Sonos and Harman Kardon. Quite the ecosystem. Ultimately, though, all Echo devices require that you use the Alexa app on a smartphone, whether it's an Android or iOS / iPhone.
What's perhaps most confusing about the app is that by default it shows you what you've most recently asked your Echo, whether it's "what's the weather?" or "what time is it?" or "tell me a joke". To get to anything useful, you have to tap on the top left of the main screen to reveal the menu of options and choices.
Let's not just talk about it, though, let's have a look. To start, you'll need the Alexa app [Android or iPhone] though I'm betting you already have it installed!
Because the Alexa ecosystem now supports so many disparate things – including video chats, believe it or not! – it's no surprise that it's falling into the Apple iTunes too-many-features complexity trap. Perhaps 2018 is the year Amazon will split it out into a couple of smartly designed apps with specific functions. We'll have to see.
Meanwhile launch the app and tap on the three horizontal lines icon in the top left. It'll reveal a menu that probably should just be the main view of the app in the first place:
The most useful options here are "Smart Home" if you want to set up and configure smart devices like bulbs, switches, locks and similar, "Skills" where you can add games and tons of other features from over 20,000 options, and "Settings" where you can, well, change the settings. Let's go straight to Settings so you can see some basics of Echo configuration.
It will show you all your known devices and their status. We have a lot here at AskDaveTaylor, as you can see: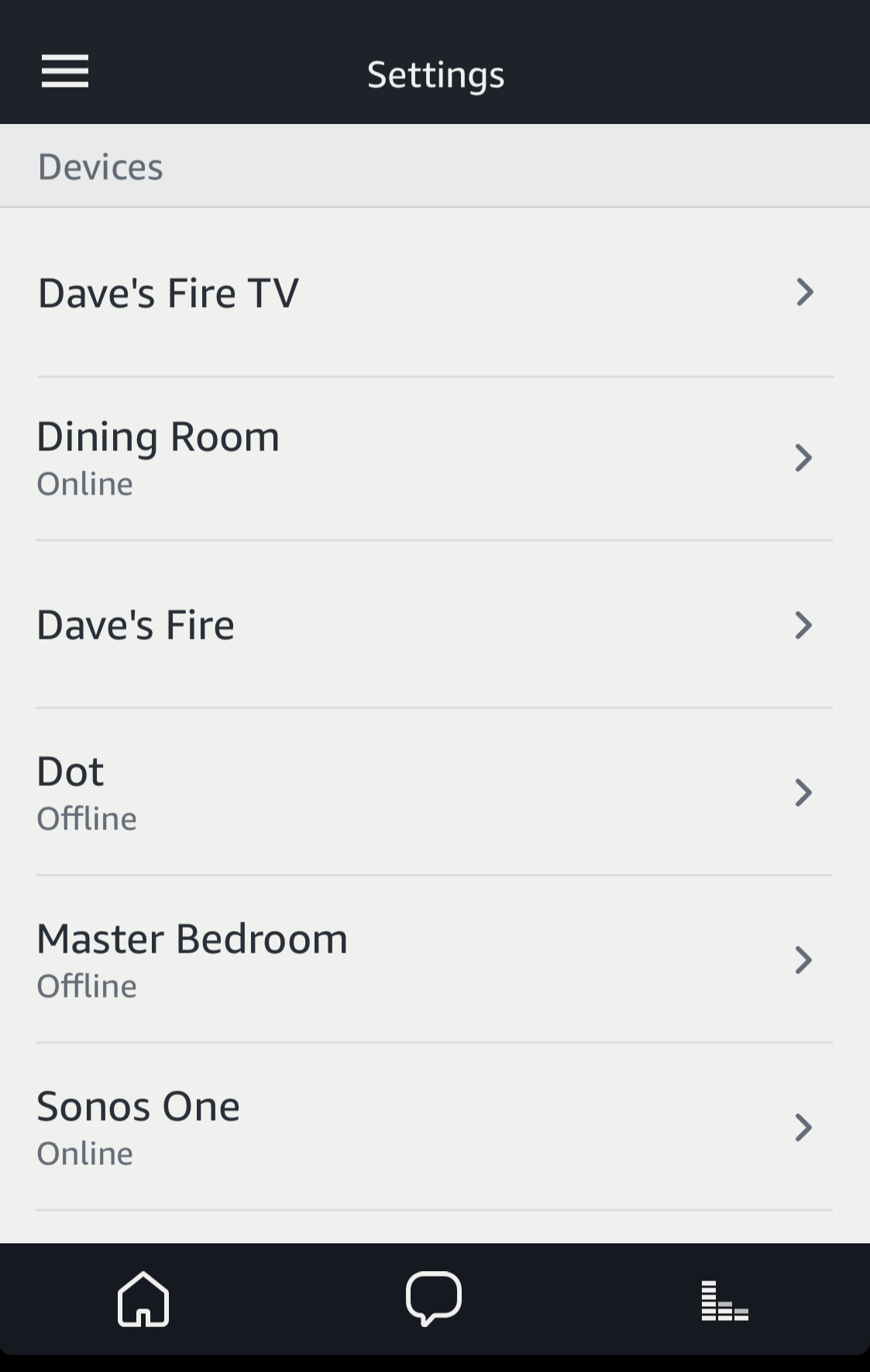 I have an Echo Dot in the dining room at my house, hooked up to some very nice audioengine speakers, so let's check that configuration. Easily done by tapping on "Dining Room".
A world of options and settings appears: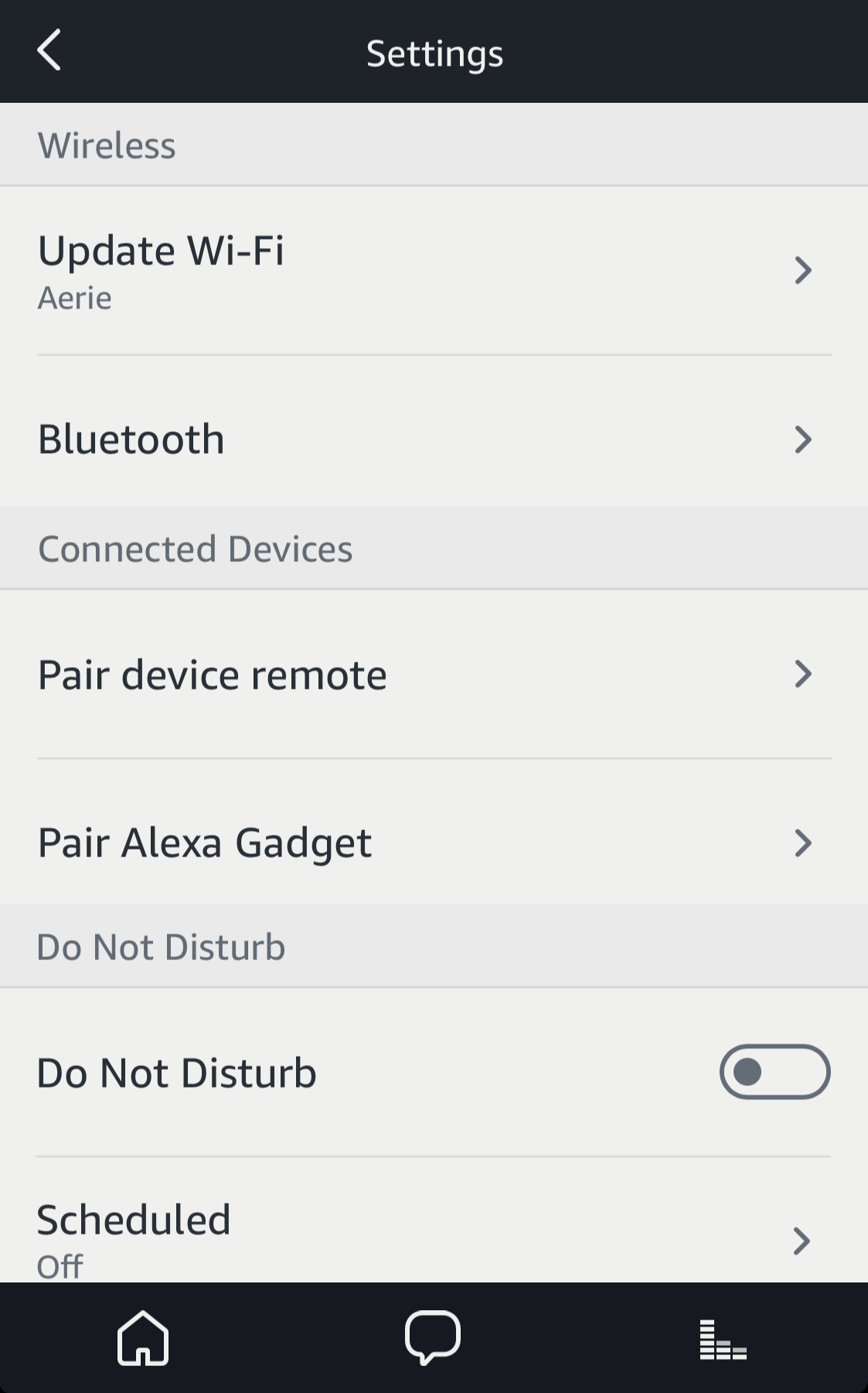 You might not realize it, but just about all Echo speakers can also serve as speakers for devices that use bluetooth, so you can use that cute new Echo with your phone easily enough. You can also pick the correct wireless network if it's connected to the wrong one. There are Echo remote controls, but that's what your phone's for, right, so I don't see that as particularly interesting. Alexa Gadgets? That's for some of the game skills and I expect we'll see a lot more of them in the next few months.
What is more interesting here is the Do Not Disturb feature. If you're worried that your Echo is going to start talking to you in the middle of the night, you can set up Do Not Disturb to ensure it knows your quiet hours (or leave it on all the time).
Swipe down a bit to see more options…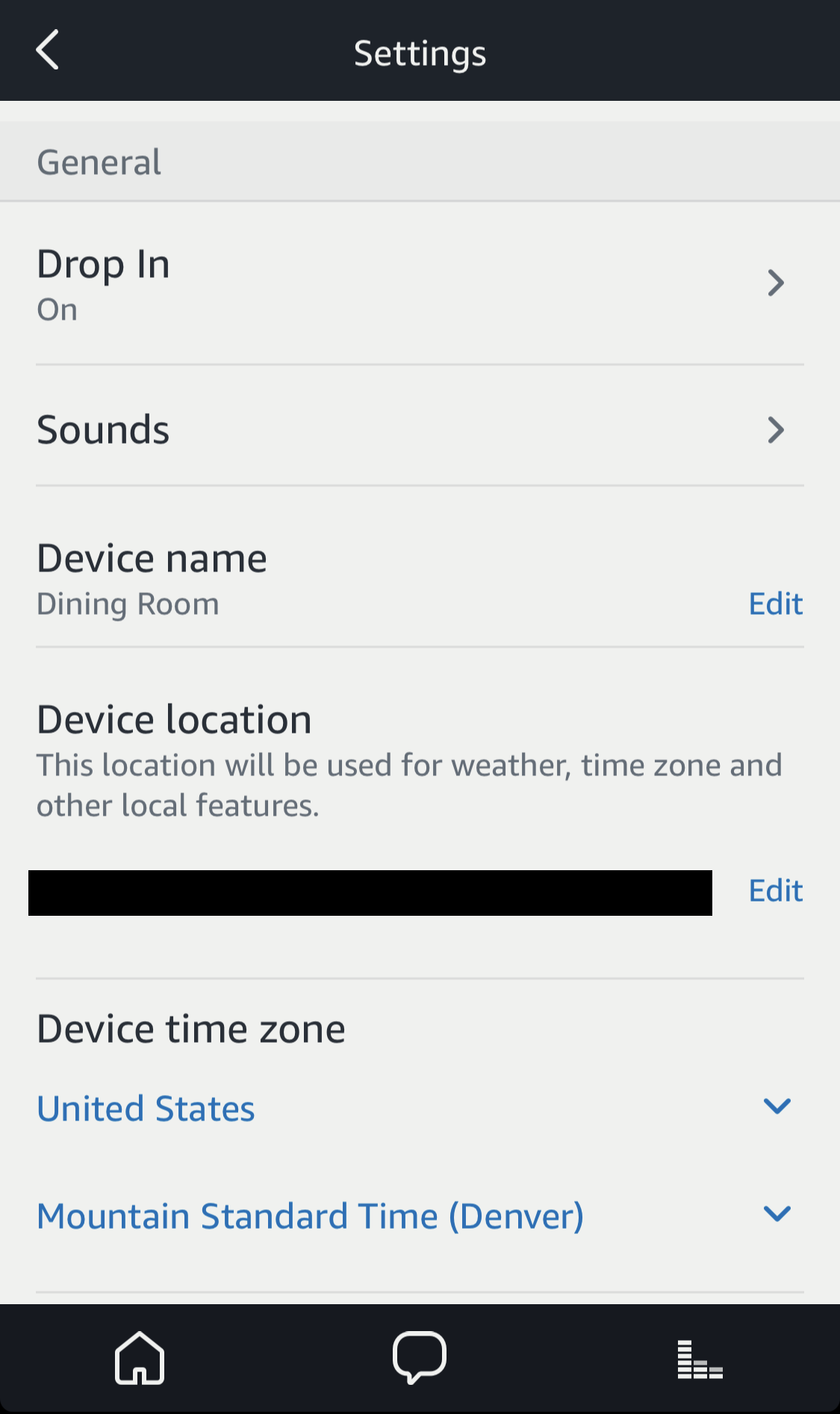 Drop In is useful if you have lots of Echo devices in different rooms, allowing them to be used as a simple voice-activated intercom system. For example, "Alexa, drop in to dining room" would open up a two way audio chat! Because of this, it's smart to rename your devices to the rooms they're in, or the people whose rooms they're in, like "Dave's Bedroom". You can rename your device off this screen too – "Device Name".
You'll want Amazon to know the device location so your weather and related features are accurate too: check that setting here. You shouldn't have to touch the time zone, however, because if your address is correct, it's plenty smart enough to figure time zone.
Swipe down a bit further…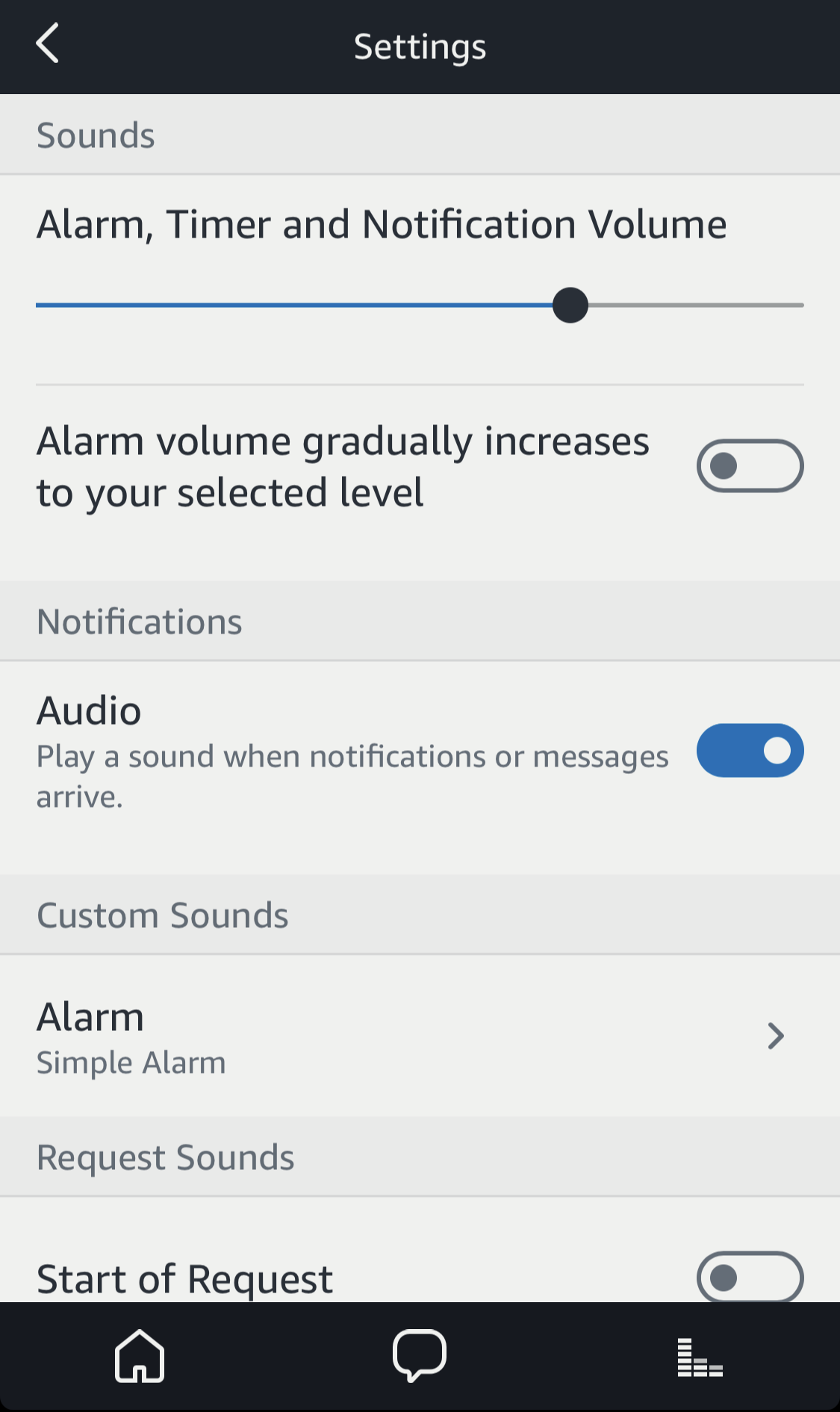 If you're going to use your Echo as an alarm clock, this is where you can set up some neat features. I'm a definite fan of "Alarm volume gradually increases to your selected level" rather than the jarring impact of a loud alarm from nothing! Since people can message your devices, it's a good idea to enable "Audio" here too (though the ring on your device will turn yellow to indicate you have a message too, if that happens. Simply say "Alexa, check messages")
One more swipe downward…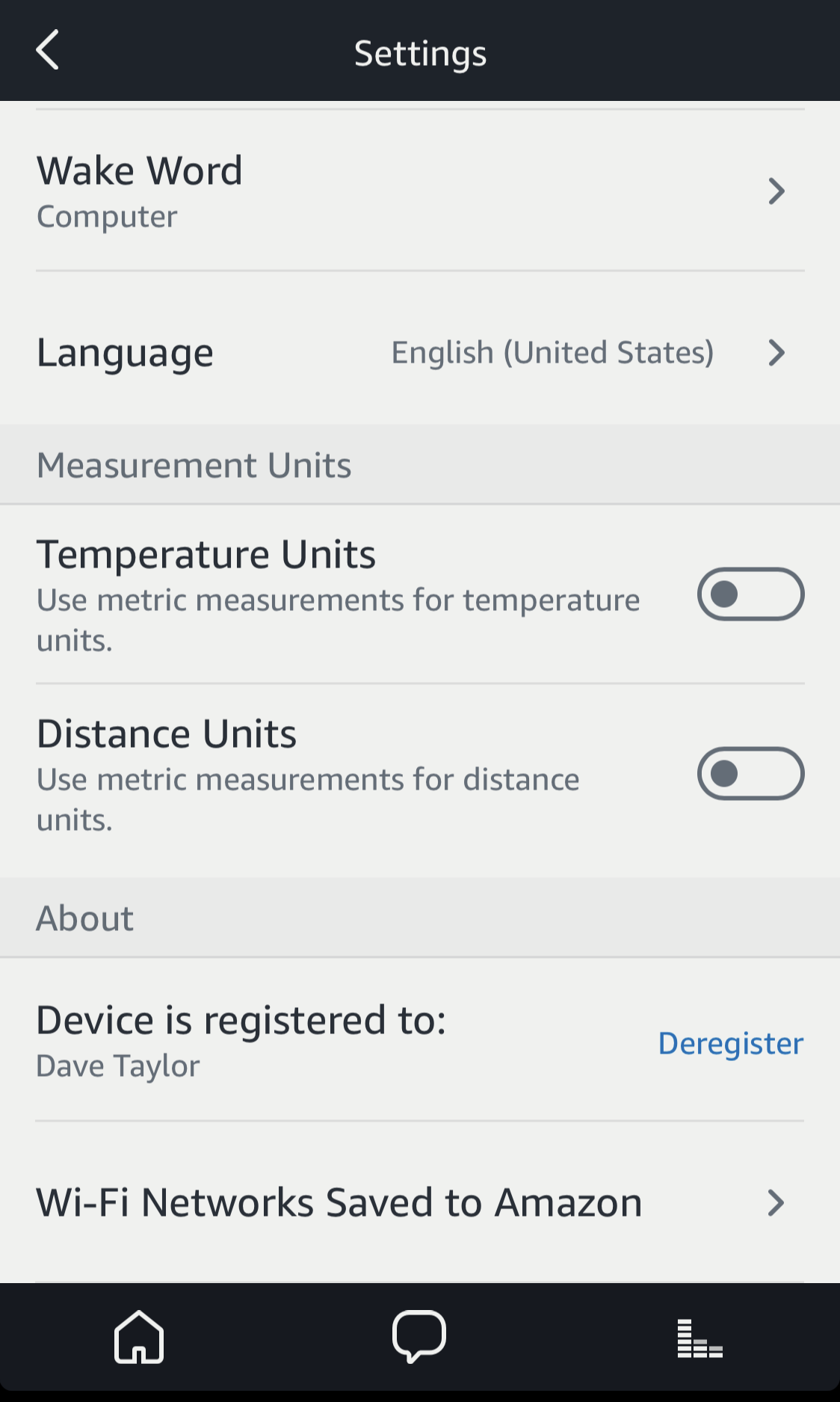 You can see that I've changed the all-important wake word for the Echo Dot in my dining room so as not to collide with other devices in the house. It's "Computer". Unfortunately there are only four predetermined choices available. A few more options here, and that's basically it for the core features and settings for your Amazon Echo unit. Hope this helps!