It's bizarre: I'm running Windows 8.1 on my desktop system and there's a pop-up keyboard icon on the Taskbar. I have a keyboard, why is that showing up?
Don't panic, the touch keyboard is an element of the annoying fact that Windows 8.1 is the same OS whether you're running a tablet with no keyboard or on a more traditional laptop or desktop PC with a perfectly good keyboard attached. You'd hope that it could differentiate, but that's left up to you, the user. Fortunately disabling the keyboard icon is pretty darn easy.
The secret is to know that, confusingly enough, it's considered a "toolbar" addition to the Taskbar.
Yeah, a toolbar.
Okay, so here's how you do it. First, let's see the icon on my own Win8.1 taskbar:

It's kinda cute, you have to admit.
Click on it, though, and it takes over the screen:
To get rid of it, simply right-click on the icon on the taskbar, or, for that matter, anywhere on the taskbar to get the context menu to pop up: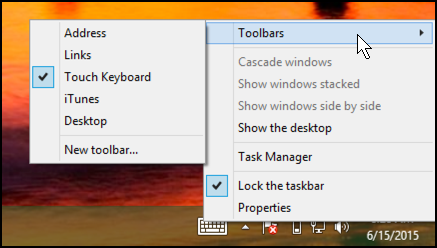 As you can see, it's the Touch Keyboard and all you need to do is uncheck it.
That's it. Done. Now, no keyboard:
Not too difficult at all!