So happy to get a Galaxy Mega from MetroPCS, it's big. In fact, it's so big that it'd make a great ebook reader. Except I can't find the Kindle app in the MetroPCS app store. Is it not available?
We also have a MetroPCS Galaxy Mega and it's quite a phone with its 6.3-inch screen. In fact, the industry term for it is a "phablet", a smartphone that's the size of a tablet, and it's pretty darn close to a Kindle Fire or iPad Mini! In fact, those units have screens that are only a tiny bit bigger, at 7-inches. The difference, of course, is that the Galaxy Mega is also a cellphone, though it's a bit big to hold up to your head for a conversation. But that's why we've been using it with earbuds or bluetooth headsets.
Anyway, it is a bit confusing because there are two different app stores available on MetroPCS phones, one of apps from MetroPCS itself, while the other is the (far larger) Google Play store which contains the vast number of Android apps available. My guess: you only looked in what's labeled the "AppStore", not the "Play Store".
You could tell by looking at the icon, but let's have a peek, shall we?
First off, if you're in the MetroPCS app store, a search for "kindle" has these results: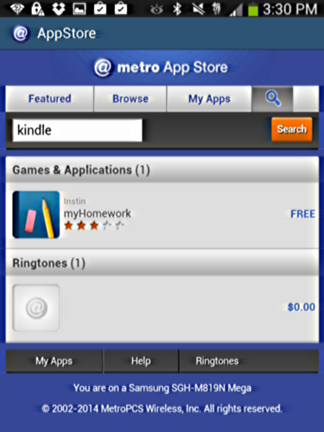 Nope. No matches.
Instead, look for the "Play Store" icon and launch it. That looks like this:
To search for the Kindle app, tap on the magnifying lens on the top right and tap the app name in: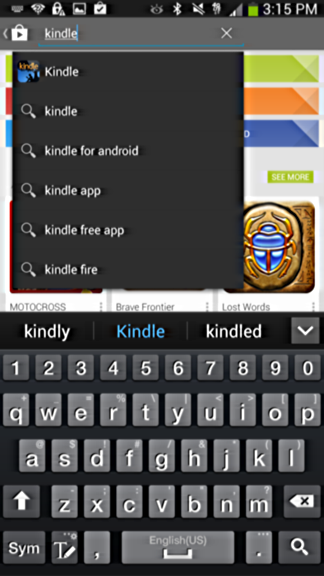 Ah, there it is! Tap on the matching entry with the blue Kindle app icon to get to the page that has lots of info to confirm it's the app you seek: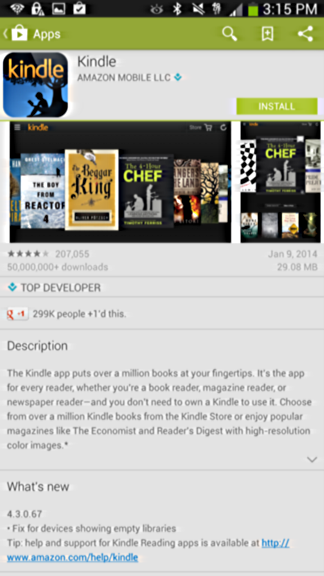 Looks like the right one, so let's install it!
To do so, tap on the green "Install" button…
That all looks good. Tap on "Accept" and once it's downloaded you'll have a new icon on the 6.3-inch of your Galaxy Mega: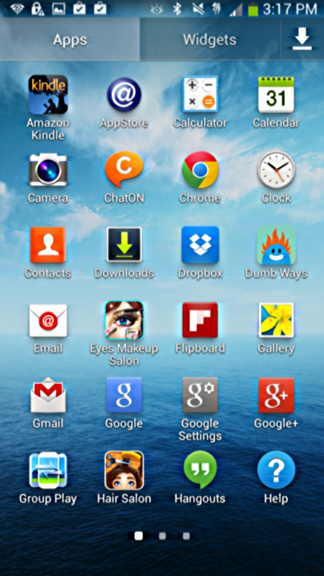 And for the record, I have experimentally verified that yes, the Galaxy Mega makes a very nice ebook reader, so the Kindle app is a smart investment.
Hope that helps you get more out of your MetroPCS Android smartphone!